In addition to helping compile our annual Top 11 Albums List, we asked our panel of critics to also share their picks for the best individual songs of the year. Unlike the albums, we are not trying to compile a collective list – but we wanted to know some of the songs that inspired, wowed, connected with, and deeply moved our critics. We hope these 48 tracks give you a resource to discover the best faith-inspired music being made today. Here are the Top Gourmet Songs of 2018. FYI, songs are listed in no particular order.
(Songs are qualified for consideration from any genre if it was made be a Christian artist/songwriter, was a new original arrangement, and was publicly released between 12/1/17 and 11/30/18.)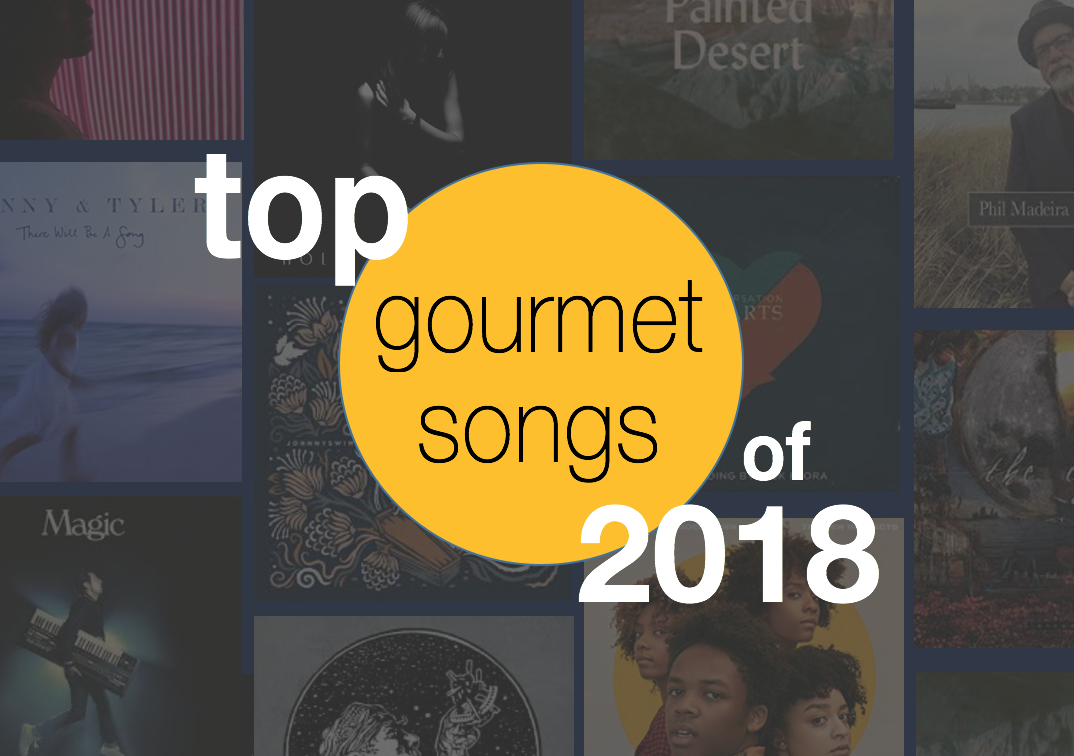 "8:31" – Nick Flora  ("This masterfully written song moved me like no other this year" – Larry)
"Is He Worthy?"  – Andrew Peterson ("Epic in every sense of the word" – Jen)
"Down Down Low" – Christa Wells  ("A message of humility that we all need to hear"- Garret)
"Ring The Bells" – Drew Holcomb ATN & Johnnyswim ("A foot-stomping declaration" – Dave)
"Polaris" – Remedy Drive ("Tackles the issue of human trafficking" – Kevin)
"Waters Roll" – Jenny and Tyler ("Impressively produced and majestic" – Larry)
"Call Your Name" – Rivers and Robots ("Lyrically uplifting and sonically pleasing" – Joe)
"Drawn to You" – Audrey Assad  ("A raw, gentle song of surrender to God" – Jen)
"Storehouse" – Gray Havens ("We need this mercy and the storehouse is open" – Larry)
"Still Waters" – Andrew Osenga ("Intimate acoustic prayer for God's guidance" – Russ)
"Kids" – Ben Rector ("This song was the greatest concert moment of my 2018" – Dave)
"You Who Makes The Storms Break" – Carolina Story ("Got under my skin in a big way" – John)
"With Every Power Wide Awake" – John Van Deusen ("Most imaginative song of the year" – Larry)
"Fool's Gold" Sandra McCracken  ("An earnest exploration of grief tinged with hope" – Jen)
"Enneagram: One" – Sleeping at Last  ("Captures the internal Mary/Martha struggle" – Russ)
"Glow" – Brooke Annibale ("One of the catchiest indie-pop melodies of the year" – Dave)
"Bang" – Moda Spira  ("Visceral vocals render a painful and startling portrait" – Larry)
"Runs in the Family" – Dave Barnes ("A fun tribute to faith, family, and funk/soul" – Russ)
"Beautiful Places" – Andrew Osenga  ("Sweet, meloncholy, and beautiful!" – Garret)
"By The Fire" – Joy Ike ("Soaring AND pensive, you have to hear it to understand" – Larry)
"Raise the Ring" – Lowland Hum  ("Vibey and warm" – John)
"Creation to Salvation" – Drakeford ("An impressive spoken-word achievement" – Dave)
"Forever Alone" – Nick Flora  ("Humorously heartbreaking and instantly infectious" – Joe)
"One Day" – Christa Wells ("Real life encouragment from the heart" – Larry)
"We Ain't Goin' Nowhere" – The New Respects  ("Brimming with contagious energy" – Jen)
"Cycles" – Jonathan McReynolds ("Yet another breakthrough song for him" – John)
"Abigail" – Wild Harbors  ("Holds a hope and trust in God in the midst of crisis" – Garret)
"Your Chair" –  Derri Daugherty  ("Great stories abound in this tribute to his Dad" – Larry)
"76" – Von Strantz ("The classic 80s synth-rock sound transports me" – Dave)
"Lo! He Comes With Clouds Descending" – Alex Mejias  ("A glorious song about Christ" – Garret)
"Welcome to the Darkness" – The Brilliance ("The opening to their stunning new project" – John)
"Kill & Bury" – Jessica Crawford ("Your past mistakes don't define you, thankfully" – Larry)
"Say Hello" – Rhett Walker Band ("Celebrating freedom through Jesus" – Russ)
"Help Me" – Thembi Joy ("Holds tight to a trust in God even in the storm" – Garret)
"Face To Face" – Mat Kearney ("A danceable groove with lyrical depth" – Dave)
"Birds, Bewildered" – The Choir ("Stunningly portrays life's perplexities" – Larry)
"The Pioneer vs The Puppeteer" – Brian Reith  ("Insanely catchy with tricky beats and hooks" – John)
"Maybe"  – Drakeford  ("Clever word play coupled with poignant topic" – Larry)
"Sound of a Sinner" – Mona Reeves  ("A song of celebration and joy in the goodness of God" – Garret)
"Prodigal (Run To You)" – Kevin Max ("Sophisticated power-pop" – Dave)
"Every Seed Must Die" – The Promise Is Hope  ("Perfect marriage of vocals, music, & lyrics" – Larry)
"Only My Jesus" – Alisa Turner ("A sincere offering of praise" – Kevin)
"Gold" – Apollo LTD ("A subversive little gem" – John)
"House on Fire" – Wild Harbors ("Excellent songwriting dripping with passion" – Dave)
"Boxerman" – Adam Agin  ("Transparency, spirituality, and warmth" – John)
"Soul's Anthem (It Is Well)" – Tori Kelly ("Moving and powerful a cappella gospel song" – Russ)
"Nothing's Beyond Broken" – Chris August ("We are never out of the reach of God's love" – Kevin)
"Warlike" – Remedy Drive  ("A rocking in your face reality check that we all need" – Larry)
Like most music lists, this was a subjective exercise, and one where we wanted to tap into songs that resonated deeply with each of our panelists. We welcome your thoughts below.  (A) Were there any songs that are on this list that also connected with you personally, and (B) are there any songs you would add to this list?
In early February, we will be releasing a new compilation album for free on NoiseTrade called UTR's Best Songs of 2018, and will include several of the songs listed above!