In addition to helping compile our annual Top 11 Albums List, we ask our 10-member critics panel to also share their picks for the best individual songs of the year. Unlike the albums, we are not trying to compile a collective list – but we wanted to know some of the songs that inspired, wowed, connected with, and deeply moved our critics. We understand that this is not an exhaustive list because each panelist only gets a handful of songs to share. If you're looking for the cream of the crop in music that is meaningful, spiritual, and artistically layered – these 57 tracks are a good place to start your search. Here are the Top Gourmet Songs of 2017. FYI, songs are listed in no particular order.
(Songs are qualified for consideration from any genre if it was made be a Christian artist/songwriter, was a new original arrangement, and was publicly released between 12/1/16 and 12/1/17.)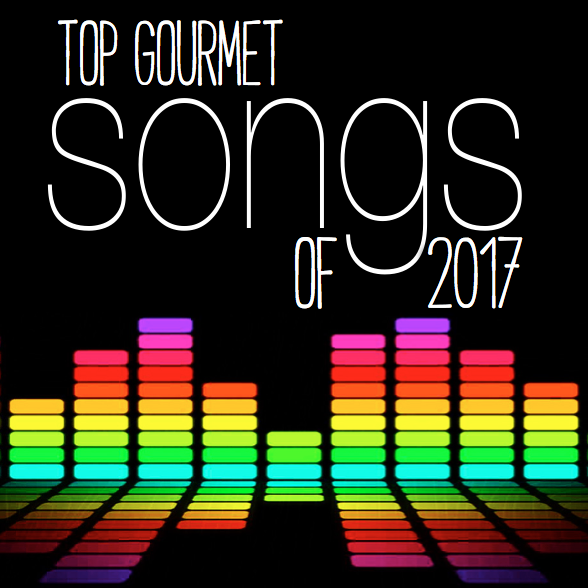 "Psalm 13" – Rachel Wilhelm ("One of the must-hear best songs of the year." – Larry)
"Do Not Be Afraid" – Christopher Williams ("Timeless, relatable, inspiring" – Dave)
"Cannot Do This Alone" – Colony House ("Arena rock sound and vulnerable, personal lyrics" – Jen)
"Settle" – The Mosleys ("Takes me to another place every single time" – Joe)
"Playing With Fire" – Kings Kaleidoscope (ft. Propaganda)  ("Convicts me of each listen" – Garret)
"Nothing Stands Between Us" – John Mark McMillan ("So unique" – Ann)
"Hopeless Days" – Brittany Hope ("A fresh wind of hope in Christ" – Larry)
"See The Love" – The Brilliance ("A prayer and balm for the soul in this uncertain time." – Kevin)
"In My Savior's Arms – Jon Troast ("A modern-day hymn with weight & depth" – Dave)
"Dry Ground" – Staci Frenes ("A nice reminder of God's faithfulness" – Russ)
"Covering Ground" – Bill Mallonee ("A perfect example of this ragged poet's dusty relevance" – John)
"You Love Me Best"- Ellie Holcomb ("Brings tears with every listen" – Lindsay)
"I Can't Make It Grow" – Brianna Gaither ("An extraordinary take on John 15" – Larry)
"Gather" – Christopher Williams  ("The value of church community over worshiping in solitude" – Russ)
"Fight For Love" – Drew Holcomb & The Neighbors ("Intelligent and hooky at the same time" – John)
"Highway Life" – Zach Pietrini Band ("Vulnerable tale of running out of time on your dreams" – Dave)
"Red Sea Road" – Ellie Holcomb ("The Lord makes a way for us at all times" – Ann)
"High Enough" – The Gray Havens (ft Propaganda) ("Excellent collaboration" – Jen)
"Heartland" – John Tibbs ("Beautifully captures the emotion of Proverbs 13:12" – Kevin)
"Lonely" –  Colony House ("Gritty, groovy, catchy, and a bit sad" – Garret)
"You Were Not My People" – Nathan Partain  ("A fresh look at God's relationship to man" – Joe)
"Cages" – Needtobreathe ("About hard-won, undeserved redemption" – Lindsay)
"Flesh and Bone" – Son of Laughter ("Killer song particularly poignant today" – Larry)
"Every Mile Mattered" – Nichole Nordeman ("This song resonates as a balm for the soul" – Russ)
"Good Weld" – Luke and Emily ("Beautifully produced Americana gem" – Dave)
"Mama's Sunshine, Daddy's Rain" – Drew Holcomb & The Neighbors ("Such a fun song" – Ann)
"Death in Reverse" – John Mark McMillan ("Nobody can write a resurrection song like JMM" – Jen)
"Storms" – Staci Frenes ("Lyrically captivating and musically contagious" – Joe)
"Where Your Father's Been" – Colony House ("A beautifully prolific nod to parenthood." – Lindsay)
"Find You Here" – Ellie Holcomb  ("Helps us avoid fear, worry and being anxious" – Kevin)
"You're Beautiful to Me" – Lisa Weyerhaueser (ft. Randy Stonehill) ("An expression of love" – Joe)
"Surprising Me" – Taylor Leonhardt ("God is close, loving, and always a surprise" – Jen)
"Ghost" – The Classic Crime ("Being faced with the truth can be a jarring experience" – Larry)
"Death Was Arrested" – Aaron Shust ("Johnny Cash styled lyrics with a soaring chorus" – Russ)
"A Hero Song"– Royce Lovett ("An acoustic-hip-hop jam with prayerful lyrics" – Dave)
"Red Telephone" – Thrice ("Only a great band could make B-sides as good as this" – John)
"Let My Dreams Fly" – Stu G & Terrian Bass ("A slow, mournful, and beautiful encouragement" – Garret)
"Better Than I Used to Be" – Mat Kearney ("Reminds us that we are indeed better together" – Lindsay)
"Good Man" – Luke Dowler ("A standout track from a fantastic album" – Larry)
"Gonna Be There with Me" – Third Day ("Tap your toes and put a smile on your face" – Russ)
"River" – Army Of Bones ("Fat & fuzzy bass leaves my head bobbing" – Garret)
"The War is Over" – Josh Baldwin ("An empowering message" – Kevin)
"Window"- Madison Cunningham ("A Joni Mitchell inspired track about contentment" – Larry)
"Dear Me" – Nichole Nordeman ("A modern-day opus for the 21st century" – Lindsay)
"Lowly" – CeCe Winans ("A smooth groove, catchy, and convicting" – Garret)
"He Has Made A Way" – Caroline Cobb ("A foot-stomping gospel-centric anthem" – Dave)
"Fighting Words" – Ellie Holcomb ("This song feels like a joyful battle cry" – Jen)
"St. Tom's Lullaby" – The Welcome Wagon ("Absolutely stunning orchestral arrangement" – Larry)
"Take Courage" – Kristene DiMarco ("All about having a strong faith." – Kevin)
"Trouble" – The New Respects ("Saying goodbye to trouble – with a sick beat" – Joe)
"He Won't Let Me Go" – John Tibbs ("Excellent pop arrangement & singable lyrics" – Ann)
"Freedom" – Zach Williams ("An edgy, bold sounding country-rock stomper praising God" – Russ)
"Your Love Defends Me" – Matt Maher ("Showcases flawless modern worship" – John)
"The Lord is Coming" – Scott Mulvahill ("Only vocals + upright bass – and it's amazing" – Dave)
"If You Want Love" – NF ("Slow and thoughtful" – Garret)
"Stained Glass Windows" – Daniel Doss ("Art and faith and life colliding" – Lindsay)
"You're Gonna Be OK" – Brian & Jenn Johnson ("A sincere yearning for God" – Kevin)
"Waymaker" – Allan Scott ("A great heart for worship" – Ann)
We listed all the songs mentioned by our panelists, which is obviously a very subjective exercise. There is no right or wrong here. These are personal choices – more as music fans rather than critics – on the tracks that really captured our ears and hearts.
Share your thoughts below. We especially want to know: (a) were there any songs that are on this list that also connected with you personally, and (b) are there any songs you would add to this list?  [In late February, we will randomly pick 3 commenters to receive a CD from one of the artists listed above.]
Finally, on January 30 or 31, we will be releasing a new compilation album for free on NoiseTrade called UTR's Best Songs of 2017, and will include 15 of the songs listed above! Stay tuned.