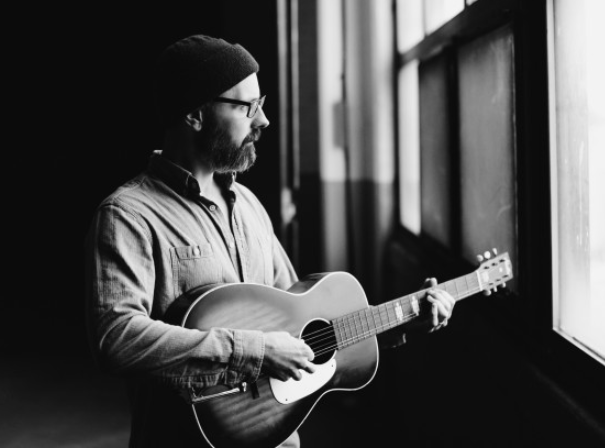 "Ian Zumback's voice takes you on a journey you'll want to keep taking," shared songwriter and worship leader Daniel Doss. He continues, "Ian's lyrics and melodies drip with an earnest life of faith. You know he's not making this stuff up; it's simply pouring out of him." Ian Zumback's first full length album The Table has just released (Old Bear Records & Sprig Music), and contains all original music drawing inspiration directly from the Bible. We are excited to share an in-depth interview we had with Ian, so you can know him and his music better.
UTR: What was your experience like in becoming a musician and songwriter?
Ian: I grew up around music from a very early age.  My dad was a musician in rock & roll cover bands in the 80's and my mom was a big fan of live concerts.  My environment lent itself to the discovery and appreciation of music.  As soon as I took an interest to the guitar, my parents bought a guitar and practice amp for me and signed me up for guitar lessons with a local guitar instructor.  By the time I was 11, my parents were pulling special permits that authorized me to go into bars to play at local blues and rock jam rooms and establishments that promoted live bands.  It might sound crazy that I got my start that early in those places; but to my parents credit they were mindful of what I could be exposed to in those types of environments and helped me keep my focus on being there to play and enjoy live collaboration with other musicians.  In my teens I was immersed in writing and performing in a style of music called hardcore that was a very popular style of music where I grew up near Albany, NY.  By my mid twenties, my involvement in that music scene came to a close.  I do look back on all of those years as very influential and formative – and I can assure you that the album The Table wouldn't be what it is without having had those years of musical experience under my belt.
In my mid-20s, I collided with the reality of Jesus through an undeniably palpable and very tangible personal encounter with God.  Following this life changing experience, I served in various capacities with a local worship church band before stepping down less than a year into my faith.  I was confused about what it meant to really worship God in spirit and truth; and had a drive and almost fiery desire to learn what that meant.  At the time – I was able to identify that I didn't have the maturity enough to learn what authentic worship was while simultaneously holding a guitar in my hands or singing in front of people.  I was still too close to the man I used to be and needed distance in order to learn unencumbered.  I am grateful that a few years later, God sent people into my life to encourage me to use music as a means to glorify God, and I would eventually surrender (albeit stubbornly) to what has continued to prove to be a call on my life to celebrate the life of Jesus in song.  It's been quite a journey walking this path – and the album The Table feels like a culmination of my entire life wrapped up in a 40 minute album.
I will say, and I'm not sure I've shared this before, but if it weren't for seeing Matt Redman live at a Joyce Meyer conference a few weeks before "10,000 Reasons" came out, I'm not sure where the inspiration would have come from to step out and begin sharing original songs that I was writing about the Christian faith.  I remember coming away from that event thinking, "Matt must have stepped out at some point and played his original music somewhere."  Three days later, I scrapped a 20 minute set of covers and played all of my original material for a church function I was asked to perform at. I guess the rest is history.
UTR: What led you to decide to write all Biblically rooted original songs for The Table?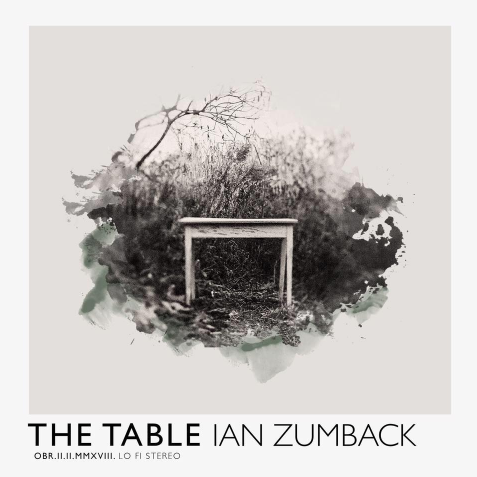 Ian: Once Chris Hoisington (producer of The Table) and I agreed that we should do an album together we were very deliberate about planning the project with all the songs inspired by Bible passages.  I'm very grateful that it comes across to you that way as a listener because it shows that we've done our job effectively! Chris and I would have these very long conversations about music in general and some of the things we'd like to accomplish through a creative process that would provide value, blessing, and inspiration to the ongoing narrative in Christian music.  Once we had started two songs into the songwriting process, we pressed pause and looked at the pattern of what content and themes seemed to be emerging through the collaboration.  It was clear to us that based on the first two songs written (which were "Murderer a Messenger" and "The Table"), that we should create an album that could serve to teach the Gospel and give honest exploration of the Christian life through songs that were inspired by direct passages of Scripture.
UTR: What was the process like for writing songs for The Table? Did you do some collaborations?
Ian:  Almost all of the songs were completed before we began recording the album.  We did actually scrap a song during day three of recording which required Chris and I to switch gears and determine what type of song to include in place of the one we decided didn't fit the overall vision of the album.  The song we decided to include ended up turning into the very first song on the album, "Down in My Soul."  But overall – the songs were written from June 2016 through March 2017.  With the exception of one song, the album was written collaboratively between a core songwriting team consisting of myself, Chris Hoisington, Anthony Hoisington, and Jessica Crawford.  I would say, keeping the core team small helped keep the vision clear and a correlative song style and aesthetic from start to finish.   Much of the songwriting process literally just started with an idea like a title for a song or a chorus melody.  Someone would bring an idea forward via a work tape recording or through a text message.  I would usually sit with the idea for at least a day, even if I initiated the idea, to sort of let the idea sink in and think about what the song idea would do to contribute to the whole of the album.  In other words, is what this song saying already being said in another song on the album?  Is this idea original and interesting?  Is there something about this idea being turned into a song that is going to benefit someone in their day to day religious commitment or feed their curiosity about God?  Once I felt compelled to take a song idea a step further, we'd find a way to work on the song and complete it.  I'm a terrible Skype songwriter – so I'll find a way to do it in person.  Some of the songs were completed while Brothers McClurg and I were on the road.  One was written during down time while recording "Murderer a Messenger."  Some were written during writing retreats.  One was even written after Chris and I led worship at a Sunday dinner put on for the local homeless and psychiatric patients from the unit down the street in Buffalo, NY.  As a songwriter, I've applied Paul's charge to "be ready in season and out of season."  You never know when the inspiration is going to hit you and you have to take the inspired opportunities where you can get them.
UTR: What was is like working with the Old Bear Records team?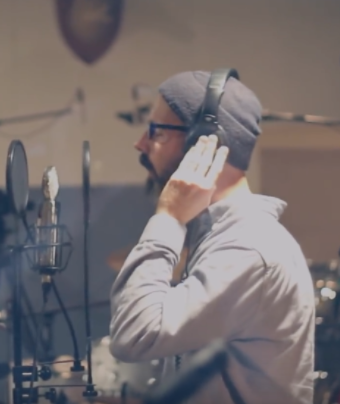 Ian: If I were to choose one word it would be "reviving."  Every member of the team at Old Bear Records and Studio played a part in reviving creative life in me that I wasn't even aware was dying.  They served the vision 100%.  I've spent the past two weeks posting about every individual on my social media that had played a creative role in the development of this album because without their involvement it wouldn't be the same album that you hear.  I feel like God built a church through the community that saw this vision realized.  It was an incredibly ambitious project on all levels, and I can't say enough of how much I appreciate and love every single person involved in making The Table what it is.  My name is the name on the album; but it took the sacrifices and efforts of a big team to see it through. They're forever family.
UTR: What would you say is the overall message you would like the listener to take away from The Table?
Ian: I've been tagging some of the promotional materials on social media with the phrase "all are invited."  That to me is the overall message of the album.  You are invited to come and interact with this beautiful Gospel at a table set in a creative album context.  Jesus had intimate encounters with people while sharing a meal.  He taught His disciples.  He befriended sinners.  We've set a table too as servants expecting those that come and sit through this intimate and safe listening experience to interact with this Jesus who we pray shows up to meet the listener with every play of the record.  That's the message.  You're invited to find what you need through the provisions set at the Table of God.
Ian's music is a more recent discovery to us, and we love sharing on-the-rise artists that may be new discoveries to you. If you want to dig a little bit deeper you can visit Ian's Website or check out The Table on iTunes.