With all music touring being shut down for most of last year, it meant more artists were writing and recording… and the fruit of that is blossoming in 2021.  In fact, so many new releases are flowing, that it is easy to miss songs and albums that are A+ gems.  We are here to help you find and enjoy the cream of the crop.  Our UTR Panel of Critics represent a variety of websites and publications as music critics, and each summer they convene to help us cite the best albums and songs of the first half of the year.  This list isn't meant to be necessarily exhaustive (there's even MORE to discover), but we hope this can at least be a starting point in finding the most meaningful music on the planet from the last 6 months.  Here's our critics' picks for The Best Albums & Songs of 2021 (so far).
[Titles are listed in no particular order.  The quotes in parenthesis are pull quotes from one of our critics.  Albums & songs qualified if the artist is a Believer in Christ, and was released between 12/1/21 and 6/15/21.]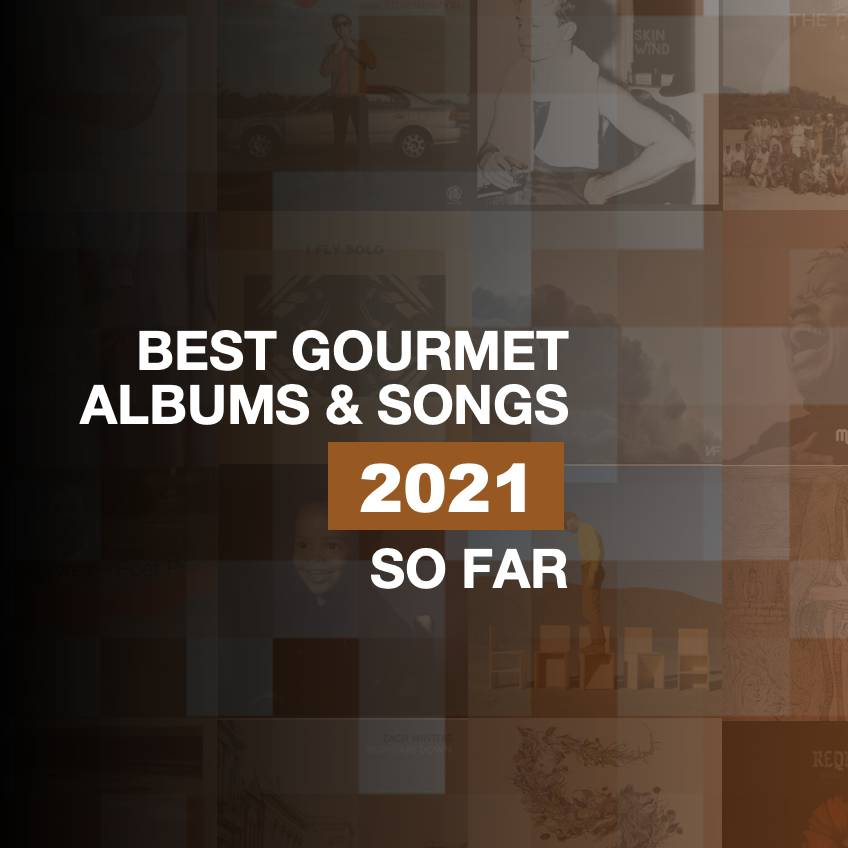 Critics' Picks: Best Albums of 2021-A
Departures – Jon Foreman ("A sonic detour into fresh territory with even deeper spiritual probing")
Recognition – Carolyn Arends ("Songwriting at this extraordinary level is incredibly the norm for Carolyn")
January Flower – Mat Kearney ("Delving into the deep crevices of life to find hope")
7 – JUDAH. ("The energy and passion in this worship project is one of this year's best surprises")
Canyon – Ellie Holcomb ("Expresses her prayers to God and allows listeners to eavesdrop")
Praise and Protest – Common Hymnal ("As the church, we worship and serve a God of Justice")
Principium – The Arcadian Wild ("Incredible songcraft on this Genesis-based EP")
Requiem – Rachel Wilhelm ("A stunningly beautiful work of art")
Deep Cuts – The Choir ("Rivals anything they have done; filled with depth and honesty")
Mercy – Natalie Bergman ("A simple, and yet strikingly creative and imaginative take on Jesus Music")
They Say I Don't Rap Enough, Vol.1 – Royce Lovett ("Intelligent lyrics with soul-meets-hip-hop")
The politics of Kindness – Paul Field ("Packed with timely, powerful, and truthful songs")
A Shrugging of the Shoulders – Mitch McVicker ("Overflowing with creativity")
Something Like a Secret – Yaz Williams ("A thought-provoking folk album from Australia")
Skin and Wind – Charlie Peacock ("Reveals new layers of introspection and songcraft – one of his best")
The Dailys – The Dailys ("This lovely EP will encourage you and leave you feeling understood")
Remember – Future of Forestry ("Poetic, melancholy, atmospheric with empathy, hope, and encouragement")
Poet Priest – Andy Squyres ("The striking music, topics, and songwriting will completely capture you")
Cyberspace – Sarah Juers ("Uniquely creative arrangements and production set this release apart")
Imago Amor – Remedy Drive ("Rock fueled by faith & passion for combatting human trafficking")
Songs from Home – Jonathan Ogden ("A quiet and meditative slice of beauty")
I Fly Solo – Roemer ("All this guy needs in an idea and a microphone")
Clouds  – NF ("Heart-on-sleeve hip hop with layers of vulnerability")
Living In The Last Days – Elizabeth King ("She has a deep well of singing and serving")
Terraform: The People – Propaganda/DJ Mal-Ski ("A timely & thought-provoking look at building culture")
Revenna – Keaggy/Johnson ("So transcendent you might want to hold your passport while you listen")
Development & Compromise – Chase Tremaine ("Once again clever music, songwriting, and arrangements")
Evergreen – Andrew Ripp ("Poetic lyrics that identify the struggles we all wrestle with")
Here – Tim Timmons ("A strong worship effort that connects our hearts to God's faithfulness")
Electric Jesus EP – Danielson ("Demonstrates Daniel Smith's brilliance and sensitivity")
Baby Take My Hand – Jess Ray ("These songs strike the chords of my heart")
Until This Shakes Apart – Five Iron Frenzy ("A bold, high energy return teetering between wit and anger")
Night Prayers – The Fuzzy Robes ("A wildly psychedelic album based on a New Zealand prayer book")
All the Days – Physick ("Faithful, committed romance is captured perfectly")
Speak Peace – Daniel Snoke ("Beautifully executed and indeed peaceful")
You Are Fullness – Young Oceans ("Another dreamy and reflective album of devotional music")

Critics' Picks: Best Songs of 2021-A
Into the Mystery – Needtobreathe ("God's steady hand when not all in life is easy to discern")
Good Trouble – Leigh Nash & Ruby Amanfu ("Like Jesus & John Lewis, let's keep stirring good trouble")
A Place Called Earth – Jon Foreman ("Emotive vocals with Kingdom-focused lyrics")
All My Heroes Are Underdogs – Ross King ("This theme should resonate strongly")
Stick Around – Arthur Alligood ("Tom Petty-esque grooves on the theme of chasing dreams")
Imago Amor – Remedy Drive ("Lest we forget who our neighbor is or that we were made by the same hand")
Canyon – Ellie Holcomb ("Honest, authentic, and a song I need and identify with")
The Woods – The Choir ("An invitation to deep fellowship that you missed during the pandemic")
Hallelujah's Song – JUDAH ft. Caleb Chapman ("A rowdy anthem of praise that totally wowed me")
Psalm 69 – Poor Bishop Hooper ("A slow, haunting song that brings the desperation of Psalm 69")
God Who Sees Us – Gloria Fanchiang ("Addresses racism in a mighty and creative way")
Powerless –  Mat Kearney ("A breezy, summertime tribute to love")
Tears – Future of Forestry ("Deeply felt comfort with sweeping grandeur")
Signs Are Down – Zach Winters ("Feel the emotion in this melancholic & insightful look at current events")
Turn the Tables – Caroline Cobb ("The Father's house is always a house of prayer")
Sober & Skinny – Brittney Spencer ("Creative way to describe the futile attempts to live in a perfect world")
The House of God – Paul Field ("A truthful look at how many churches have failed to love")
It's Possible – The Gray Havens ("This band hits new heights when they go full-blown pop mode")
The Valley of the Shadow of Planned Obsolescence – Jon Foreman ("Playful and deep")
We No Entiende – Propaganda ft. Swoope & DJ Mal-Ski ("Truth. Cutting through the bull")
Among the Stars – Mitch McVicker ("Getting lost in the vastness of God's love")
Bring You Home – The Dailys ("Love will go sacrificial lengths in order to protect, heal, recover, & restore")
The Day I Moved Out – Make Sure ("A satisfying dish of nostalgia, capturing the spirit of growing up")
Range Rover – Ben Rector ("A perfect song to get your mind of anything overwhelming")
American Elegy – Teressa Mahoney ("Honest take on some shameful history & our need for God's mercy")
Renegades – Five Iron Frenzy ("A great example of their willingness to roll up their lyrical sleeves")
Expectations – Joel Ansett ("Excellent vocals, driving groove, and superb production")
Broken Harvest – Madison Cunningham ("Melody here is otherworldly as the lyrics get under your skin")
The Captain – Charlie Peacock ("Perfectly captures the ultimate reality of our lives")
Build the House – Ross King ("An indictment for when we often are busy trying to build our own kingdom")
Jesus, I Have My Doubts – Jon Foreman ("A thoughtful response to worrisome and uncertain times")
Mountains of Hope -Mona Reeves ("All the good sounds with passionate vocals, and lyrics from scripture")
Let Us Say – Weston Skaggs ("Great message with a wonderfully genuine retro feel")
Press On – Drakeford ("A song of hope for those facing failure and discouragement")
Come And Save Me – Danielson ("A long lost Larry Norman lyric and set it to swirling, wonderful music")
Let Freedom Ring – Forrester ("We're not free until we're all free is the truth")
Out of the Dust – Peace Ike ("Outstanding combination of music and video that points to our need for God")
Up from My Youth  – Advent Birmingham ("Mash-up of Isaac Watts, Johnny Cash, Hip hop, & NOLA Jazz")
Nowhere Else – Yaz Williams ("Leave your father and I'll show you mine – is SUCH a great line")
It'll Be Alright – Arthur Alligood ("Unashamedly hopeful")
Psalm 73 – Poor Bishop Hooper ("The lilting vocals on this track pair beautifully with the piano and strings")
I Pull the Sheet Over My Head -The Chairman Dances ("Captures that hard balance of quirky and catchy")
Living In The Last Days – Elizabeth King ("The story behind this artist and this song is beyond inspiring")
Uh Oh (Here I Go) – MercyMe ("Such a different beat from what you've come to expect")
Echinacea Tea – Physick ("A love song for the long haul")
Good God Almighty – Crowder ("An irresistible foot-stompin', gospel-infused, worshipful good time")
I Need You (to be wrong) – Switchfoot ("A sophisticated arrangement about interpersonal turmoil")
Never a Day – For the Fatherless ("In a broken world, I'm thankful for songs about God's trustworthiness")
Come Back Home –  Petey Martin & Lauren Daigle ("A great retelling of the parable of the prodigal son")
Using My Name – Remedy Drive ("A moving song declaring how the Lord's name can be misused")

YOUR REACTIONS?
Lists like this are at the very least a good discussion opener.  What are the albums and songs that you are excited to try out?  Are there any selections on your list that we missed?  Share below.
Be on the lookout for a brand new UTR Critics' Picks playlist (on Spotify, Apple Music, Amazon Prime Music, & YouTube Music) featuring most of the list above. And we will also feature many of these picks on Ep. 63 and 64 of the Gourmet Music Podcast.