The quality and quantity of well-crafted faith-based music continue to amaze us. We are thankful for all of the artists who are dedicated to writing and producing such exceptional music. The UTR Panel of Critics represent a variety of websites and publications, and each summer they help us cite the best albums and songs of the first half of the year. While this is not a "definitive" list (I don't see any Christian Polka!), these are the releases that have WOW'ed our critics, and serve as a good starting point in finding the most meaningful music on the planet from the last 6 months. Here are our critics' picks for The Best Albums & Songs of 2022 (so far).
[Titles are listed in no particular order. The quotes in parenthesis are quotes from one of our critics.  Albums & songs qualified if the artist is a believer in Christ and were released between 12/1/21 and 6/17/22.]
UTR's BEST ALBUMS OF 2022(A)
This Beautiful Mystery – Terry Taylor ("Probably the best album to come out of this corner in 20 years")
How To Make a Paper Airplane – Andy Zipf ("Insanely gorgeous impressionistic autobiography of identity crisis ")
Deeper Into Love – Jill Phillips ("Another round of deep songs that speak to the soul – like a musical therapy session")
The Joy of Music – Ben Rector ("Infectious pop music with heartfelt, thoughtful lyrics – Ben's career-to-date best")
All the Wrecked Light – Hannah Hubin ("Delivers the highest level of lyrical poetry and musical collaboration")
Home Called Heaven – LOVKN ("The smooth melody and lyrics took me by surprise")
Enough Already – Brandon Heath ("Poignant songwriting meets musical excellence")
PARIAH  – Aryn Michelle ("Focused on outcasts and misfits who were treated as a pariah in the Bible")
Joy in the Morning – Tauren Wells ("Genre-bending with top-notch production")
Brighter Days – Blessing Offor ("Full of encouragement and gorgeous, soulful music")
Hymns & Old Spirituals – Ryan Clair ("Full of uniqueness and Old Bear studio magic")
The End – Trip Lee ("A 16-track hip hop juggernaut")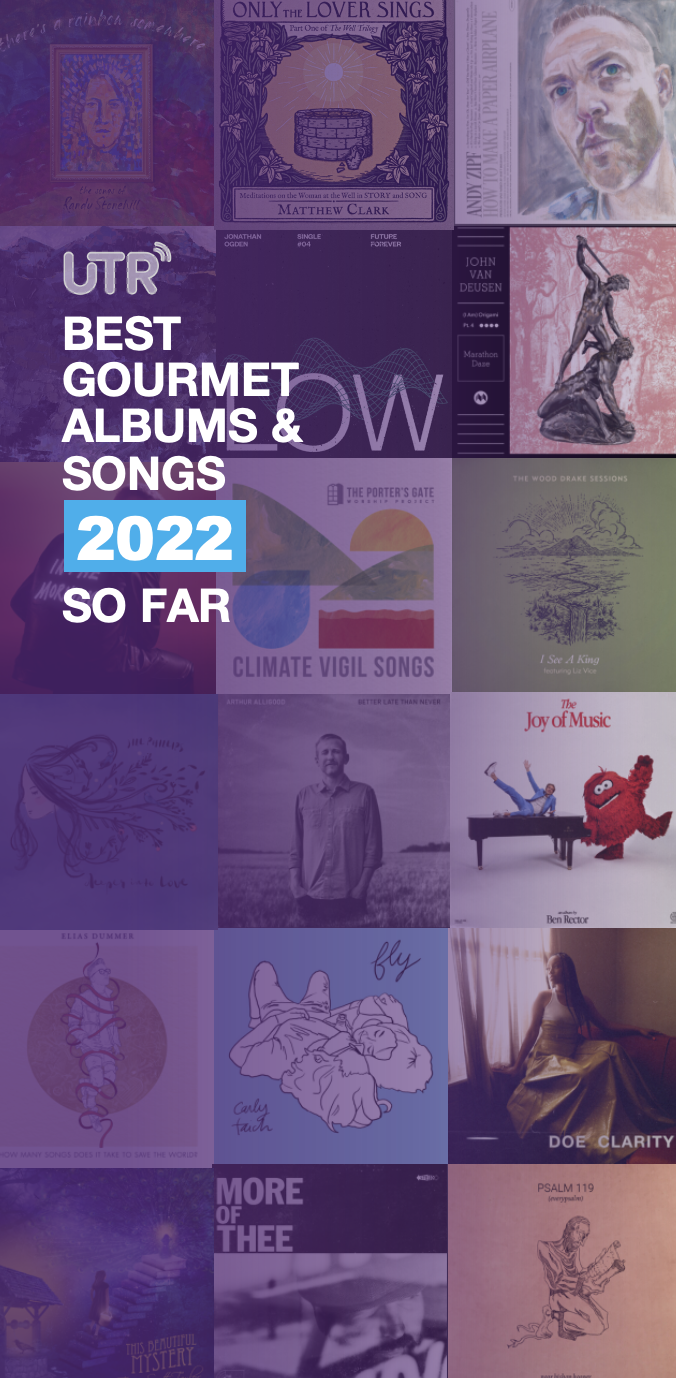 Origami Pt. 4 Marathon Daze – John Van Deusen ("Incredible musical and lyrical rampages")
Revival – Judah & the Lion ("Rock with lyrical depth – speaks to community & mental health")
From the Valley to the Golden Shore – The Wood Drake Sessions ("Birthed out of recent political, racial, and social unrest")
Carry Each Other – Sandra McCracken ("McCracken is amazing here and these songs were all already great. Sheesh!")
Climate Vigil Songs – The Porter's Gate ("Stunning musical work that implores us to care for the Lord's creation")
Seven – Brooke Ligertwood ("Easily shifts gears from introspective songwriting to equally compelling worship music")
We All Have A Name – Justin Carlson ("The more I listened to this record the deeper it spoke to me")
There's A Rainbow Somewhere – Various Artists ("What an array of artists with incredible attention to detail")
Better Late Than Never – Arthur Alligood ("Crisp production and songwriting brilliance")
Psalm 119 – Poor Bishop Hooper ("As with all their Psalm-inspired music beautifully done")
Bliss  – Phil Madeira ("Sober-minded love songs with a great soul sound")
My Jesus – Anne Wilson ("A stunning country-infused album by a newcomer that sounds like a seasoned veteran ")
Jordan St. Cyr – Jordan St. Cyr ("There's vulnerability and an ability to connect emotionally in these songs")
Sure – Ash & Eric ("The retro-organic sound of this album hit my sweet spot")
Only the Lover Sings – Matthew Clark ("Encouraging and honest-to-God songs")
Be – Allswell ("Provides a place to experience peace and rest while drawing near to God")
The Field – Kristene DiMarco ("Moving and reverent recordings that are all prayers and personal confessions")
From The Womb of the Morning – Ronnie Martin ("Trippy word pictures from Psalms turned into synth-pop symphonies")
HELP! – Brandon Lake ("Powerful. Gospel-centered. Plus an awareness of mental illness and its array of expressions")
Open Up Your Mind – Megan Brown ("She carves a safe space for you to wade through life's ups and downs")
Faint – Colorvault ("Songs that will echo and stimulate personal times of worship")
All the Gold I've Struck – Jesse Butterworth ("Filled with thoughtful songwriting and memorable pop production")
The Amazing Grace – John Elefante ("Still has the pipes after all these years . An outside-the-box creative rock album")
Known – Brian Morykon ("A hidden gem that you definitely need to discover")
Home – Three Shipps ("Sweeping harmonies from this sibling group")
Here It Starts with a Prayer… – Bill Mallonee ("His songwriting never disappoints and he delivers again")
Clarity – Doe ("Velvet vocals. Slick production. Effortless.")
Night Reminder – B.J. Fisher ("If Bob Dylan were his 30s and had a better voice, this is the album he'd make")
Into The Wild – Dan Bremnes ("Brave and vulnerable, yet unafraid of chasing whimsy and adventure")
What Are We Waiting For – For King & Country ("Fresh sounds while pushing the envelope of the Evangelical church")
On A Cloud – Garden Friend ("One of the most original-sounding EPs I have heard so far this year")
The Devil Don't Like It – Dedicated Men of Zion ("Roots Gospel awesomeness – every track is killer")
Better View, Part II – Switch ("Encourages us to 'walk by faith and not by sight' ")
Reach For The Morning – Miriam Jones ("If you like well-crafted music flavored with the blues, this is for you")
UTR's BEST SONGS OF 2022(A)
Heroes – Ben Rector ("Invites us to rekindle old memories, to find beauty in simplicity, and grieve for what we left behind")
Resurrection #9 – Chagall Guevara ("Crunchy guitar riffs, strong rock vocals, and bold lyrics with social consciousness")
Everything & More – Citizens ("Surrendering the idol of certainty and embracing a Holy Mystery")
Brighter Days – Blessing Offor ("I needed this encouragement – beautiful arrangement and amazing vocals")
Low – Jonathan Ogden ("Bouts of depression have hit many of us, and this song meets us there and points us up")
Born Again – Jess Ray ("Dripping with honesty and a deep desire God's restoration work")
Better Late Than Never – Arthur Alligood ("A sermon in a song, Alligood preaches without being preachy")
I See a King – The Wood Drake Sessions ft. Liz Vice ("Wonderfully. Timely. Kingdom focused.")
Talk of the Town – Needtobreathe ("Top-shelf power pop with a lesson to not trip on one's ego")
Room In My House – Miriam Jones ("Bluesy reminder that we need a heart that is willing to welcome 'the other'")
More of Thee – Russ Mohr ("A bit quirky and off the beaten path musically yet the message is on the narrow road")
Sail – The New Respects ("Showing off their songwriting chops with this folk-infused prayerful tune")
Lighter from Here – Christa Wells ("No matter the past, we are encouraged to have hope for the future")
From the Dust – Paul Zach ("Gorgeously arranged and recorded. It will soothe and stir your soul")
Fill My Cup – Andrew Ripp ("A rollicking tune that reminds us all that we can come to our Provider")
Honey in the Rock – Brooke Ligertwood ("Poignant reminder that during lean years we should not worry")
Anywhere – Madison Cunningham ("Wild turns of phrases mixed with catchy chord progressions")
There Will Be Surprises – Drew Miller ("Truly prophetic song. Listening is mandatory")
Fire and Flood – Lute & Lyre ("About the dreadful power of our words – hauntingly beautiful and challenging")
Brave – Eden Wilhelm ("A song so pleasingly assembled you can listen to it forever")
Bleeding Love – Jillian Edwards ("A cover that might be as good if not better than the original")
Better – Royce Lovett/Canon ("He hits issues and stays personal as he blends hip hop and classic R&B")
Weary Traveler – Jordan St. Cyr ("Remember that earth isn't your permanent home")
Love Has the Final Word – Mary Ozaranga ("An important truth for us – superbly produced")
How Many Songs Does It Take To Save the World? – Elias Dummer ("Every listen gives me goosebumps")
This World Is Not My Home – Daniel Wheat ("Beautiful expression of encouragement")
Brave Heart (Dear Daughter) – Tasha Layton ("A trauma-informed, compassionate and Gospel-centred track")
Hey Jerry- Ian Zumback ("Real-life wisdom from Ian's friend Jerry. Take heed")
The Kingdom Is Coming – The Porter's Gate (ft. Josh Garrels & Terrian) ("Foot-stomping anthem with stunning vocals")
No One Like You – Colorvault ft. A Bishai ("Floating, ethereal, and energetic song of worship")
Fly – Carly Taich ("A pure pop-rock love song but without all the cliches and tropes")
Hey There, Dragonfly – Andy Zipf ("Whimsically charming and pretty much perfect")
Right Here – Allie Paige ("A worshipful, prayerful expression that is totally musically & lyrically believable")
Meant For Good – Brandon Lake/JUDAH ("A more artistic approach to worship music")
Unforced Rhythms – Allswell ("A lush and quirky invitation to receive the rest that Jesus offers")
Winter Garden – Brettan Cox ("Gripping song of surrender when walking through darkness")
Together – For King & Country  "Encourages us to love each other and the world around us")
Pariah – Aryn Michelle ("A reminder that even though Jesus was perfectly good, he was treated like a criminal")
How Long? – Weston Skaggs ("A question found in many places in the Bible and totally relevant today")
Supernatural – Ben Rector (ft. Dave Koz) ("The beat. The sax. The spiritual lyrics. My favorite pop song this year")
Peace – Melanie Penn ("This lyric sums it up: When the world is crumbling, I have Your peace")
Lazarus  – Phil Madeira ("A clever nod to Steely Dan")
Start Again – James Paek ("Born out of some painful life experience with an important path forward")
Home – Three Shipps ("This gentle song and buttery-smooth harmonies is my lullaby for 2022")
Your Love – Christian Singleton ("This motivates me better to reflect the facets of God's love")
Youth of the Young – Switchfoot ("Crunchy rock anthem about our moral ineptitude")
The Lord Is On My Side – Karin Simmons  ("Beautiful on every level and the truth")
I Know That You've Been Wounded – Pastor Champion ("Many people need to hear this song of truth")
River – Leslie Perez ("Her vocals are worth the price of admission and you will be glad you went in")
To Be Known – Tekoa/Rory McKenna/Shady Gredy ("Vocal harmonies just don't get any better than this")
I  Was Loved – Davy Flowers ("A summary of our faith splendidly expressed")
Hellbound Race – Altar Billies ("This song is Exhibit A of why this band is increasingly well-respected")
Letting Go  – Switch ("A powerful song which is a stand-out anthem with a convicting declaration")
Gravity – Kristene DiMarco ("His plans for us are not to be a heartsick people, but a hope-filled people")
Forever Again – Kings Kaleidoscope ("A wall of sound – strings, brass, gang vocals, power pop beats – wow")
Something About That Name – Anne Wilson ("A reminder that Jesus's name, love, and power endures all things")
We'd love to know — Were there any albums and songs that you have sampled (or soon will) based on this list?  Do you have any albums or songs released in the first half of 2022 that you'd add to the list? Please comment below.
Also, be watching for Episode 80 (coming 8/4/22) and Episode 81 (coming late August) of the Gourmet Music Podcast as we celebrate some of the critics' picks for the best of 2022 so far.  We'll also have an update Critics Picks Playlist coming to Spotify, Apple Music, Amazon Prime Music, & YouTube Music in the first half of August.