I recently visited Germany for the first time and did a walking tour of two of the oldest towns in the country.  We had a local guide leading us – which meant that we walked the towns at a slower pace than I would have wished.  By the end of that 90 minutes, I realized that I had learned a lot about that village and had seen some remarkable things that I might have blown past if I was on my own.
In a way, this is one of the roles we serve here at UTR.  Obviously you can "choose your own adventure" as a music listener (this is what most do, maybe with the aide of the algorithms of a streaming platform).  We can also walk along with you as a tour guide of sorts, pointing out the meaningful makers and hidden gems that could easily be missed.  Our UTR Panel of Critics have compiled a list of recommendations to showcase the best gourmet music from the first half of 2023.  Comments from one of the panelists is shared next to each selection.
[Albums and songs qualify for consideration if the artists are Christ-followers, the project is at least 51% new material, and it has a public release date between 12/1/22 and 6/23/23. Albums/Songs are listed in no particular order.]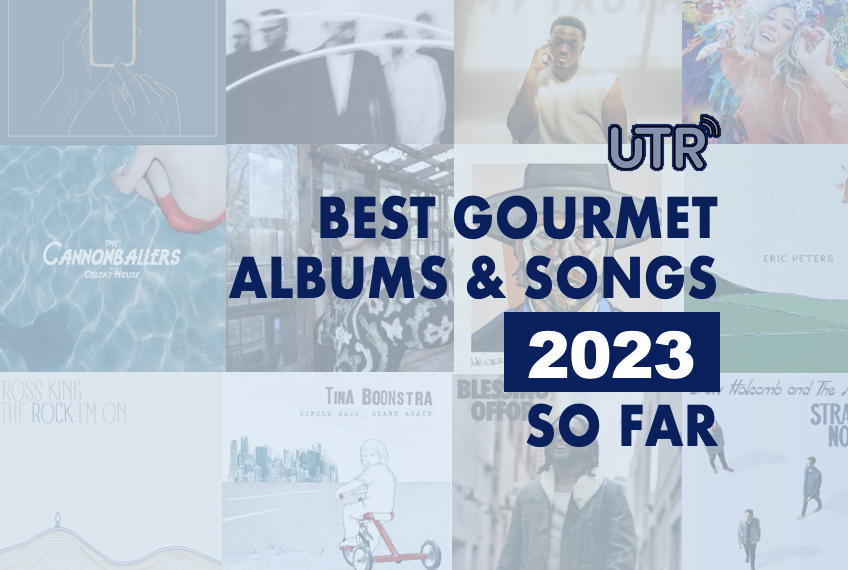 BEST ALBUMS OF 2023(A)
Bare and Bones – Candace Coker  ("Songwriting maturity and soulful vibes – a true delight")
Circle Back, Start Again – Tina Boonstra ("Heartbreaking and hopeful stories here will challenge and encourage you")
Strangers No More – Drew Holcomb & the Neighbors ("Americana style goodness with finely crafted, thoughtful lyrics")
O Sun O Moon – Bruce Cockburn ("A jaw-dropping album as he continues to unfold his generous, soulful, and prophetic wisdom")
A Tale of Two Trees – Matthew Clark ("A delightful listen as Matthew sings stories and teaches")
Redwood – Christa Wells ("Christa's music is truth-telling and vulnerable, with the ability to connect emotionally")
EP – Eric Peters  ("Brilliant balance of heartbreak and raw hopefulness")
Psalms: The Poetry of Prayer – Caroline Cobb  ("Moves from rollicking foot-stompers to quiet reflection")
Deep Valley – Rich Mullins  ("Rich + mic + piano. What a gem – 40 years in the making")
Lauren Daigle – Lauren Daigle ("A joy-filled and mature release – soulful sounds while navigating a nuanced faith")
Lent Hymns – Paul Zach ("An exceptional musical collaboration on a sincere topic")
The Cannonballers – Colony House ("A mix of throwback surf rock, 90s alt-rock, and new territory")
FEVER/SKY – Wilder Woods ("Bear Rinehart further indulges his soulful side with this fun and infectious solo project")
We Outside – Common Hymnal ("Captivating and dynamic music about living as believers in our fallen world")
Where The Winter Was – Skye Peterson  ("Listen with your eyes closed and be swept away")
Abeline – Ian Zumback ("A very personal release from Ian with raw and honest songs")
Place for Me – Jason Gray ("Poignant songwriting coupled with musical excellence")
Ordinary Ways – Jon Guerra ("Devotional songs that will lead you deeper in your own spiritual reflection")
Certain – Anna Palfreeman ("Thoughtful and personal lyrics – completely relatable")
All Yours Baby – Kylie Dailey ("Musically enchanting EP considering different phases of personal relationships")
Home Enough for Now – Benjamin Daniel ("The honesty of this record is palpable and the music is beautiful")
Levees – Mandi Mapes ("Deeply appealing songs that invite you to hang out and soak it all in")
Grim Age – The Classic Crime ("Rich, textured alternative goodness steeped in brutal honesty")
Worktapes (More Songs of Rich Mullins) – Various Artists ("Wonderful renditions of Rich's songs created with warmth")
Worship for Workers – The Porter's Gate ("Incredible arrangments and artists – a soothing balm of encouragement")
I Can't Find The Edges of You – Citizens ("Pushes the boundaries of the worship genre, urging listeners to activate their faith")
Conversations – Grace Graber ("A bold, hope-filled voice merged with the pop cadence of a mature soloist")
Babylon – Brogan Gaskill ("Acoustic-oriented melodies with a voice that disarms your defenses")
Dear Prodigal – Jeremi Licata ("Joyful songs of salvation, restoration, and transformation")
Layers – Joel Ansett  ("Down-tempo, relaxing vibe full of smooth vocals, groovy music, and deep lyrics")
No Creature Is Hidden – Former Ruins ("Vocals that stopped me in my tracks, lyrics that made me stop and think")
My Truth – Jonathan McReynolds  ("Slick production and prayerful lyrics that truly hit home")
The Elephant in the Room – Zach & Maggie  ("Whimsical, witty, and full of heart")
Hymns – Paul Demer ("The acoustic arrangements and tasteful production of these lesser-known hymns are splendid")
Pangea – Garden Friend ("Exquisite production with nuanced musical surprises. A truly engaging listen")
BEST SONGS OF 2023(A)
"Here for You" – Christa Wells ("Provides words and help for dealing with hurt in our relationships")
"The Rock I'm On" – Ross King ("Reminds us that when life is hard, we need Jesus as our foundation")
"Hope" – NF  ("A layered song about silencing negative inner voices – powerful")
"Seen Too Much to Not Believe" – Aryn Michelle ("Wrestling with living by faith…the concluding evidence is plentiful")
"Heart Medicine" – Judah & the Lion  ("An explosive anthem with cool instruments and upbeat lyrics")
"No Time to Wait" – Tina Boonstra ("Romantic story backdrop on taking chances and seeing God do something wonderful")
"Running Toward the Light" – Jenny & Tyler ("Top-shelf indie production with a timely message of hope")
"You Belong (Psalm 87)" – Wendell Kimbrough ("This Psalm of inclusion is presented with Americana-influenced music")
"Dopamine" – The Arcadian Wild  ("A poignant message with superb arranging and harmonies")
"The Healing Comes" – Melanie Penn ("A moving affirmation that speaks to the grief we endure")
"Orders" – Bruce Cockburn ("Lays out prophetically and thoroughly our orders say to love them all. Essential listening")
"Thank God I Do" – Lauren Daigle ("A stirring tribute to enduring friendship carrying us through hard times")
"Man on the Run" – Colony House ("A soaring, rhythmic anthem of searching and surrender")
"Rollin'" – Blessing Offor ("Epitomizes Offor's signature pop/soul/gospel style – retro though still modern")
"Kelly Time" – Owl City  ("Songwriting genius. The film Castaway, but from Wilson's perspective")
"All in All" – Josh Garrels  ("The one-of-a-kind vocals and spirit-centered theme are a must-listen")
"No More Wasted Years" – Common Hymnal ("Nothing is wasted when the king comes. Memorable buoyant music")
"Here I Am" – Citizens ("Features an engaging and soothing musical style")
"Failing Like Fire" – Aryn Michelle ("Her vocals are so powerful and personal that you might think she was actually there")
"Place For Me" – Jason Gray ("A very sing-able song with introspective lyrics")
"If God Came to Church" – Megan Brown  ("We all need to listen, process, and react to this message")
"Color We Bleed" – Drakeford ft. DJ & Marv ("Groovy vibe with a message of racial unity")
"Patience" – Wilder Woods ("This song feels like it was ripped straight from Bear's journal")
"Hard Time" – Allie Crummy ("A revealing and hopefully healing song with strong vocals")
"Beautiful World" – Paul Zach  ("Instant musical happiness with its catchy chorus and bright lyrics")
"Get Back Your Fight" – Sarah Reeves ("Artistically and powerfully captures living with anxiety and depression")
"Pride Was All I Lost" – Nicholas D'Andrea ("An upbeat and captivating song of surrender")
"Grace Riley" – Tina Boonstra  ("This haunting song draws me back like a magnet")
"Currency" – Brogan Gaskill ("One listen, and this will etch out a place in your heart")
"New Heart" – Jeremi Licata  ("Summertime bop all about the new heart Jesus gives us")
"Joy in the Battle" – Major ("Marching orders for how to endure challenges. Inspiring and convicting")
"The King is on His Way" – Jonathan Traylor ("Anticipating the Lord's return in a worship song")
"Más Allá De La Tormenta" – Ale Fdz ("Beautiful poetic worship celebrating our firm foundation")
"All or Nothing" – The River Indigo  ("A sweet, emotional ride with strong musical chops")
"Goodbye Ole Me" – Consumed By Fire ("A joyful, foot-stomping, rollicking tune on life change in Jesus")
We hope this is a helpful resource as you dig deeper into the most meaningful music being made today.  Feel free to search any of these albums or songs on the streaming platform of your choice.  Before the end of July, UTR will be updating our Critics' Picks Playlist (coming to Spotify, Apple Music, Amazon Prime Music, & YouTube Music) which will feature all of the cited albums and/or songs on this list.  Also, our season premiere of the Gourmet Music Podcast will be releasing in late August, and will feature a bunch of these "best of the year so far" releases.
Did any of these selections catch your eyes and ears?  Are there some gems from the first half of 2023 that you'd like to add to the list?  Share your comments below.