We listen to so much music that we often find out somewhat early about new artists.  One of our great joys is introducing budding talent with your eager ears.  One Chicagoland artist who just released his debut album, Dig Awhile [SPOTIFY LINK], this last September is singer-songwriter Andrew Haines.  You can hear the influence of artists like Rich Mullins, Mitch McVicker, and Andrew Peterson in his songs. We were able to interview him just this week so you can get to know Andrew and his music.
UTR: In what way was music a part of your upbringing?
Andrew: Music, and particularly Christian music, played a major role in my life.  My earliest memory of music was hearing a few of my dad's cassettes – Don Francisco, Keith Green, Terry Clark, Bob McLeod – all of which I would play on repeat.  Later my aunt sent me several cassettes of CCM artists like 4Him and Jars of Clay.  I remember loving their songs and singing along with them.  Even my teenage years were fully immersed in artists like Satellite Soul, Smalltown Poets, Caedmon's Call, and others.  I went through phases of listening to other music, but ultimately came back to the music that encouraged my faith. It wasn't until my later teenage years that I discovered the music of Rich Mullins, and as a result, I would never be the same.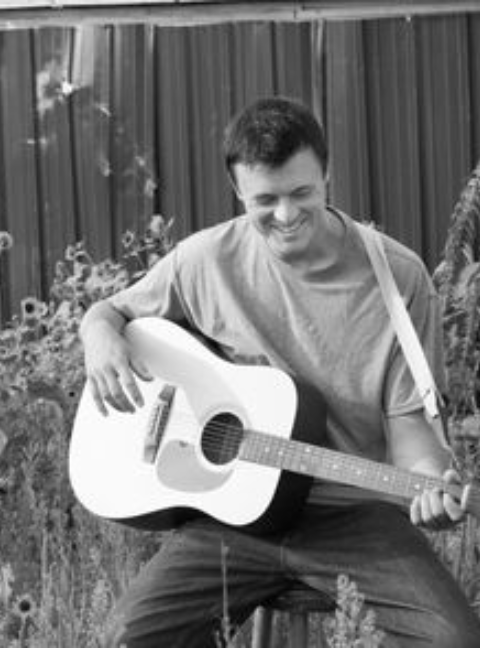 I grew up hearing my dad play praise songs and classic rock riffs on the guitar, but other than that did not have much exposure to instruments early in life.  I started writing songs as a young boy, filling several notebooks with my lyrics.  I would keep the melodies in my head, and I remember sitting at my grandma's piano wishing I could make music.  When I got my first electronic keyboard I simply sang my lyrics along with drum beats and recorded them on cassette tapes.  During my freshman year of high school I began playing drums with my youth group praise band and then later for church.  I got my first guitar for my 17th birthday and immediately taught myself to play and put music to lyrics.
UTR: Can you share about your years living on a Native Reservation, and how that influenced your life and your music?
Andrew: I first visited the Rosebud Reservation when I was 15 years old, and that experience dramatically changed my life.  It was there that I truly encountered God for the first time, and from that point I knew he had called me to move there to work with youth.  I spent over 12 years doing just that, and most of the songs on Dig Awhile were either inspired by my experiences there or by the beauty of creation that is so prevalent on the prairies.  In fact, many of the songs on the record came from my "prayer path" in my back yard where I witnessed numerous dawns giving way to sunrises, starry nights, moonlit horizons, and other such magnificent wonders.  My track "Song of the Plains" perhaps best summarizes my time there.
UTR: The music and arrangements on Dig Awhile are full of warmth and beauty.  Can you share some of the influences that shaped the sound you were aiming for?
Andrew: I have always loved albums that feature a variety of instrumentation and musical styles, and thankfully my producers Carter Green and Michael Armstrong have the combined ability to play nearly every instrument under the sun!  We had so much fun making this record.  I also owe much to my friend Mitch McVicker, because without him I would not have started this process.  It was an incredible honor to make a record with friends of my musical hero Rich Mullins – Mitch McVicker, Michael Aukofer, and Dave Sprinkle.  Some of my other influences, aside from the ones I mentioned earlier, include artists like Andrew Peterson, Pierce Pettis, and Burlap to Cashmere.  My goal was to make a record with an authentic, natural sound while avoiding both the overproduced "radio" sound as well as a more sloppy indie style.
UTR:  The lyrics are packed with scriptural reflections and spiritual encouragement.  What do you hope this album thematically communicates to listeners?
Andrew:  I love scripture, and my goal is to write music that calls the listener to dig into the word – even the obscure passages most people don't read.  My spiritual life has been profoundly influenced my music and my hope is that these songs the Lord has given me will bless others in a similar way. My songs give snippets of scripture as opposed to telling a whole story, and my hope is that this beckons the listener to dig with me, as it were.
UTR:  When you're not singing and playing guitar, what are some of your hobbies and interests – away from music?
Andrew:  I have three precious daughters and love spending time with them working on our small farm, taking bike rides, watching family movies, visiting family, taking trips, and reading the Bible together.  I also enjoy learning history, and have a particular interest in the history of awakenings and revivals.