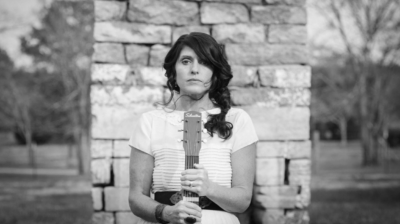 For most songwriters, 13 Dove Awards and 2 GRAMMY nominations might weigh them down – but not Cindy Morgan.  The last few years has found her returning her sound to her Appalachian roots, and she's been turning in the best artistic work of her already illustrious career.  Her new EP is called Autumn & Eve, and she describes it as "a merging of Old Testament struggle and modern heartache."  We are honored that she asked UTR Media to offer the exclusive "pre-listening" experience of the EP – which will be available on all music platforms on March 8, 2019.  Below Cindy shares thoughts about each song, and you can be the FIRST to listen to each track.
TRACK 1
"In The Beginning"
I remember visiting the Royal Tyrell Dinosaur Museum in the Badlands of Canada years ago. At the museum there is an exhibit of the earliest known signs of life on earth. The exhibit is dark, like walking into an ancient cave with a glass case illuminating the recreation of the creation of life. I grew up believing the literal interpretation of Genesis and I still do believe that- but I have no fear of considering that God orchestrated the creation of our world in deep and mysterious ways that we cannot fathom. I stood in awe of the idea of ancient earth and the beginning spark of life rising from sleep. Rising from the dust. The mysterious fathoms of God and the way in which he brought everything that "is" to life. – Cindy
I'll never forget seeing "The Return of Barney" on the Andy Griffith show. Barney was to return for a high school reunion. Barney had moved away to the city to become an investigator. Thelma Lou, his one true love, had moved away from Mayberry as well. She was coming back for the reunion. Barney, finally feeling worthy of asking Thelma Lou's hand in marriage with his new position and decent paycheck, made plans to rekindle the lost love with Thelma Lou. To finally ask the question he'd never had the courage to ask in the years they were together. The moment he sees her you feel all the butterflies of nostalgia and the chance for this lost love to be salvaged; that is until a tall handsome figure appears behind her. "Barney I want you to meet my husband."  Crushed. It was too late. It reminds me of the saying "The opportunity of a lifetime must be seized in the lifetime of the opportunity." I have often thought about those beautiful days of paradise for Adam & Eve, The beauty of the garden. The peace they must have felt walking with God through the garden. Their father and their creator. The taste of the fruit plucked from a tree. The refreshing cold spring water to quench your thirst. They wanted for nothing. Then on branch from the corner of Eve's eye – she sees something there- in the tree they were waned not to eat from. And yet- curiosity takes over. They cant look away and there in a spinning of flavors and a dark cloud they see their nakedness. They feel hungry. And ashamed. I often imagine the mourning of leaving the garden. They had it perfect. But perfect wasn't enough. And so they were turned out of the garden to wander. East of Eden and Wes of Nod. – Cindy
We seem to be a culture of desperation and depression. When life deals you a tragic blow it is difficult not to spiral into despair. Want to give up. But we who have faith are connected to the thread of life. Of hope. Sometimes we only have that sliver of a thread of hope left but as long as we hold on we can survive. I have realized in the last few years of my life during some of the difficulties I have faced, that having community around you is one of the most important ways God shows himself in our lives. To acknowledge our need for friends and family. Our need to feel God's love through the flesh and blood of those around us. The sun begins to rise and life seems hopeful again. – Cindy
There are moments in your life when you think you cannot bear the weight of sadness or pressure or a depression that you are struggling through. You can forget about the peace we have been offered through our faith in God. When I wrote this song I was not only thinking about my own state of mind but I also kept thinking about Abraham and how it must've been so difficult to carry the load of being "the father of a nation" We always see how presidents age once they enter the office. The weight of it all takes a toll. For Abraham, I wondered if people thought he was crazy -the whole scene where he had every male in his camp circumcised. I imagine many of his followers must have thought him insane. And yet, he was faithful A friend to God. It is difficult to lay down our burdens at the feet of Jesus. It never seems to get easier. We want so desperately to do our part or believe that we can do it on our own. But it's so beautiful when we do bring that massive weight and lay it there. It is then we discover the truth of what Jesus said "My yoke is easy and my burden is light."  – Cindy
"David was a man after God's own heart." Can you imagine this being your epitaph? Even with the wars and Bathsheba and the murder of her righteous husband Uriah- still God saw his heart and deemed it worthy. There are so many things in my heart I wish to change. If only to be able to truly surrender everything to the will of God. There must have been great sadness in David's heart. He was a poet. A musician. He lifted his laments and his praise in the same breath. I wrote this song more than 10 years ago after reading the Psalms. It is still the prayer of my heart. "I want to love you like David". For my heart to truly desire the beautiful things of God more than anything else.  – Cindy
TRACK 6
"In The Beginning (Reprise)"
Be listening for Cindy Morgan as a featured interview guest this week on Episode #21 of the "Green Room Door" podcast.