Our Campaign ended on 12/31/19.  Thank you to all who contributed generously so that we can continue our ministry.  If you missed the campaign, that's ok, we can use new support and donations any time of year – SIGN UP HERE
Music is one of those mysterious gifts from God that has the power to speak so directly to our hearts that it can greatly impact our spiritual, emotional, and mental well-being.  Our organization pours our energies into finding, sharing, and celebrating the most well-crafted faith-inspired music being made today – with the hope that the lives of listeners (and even artists) would be changed for the better.  BUILDATHON is a time of celebration for how we've seen God impact lives, and also a time to ask you to consider locking arms with us as we serve over 100,000 people together.
Our hope this year is to grow our monthly support team.  One fast food outing for two is usually $20 these days.  Would you consider a gift of $20/mo to allow us to provide some truly "gourmet music" for your heart & soul?  One-time gifts are also welcome (just "uncheck" the monthly gift box).
If you are a current monthly donor, your annual pledge has already been included in the campaign totals.  You are always welcome to give a year-end bonus gift if you feel so led.
UTR Media is a 501(c)(3) non-profit organization. All charitable giving is tax-deductible.
Help Us Launch 3 New Projects!
[These are in addition to the podcasts, videos, playlists, etc that we already provide….]
** JANUARY 2020 — We plan to launch our 3rd Spotify Playlist which will have literally 24 HOURS of Gourmet Music.  It's what you dreamed Christian Radio could sound like!
** FEBRUARY 2020 –– We plan to launch a special membership program for independent artists, which will include workshops, conferences, marketing, networking, tips, & gobs more.
** MARCH 2020 — We plan to launch a concise, unique Song + Bible daily devotional, many of which will be written by beloved UTR artists, delivered every weekday to your email inbox.
Special "Thank You" Rewards for Buildathon 2019 Donors
** LEVEL ONE ($0-99 gift) — You get to request any song for our "All Requests Special Menu Playlist" [coming Late FEB]
** LEVEL TWO ($100-199 gift) — Song Request + "Best Live Music from the UTR Studios" album download – including performances you can't find on Spotify or anywhere… by Andrew Peterson, Cindy Morgan, Josh Garrels, The Vespers, Jenny & Tyler, and a bunch more!
** LEVEL THREE ($200-359 gift) — Song Request + Album Download + ALL 367 Episodes of the "Under The Radar" radio show (2008-2017) sent on one USB Flash Drive
** LEVEL FOUR ($360+ gift) — Song Request + Album Download + 367 UTR Episodes + A special swag box full of goodies that will have you smiling from ear-to-ear (signed CDs, out-of-print albums, books, posters, T-shirts, hand-printed lyrics, signed vinyl, etc)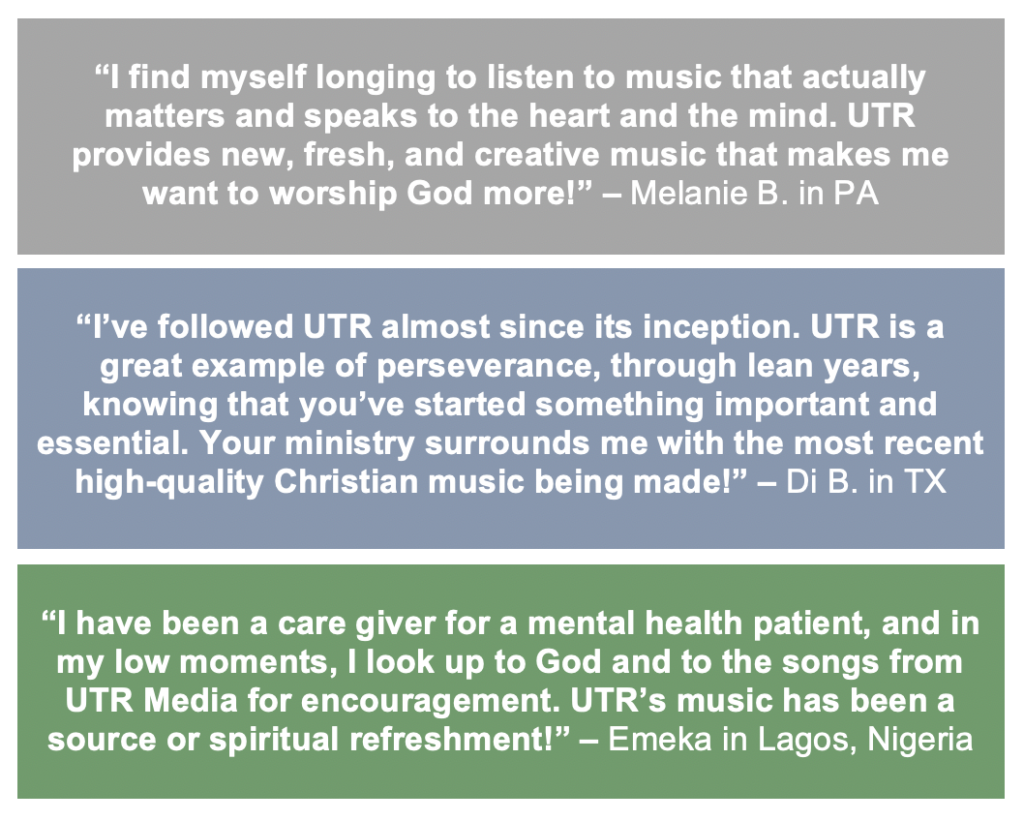 Buildathon 2019
Now – Dec.31
GOAL:  $50,000
RECENT CAMPAIGN DONORS:
Chris & Jeff Toronjo (Granite Shoals, TX)
Mike & Carol Mesco  (Oak Lawn, IL)
Rob & Michele Gasaway  (Hannibal, MO)
Carolyn Godby  (Brentwood, TN)