Looking back on this last year has shown that God has done some AMAZING things in us and through us.  This year will always be remembered for the release of Bellsburg and the record-setting Kickstarter campaign.  We're grateful for the other Rich Mullins related albums and tribute events from this year.  We helped to reunite the Captains Courageous for one night only.  This was also the first year of our (wonderful) partnership with Judson University.  Oh, and we continued to provide podcasts, playlists, social media, videos, critics lists, and SongRx devotionals all throughout 2022.
F'shew.  A lot has been going on.  And the crazy part… we believe the best is yet to come.
Your generosity during our year-end campaign will help us continue to create free content that encourages people spiritually, emotionally, and mentally.  We are also looking forward to helping to create more new albums in 2023 as well.  God has opened up new doors we didn't expect, and YOU can provide us the fuel we need to do some amazing ministry work in the year ahead.  Would you please consider becoming a generous backer of our BUILDATHON 2022 campaign?  We have some special "thank yous" listed below as you consider a tax-deductible donation.
UPDATE:   The Buildathon 2022 Campaign ended at midnight on 12/31/22.  Our final tally was 39% of our overall goal, and we are trusting that God will provide in other ways to make up for the shortcomings.  However, what really encourages us are all the people who gave generously – especially several first-time donors.  Happy New Year, and we hope 2023 is a wonderful year for gourmet music artists and for every member of the UTR Family (including YOU)!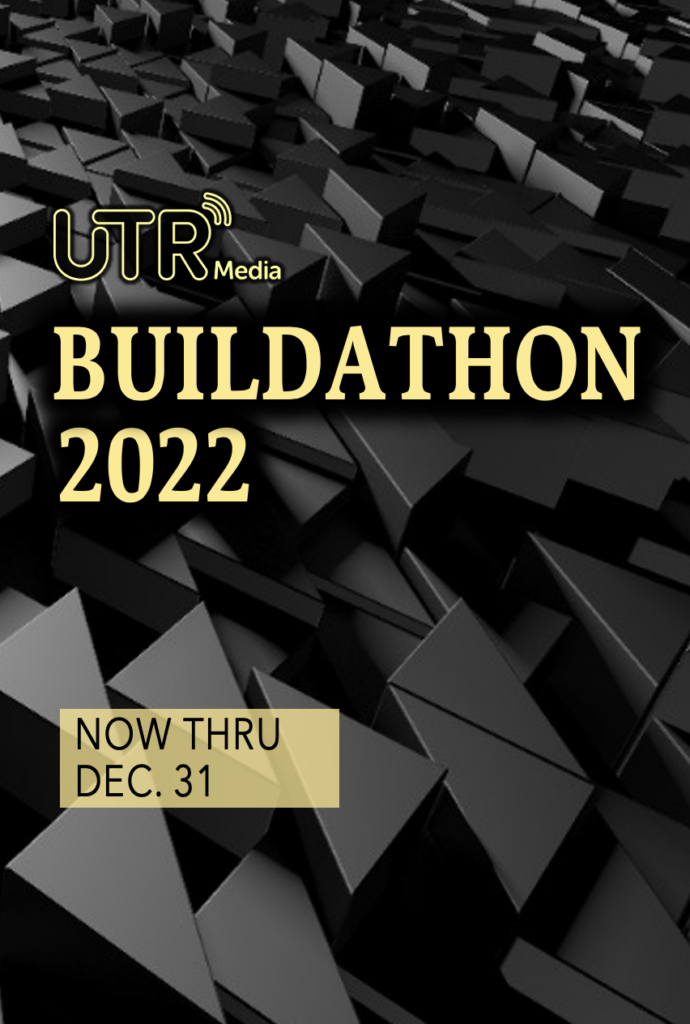 Reward Tiers for Buildathon 2022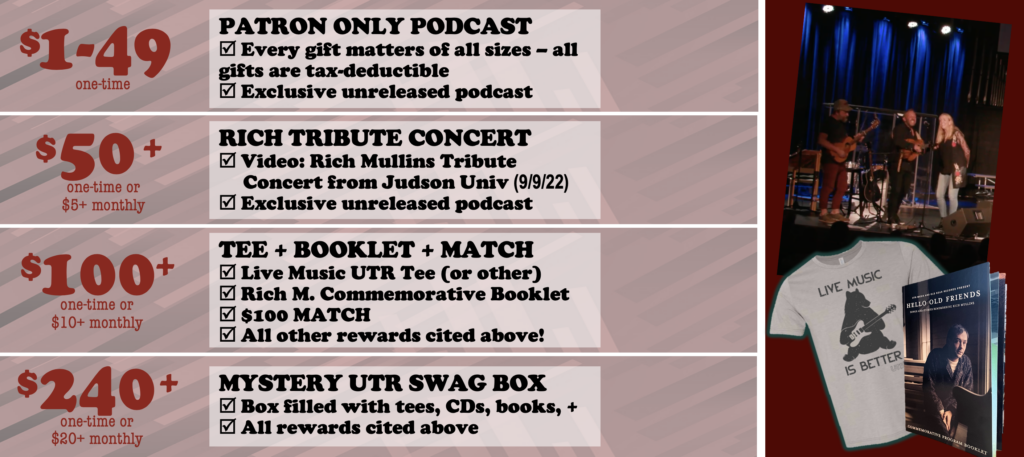 *** CAMPAIGN UPDATE ***
GOAL:  $15,000
RECEIVED:  $5860
RECENT DONORS:
* Ed Moschler – Old Fort, NC
* Doug Oines – Wash.Crossing, PA
* David Slayback – Stevensville, MI
* Joseph Braymer – Lancaster, PA
* Doug Kimball – Plaistow, NH
You are investing in the lives of others
We don't just play music for fun or for entertainment.  We have always had intentionality behind all of our work – and we want those who engage with our content to experience spiritual, emotional, and mental health while engaging with the most well-crafted music being made.  Our content reaches over 100,000 people a year, and your donations allow us to continue to provide all of our content for free. Plus, your gift allows us to explore special projects with Judson University, Old Bear Records, promote live events, and help build a platform that encourages well-crafted, faith-inspired music.