Music is medicine for the soul. The right song can positively affect our mental health. Ultimately, poetry and melody can draw us toward God and awaken the deepest parts of our soul.  UTR Media exists to build community around well-crafted faith-inspired songs that helps you rediscover your soul-connection to music.  Right now, we need your help to grow our media ministry as we produce podcasts, videos, album compilations, articles, playlists, & live events that are ministering to tens of thousands of people every year.  Please prayerfully consider giving a one-time end of the year gift or join our monthly support team to help us reach the goal for Buildathon 2018.
UTR Media is a 501(c)(3) non-profit organization.  All charitable contributions are 100% tax-deductible.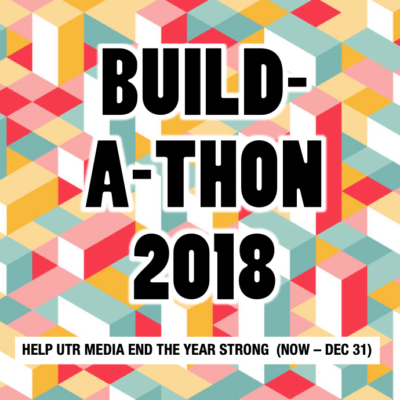 If you are already on our monthly support team, we have included your "renewed" giving for 2019 into the campaign totals.  You don't have to take action… unless (which would be amazing) you wanted to give an above-and-beyond year-end gift or you wanted to increase your monthly contribution.  [Our monthly support team will automatically receive the reward items.]
SPECIAL REWARD PACKAGE FOR BUILDATHON 2018
These items are a special "thank you" for your participation in our campaign:
ART & CREATIVITY – A never-before-released audio recording of a session at ETTL 2017 with Roy Salmond, Taylor Leonhardt, Chris Slaten, & Nick Flora.
UNRELEASED ALBUM – A digital download of the unreleased album Live at ETTL with Caroline Cobb (recorded in 2014).
UPDATE – $100 MATCHING GIFT – On DEC. 30-31, a $100 MATCH will be applied for any & all donations of $100+ (or $9+ per month).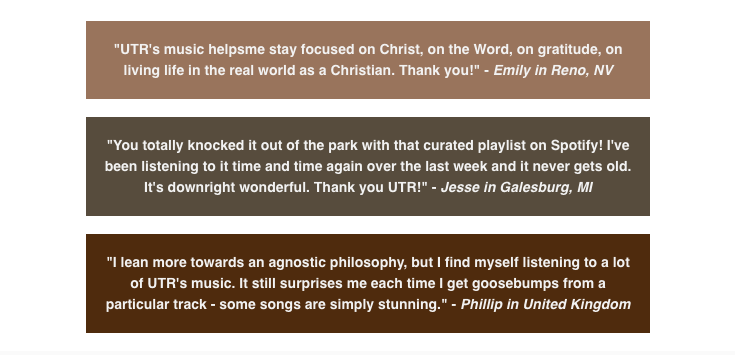 GOAL:  $50,000
Current: $39,275
RECENT DONATIONS:
Carol & Mike Mesco – Oak Lawn, IL
Reese Watt – St. Louis, MO
David Vogel – Blue Springs, MO
Vonda Sellers – Mountain Lake, MN
Lisa Weyerhaeuser – Gurnee, IL