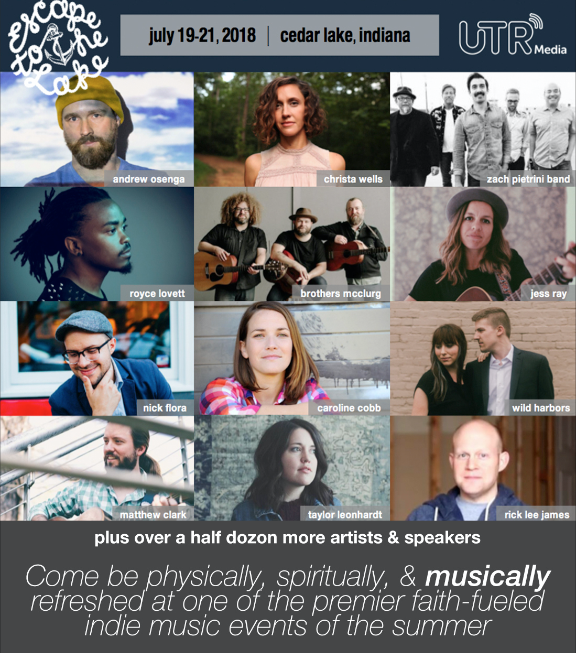 We are so excited to present the 6th annual Escape To The Lake, the flagship event of UTR Media and one of THE BEST faith-based indie music gatherings of the year. You are invited to come be physically, spiritually and musically refreshed!  All the fun is happening July 19-21 [plus the ETTL Songwriters Bootcamp July 18-19] at Faith Church in Cedar Lake, IN. 
I just feel like these are 'my people.' Music is such a huge part of my spiritual life, and having conversations about art and beauty is so refreshing to my soul. It's a community unlike any other I've experienced… and I'm leaving feeling a little more sure of who God made me to be. — Nicole V. [attendee from Nebraska]
Q: Who is ETTL for?
A: Everyone! Especially those who have a soul-connection to music… as a maker or as a listener/patron.
Q: What if I don't live near Cedar Lake, IN?
A: ETTL has always been a 'destination' event – not a 'local' event. Last year we had folks there from TX, NC, CA, NJ, WA, MD, OR (just to name a few) and even 3 people from Canada!  You can road trip our direction, or the Gary, Midway, and O'Hare airports are all less than 65 miles away. 
Q: What happens at ETTL?
A: Lots of music… everywhere! 🙂 Plus… artist Q&A, podcast recordings, a music game show, kids activities, bonfires, worship, breakout sessions, & amazing concerts every night. 
Q: Can I play my own music?
A: Of course! We encourage folks to bring their talent & their hearts (and their instruments). We will have an official Open Mic time on 7/20, late night songwriter circle ups, and we would highly recommend aspiring songwriters come to our ETTL Songwriters Bootcamp (an optional 24-hr pre-event hands-on experience).
Q: Where can I get more information?
A: More detailed info on roster, schedule, & registration rates is available at escapetothelake.net.