The UTR "Heart, Soul, & Mind Playlist" has been updated on Spotify with a wide variety of 4.5 hours of gourmet music… perfect for commuting, house work, or any time you need to "rediscover your soul-connection to music."  Look below for the full track list and curator's notes.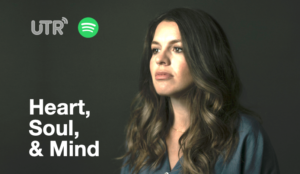 CURATOR'S NOTES – HSM PLAYLIST (FEB 2019)
While the vast majority of songs are recent releases, one of the goals with this month's playlist was to include some past songs – representing the 70s, 80s, 90s, and 00s (with songs by Jars of Clay, Andrae Crouch, Mark Heard, Leigh Nash, Rick Elias and more).  Plus I always love to feature some live performances – this time by Harrod & Funck, Royce Lovett, Amy Grant, and others.  However, the true spotlight of the playlist are many brand new songs (or new versions) just released in the first 5 weeks of 2019 – including Jess Ray, Christopher Williams, Cory Henry & the Funk Apostles, Ben Rector, Sarah Masen, Josh Garrels, and a few more.
TRACK LIST – HSM PLAYLIST (FEB 2019)
Welcome from Dave – UTR
New Start To Start – Hark The Herons
Freedom [LIVE] – Royce Lovett
One and Only – Jess Ray
Delight In The Lord – Josh Garrels
Everything Gets Better – Giants & Pilgrims
Remembered For – Colony House
Find My Way – Brooke Annibale
Different, Separate Lives – Eric Peters
Kindness of Strangers – Sara Groves
The River – Christopher Williams
Good Light [LIVE] – Drew Holcomb & The Neighbors
A Star's Lament – Melanie Penn
Help Thou My Unbelief – Rick Elias
Limp – Jonathan McReynolds
BSM: Create in Community – UTR (ft. Christa Wells)
One Black Sheep – Mat Kearney
Saved By Love [LIVE] – Amy Grant
Psalm 63 – The Corner Room
You've Been Written – Vocal Few
Weighed Down – Jars of Clay
It'll Be Alright – JJ Heller
Golden Bell – Brady Toops
Winds of Change – Russ Taff
O God of Mercy, Hear Our Plea [LIVE] – Sovereign Grace Music
He Has Made a Way – Caroline Cobb
November Sorrow – The Zach Pietrini Band
Pain to Glory – Thembi Joy
Dig New Streams – Switchfoot
Drive [MPLS Version] – Ben Rector
Watch You Burn – Anchor & Braille
New Histories – Brooke Fraser
BSM: Career Surprise – UTR (ft. Matt Brouwer)
Riser – Steve Moakler
Keep the Feast in Faith – Matthew Clark
Lookin' Forward – Over The Rhine
Can't Nobody Do Me Like Jesus [LIVE] – Andrae Crouch
Even Close – Charlie Dodrill
When The End Comes – Andrew Belle
Won't Let Me Go [Acoustic] – John Tibbs
Like Lightening – Sarah Masen
Nothin' Like This – Ripp + Rice
Lion Song [LIVE] – Harrod and Funck
Wrong Side of the World – Sara Beth Go
Burdens – The Last Bison
Northern Lights – Battle Victorious
Don't Worry Child – Lisa Weyerhaeuser
Worry Too Much – Mark Heard
What Love Can Do – Mindy Smith
Great Rejoicing – Thad Cockrell
In the Water – Cory Henry & The Funk Apostles
BSM: Rabbit Hole of Inspiration – UTR (ft. Julie Lee)
Regret – Moda Spira
I Won't Live in Fear – Arthur Alligood
Without Conditions – Zach Bolen
I'm With You – HeeSun Lee (ft. Sam Ock)
Pianos In Jericho – Sho Baraka (ft. Sean C. Johnson)
Lost Ones – Amy Stroup
The Mantis and the Moon – Son of Laughter
Brighter Day – Randy Stonehill
Excavation – Cool Hand Luke
Awaken the Wonder – Stephen Miller
Stone by Stone – Jessi McNeal
Did Not Save the World Today – Allen Levi
Sleep Talking – RYVOLI
I Don't Want This Job – Zach Winters
Heaven – Good Saint Nathanael
O Heart Bereaved and Lonely – Leigh Nash
Hope Beyond Despair – Ian Zumback
God of the Moon and Stars – Paul Field