Whether you're commuting, cleaning, working out, working, doing homework, or taking a walk – we hope our "Heart, Soul, & Mind Playlist" captures you with beauty, stirs you with spiritual hope, and draws your thoughts to good and noble things.  You can listen on this page, or search this playlist on the Spotify app (or click below to open directly) – and also read our Curator's Notes below.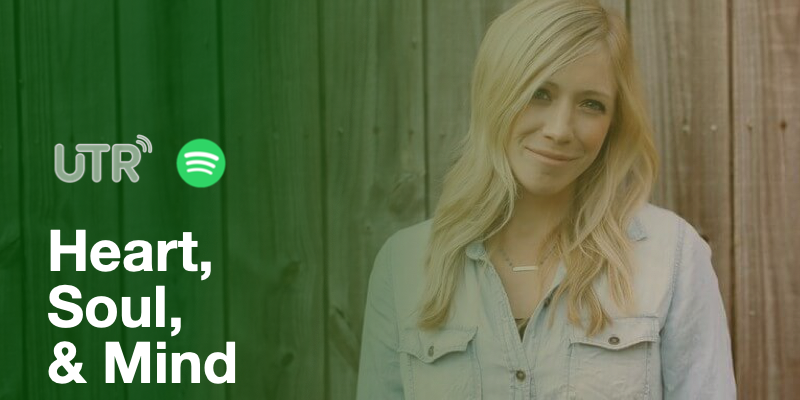 CURATOR'S NOTES – HSM PLAYLIST #5 (MAR-APR 2019)
One of the things I've started to do is jot notes on my desk calendar about artists I should include in the next playlist update.  These reminders help me include artists that we have never featured on the HSM Playlist before (e.g. The Arcadian Wild, Michael Van Patter, Tyson Motsenbocker, Robert Randolph & The Family Band).  I also like to track some of the newest albums, EPs, and singles so that we are including some of the latest music being made (e.g. Cindy Morgan, Judah & The Lion, Madison Cunningham, Tanya Godsey, David Leonard, 6'10, etc).  And because I'm reading through the Chronicles of Narnia for the first time with my kids, I just had to include the fantastic Narnian-themed song "My Name is Eustace" by Benjamin Dunn & Friends. Enjoy!
TRACK LIST FOR MAR-APR 2019
Welcome from Dave – UTR
All At Once – Madison Cunningham
Rise Again – Needtobreathe
Raised By My Brothers – Dwayne Shivers
"Silence, A Stranger" – The Arcadian Wild
In The Beginning – Cindy Morgan
Almira – Tyson Motsenbocker
"Little Boy, Heart Alive" – Andrew Peterson
We're Getting Better – Wild Harbors
Rescue – Ellie Holcomb
Always Wanting – Jonathan Gabriel Masters
Front Porch – Joy Williams
Moses In The Desert – Lost Dogs
My Name Is Eustace – Benjamin Dunn & Friends
Brother Moon [LIVE] – Gungor
Pick Me Up – Joy Ike
Holding On – The Brilliance
BSM: Thankful for Songwriting – UTR (ft. Sara Groves)
The Castle – Teressa Mahoney
I Am Not Alone – Christopher Williams
My Feet Keep Moving Still – Carolina Story
Why Did You Run? – Judah & The Lion
Carry Each Other – Leagues
Deeper [LIVE] – Delrious?
Free at Last – Nomads + Natives
Fix My Heart – Swoope (ft. Propaganda and Denise Powell)
The Beauty Between – Kings Kaleidoscope (ft. Andy Mineo)
Ready or Not – Drakeford
Hold My Tongue – Jonas Woods
8:31 – Nick Flora
Son of God – Chris Renzema
Diamonds – Taylor Leonhardt
Give Me Up Again [LIVE] – Jonny Lang
Cathedral Made of People – Downhere
Future – The New Respects
Half of the Better One – Kevin Max
Distraction – Brooke Annibale
BSM: Rabbit Hole of Inspiration – UTR (ft. Julie Lee)
Reach For The Sun – The Hope Arsenal
Daydream – Jillian Edwards
Full of Light – Andrew Word
I'll Carry On – Rich Mullins
OK – Branches
On The Evening Train – Jeremy Casella
Beauty of a Broken Heart – Michael Van Patter
I Can Rest Here – Jillian Jones
Avynn's Song – The Promise Is Hope
Resurrect Me [LIVE] – Jon Foreman
Dance on Graves – Amick Cutler
Stay Alive – Tanya Godsey
Justice is Coming – The Silver Pages
Come As You Are – David Leonard
So Soon – Carly Bannister
The Isle – 6'10
Eurus – The Oh Hellos
Morning Birds – Alathea
Drift Away – Adam Whipple
BSM: Music Still Moves Me – UTR (ft. Andrew Osenga)
Mystery of Faith – Greg LaFollette (ft. Sarah Masen)
My Father's Son – John Millea
No Shortcut to the Heart – Matthew Clark
Summer Solstice – Susan Ashton
Better Man – Zach Vinson
Stay – Rick Lee James
Run Free – Legend Ozora
Trying to Catch a Ghost – The Hedgerow Folk
Take My Hand – Robert Randolph & the Family Band
Out of Touch, Out of Luck – Deni Gauthier
Farewell – Holly Arrowsmith
Take the Ticket – Mr. & Mrs. Something