It took us several years to embrace Spotify – even a decision reversal on a previous boycott. But we are glad we did – if for no other reason than we are seeing ways it is serving both artists and audiences.  Recently, The Hedgerow Folk wrote us to say, "Thanks UTR Media for including us on the current Spotify playlist. So grateful for your support."  Also (listener) Curtis in Ohio wrote, "I have UTR's Spotify playlists on repeat. You introduce me to many new artists!"  Now we release the next installment of our Heart, Soul, & Mind Playlist, featuring over 70 tracks and over 4.5 hours of gourmet music.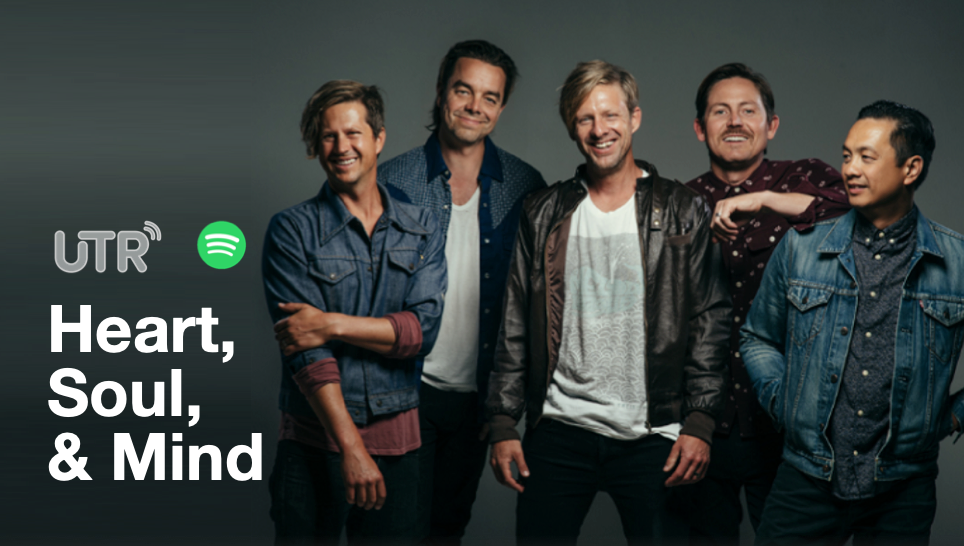 CURATOR'S NOTES – JUN/JUL 2019
This playlist intentionally has a bit more pep and groove to it, which seemed appropriate for the Summertime.  I am sharing a lot of new releases from artists like Drew Holcomb, Mike Mains & The Branches, Kirk Franklin, Amy Stroup, Judah & the Lion, & Joel Ansett.  We've got some throwbacks with Steve Taylor, PFR, Bebo Norman, Charlie Peacock, & Smalltown Poets.  And it's always fun to sprinkle in some live performances and remixes – this time by Mavis Staples, Jess Ray, The Choir, As Isaac, Kye Kye, Fernando Ortega, and our cover artist Switchfoot.  I hope this helps you rediscover your soul-connection to music!
TRACK LIST FOR HSM PLAYLIST  (JUN-JUL 2019)
Welcome from Dave – UTR
Die Tryin' [Remix] – Jess Ray
Kings & Queens – Mat Kearney
There Is a Balm in Gilead – Giants & Pilgrims
Moonlight – Johnnyswim
Far Kingdom [Reimagined] – The Gray Havens
Voices [LIVE] – Switchfoot
I've Been Here Before – Sara Groves
Cadillac – Joel Ansett
7000x – Judah & The Lion
That's Dat Jesus – Royce Lovett
River Jordan – Mike Farris
Liberty [LIVE] – Shane & Shane
Fool's Gold – Sandra McCracken
BSM: Career Surprise – UTR (ft. Matt Brouwer)
I'll Write You – The Zach Pietrini Band
Who You Are – Smalltown Poets
The Two Lost Sons – Caroline Cobb
Magic Mirror [Reimagined] – John Mark McMillan (ft. Josh Garrels)
Full Circle – Phil Keaggy (ft. Rex Paul)
The Future Is Ours – SHEL
Bird With A Broken Wing – Owl City
Love and Trust [LIVE] – Mavis Staples
Dragons – Drew Holcomb & The Neighbors
Innocence – Lauren Mann
Would I Believe – John Lyzenga
This is My Story (My Song) – Sarah Kroger (ft. John Tibbs)
The Grace of God – PFR
Worry – Andrew Osenga
The Adventures of Me (And This Old Guitar) – Pierce Pettis
Things That I'm Afraid Of – Ross King
BSM: Gratitude Over Fear – UTR (ft. Andrew Greer)
Far Side of the Sea – Amy Stroup
Live Forever – Mike Mains & The Branches
After All [Remix] – The Choir (ft. Leigh Nash)
A Principled Man – Steve Taylor
Shine – Christa Wells
1000 Feet – Scott Mulvahill
All Things Well – Hallowell
Road Song [LIVE] – Fernando Ortega
Trusting Jesus – Brothers McClurg
Gather At The Water – Sarah Hart
Come To Jesus – Mindy Smith
Like the World is Going to End – Ben Rector
Love Theory – Kirk Franklin
Let You Go – Brady Toops
Explaining Jesus – Jordan Searcy
Monkeys At The Zoo – Charlie Peacock
Taking Your Time – Jill Phillips
Know Your Heart – David Leonard
BSM: Becoming Indie – UTR (ft. Cindy Morgan)
Heaven Has Come – Young Oceans
Slow Train Creek – Holly Arrowsmith
There's a River – Erik Nieder
I Want Jesus to Walk with Me (The Valley) – Ryan Clair
Introduce Myself [Remix] – Kye Kye
Lonely – Colony House
Is It In You – Maron Gaffron
Be My Vision – Rebekah Maddux El-Hakam
I'm Alright – Bebo Norman
Seek First – The Asking
Paradise – Adrian Mathenia
Home – The Promise is Hope
Like Wildflowers – Rebecca Selah
Psalm 32 [LIVE] – As Isaac
Noot Today – Harbor & Home
Meet Me Here – Matthew Clark
Extra Mile – The Mosleys
Time – John Lucas
The Streets – Strahan
Undivided – Stu Garrard & Amanda Lindsey Cook