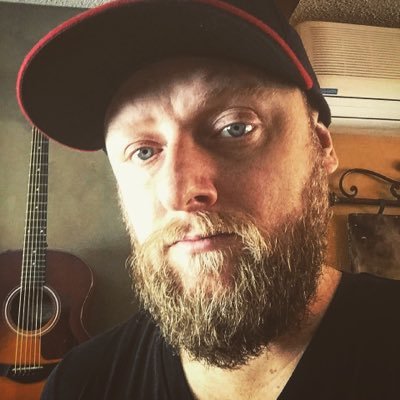 We love discovering up-and-coming talent, especially early in their music career. Ryan Clair's debut album Less Traveled Road just released nationwide. The album was recorded at Old Bear Studios in Batavia NY, completely on analog tape which helped to produce an old time gospel sound combined with a singer/songwriter vibe coupled with modern worship. Ryan's soulful vocals are perfect for this music and the combination of styles is striking. Here's a conversation we had with him this week.
UTR: What road did you travel that got you involved in music like you are today?
Ryan: Music has been a part of my life as far back as I can remember. It's always been an extreme passion of mine. It all started with me being a fan as a kid and collecting and discovering the best music I could find. Something about the discovery of great indie bands that no one has heard about was fun for me. I got my first guitar when I was 13 years old and at that time Punk Rock music was a big part of my life.  Growing up in Southern California, Punk Rock was all the rage! Haha! Through out high school and my early 20's I played in Punk Rock bands that eventually shifted with the styles that sounded more Emo/Indie Rock. To make a really long story short and to answer your question about how I got involved in the music I am doing today. It all started with the invite to play mandolin in a bluegrass band with my Uncle in my early 20's. One thing punk rockers were good at is strumming fast and playing weird chords. So I picked up the mandolin fast! During that time I fell in love with the music. I love a song that tells a story and has a melody you just can't help but sing along to. It became all I listened to and once again my passion for finding the best music in that Genre was ignited. A big part of my journey was moving to Minnesota from California. I wasn't in a band anymore; I focused all of my attention into leading worship. But, I found myself on a journey that involved writers block and even depression. I attended a worship school in Georgia 3 years ago that encouraged song writing. With newfound tips and digging into the Word of God more than ever I began writing again. This time it felt natural and authentic to who I am and what I believe. Musically I feel at home.
Ryan: Going in to record the full length I had about 15 songs that I had written within a 2-year window. I sat down with Chris Hoisington and Anthony Hoisington while I was recording my first single "I Want Jesus To Walk With Me (The Valley)" and we played through all of my song ideas. A number of songs were clear choices for the record and a few were not entirely finished. We sat down and finished 3 songs together. "Throw Me A Line," "Hope For A Weary Soul" and "Come To The Altar & Pray". Those immediately became favorites and were added to the record. The only song I questioned about putting on the record because it is so different is "A Brothers Battle." It is such a personal song to not only my family, and me but it talks about my brother's life. It's personal for him as well. The only reason I felt good about adding the song to the record was the fact that my brother found recovery and is doing really good now.  It now is a song of encouragement and serves as a reminder to keep praying for those we love. Spiritual battles are real and the enemy wants to devour everything we are and have. With some encouragement from Chris we ended up adding the track.
UTR: Do you have a favorite track on the new album? 
Ryan: It is really hard to narrow it down… But, I would have to say my favorite to play and sing is "Less Traveled Road." It takes me through a journey of imagery and faith every time I sing it. I can picture a place prepared for me by my Heavenly Father. As a guy who loves rural living, I picture a cabin in the perfect setting along a river as clear as crystal and mountains as far as the eye can see. It gives me hope as I live out this life and continue down this path that is sometimes dusty where my vision is blurred or it's muddy and I get stuck. I see beauty of things along the way as well. Blessings in the sun rising beyond the hills and knowing others have endured the trail before me and I am not alone.
UTR: What do you hope the listener will take away from this album?
Ryan: Hope! Exactly that. I pray as the listeners hear these songs they feel a sense of hope and encouragement. I also hope the feel the honesty in not only the lyrical content but in the way we recorded it. Recording to analog is the real deal and I'm so glad we did it this way. It truly brings out the honesty behind the lyric and you get a sense of emotion and raw vibes working all together. I hope they can feel that!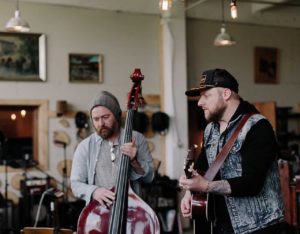 UTR: Can you tell us about any special recording techniques used for this record by the Old Bear crew?
Ryan: Totally! As mentioned above the first creative element was recording to tape. There were a number of creative ideas throughout this record. One of my favorites was singing through the "Leslie" (B3 Organ) speaker. You can hear it on songs like "Hope" and "Hope For A Weary Soul" Other things we did was use an old slideshow projector on "I Want Jesus To Walk With Me (The Valley)." It serves as a part of aging the song in the beginning and end, but also lending itself to being part of the percussion through out the song as the slide projector makes a back beat sound when it switches slides. Chris Hoisington is a brilliant and creative producer! He has an ear for things that I would never think of. Even something as simple as placing a ride cymbal on a padded chair with a cowbell and a tambourine sitting on top of the cymbal acting as a snare sound. You can hear that on "See How Great A Flame Aspires". We wouldn't have been able to record to analog if it wasn't for our engineer Paul Mitro. Not only did he do a great job recording but in the process of mixing he did all of the slap back delay and effects on the vocals using a second tape machine to harken back to the original sounds that you hear on old records before there was pedals and digital plug-ins.
UTR: Was there anything that surprised you about the record when it was finished?
Ryan:  Going in to record with the Old Bear guys I knew it would be a great fit for what I do. I loved hearing the final mixes and feeling a sense of accomplishment. Also, that we didn't over produce and the music still has a feel of raw honesty and sounds great. The team at Old Bear did a fantastic job on this project. The biggest surprise: I can't believe it's mine!
UTR: Now that the album has released, what does the future hold for you? 
Ryan: To be honest, I don't have a lot of set plans. I know I am playing at The City On The Hill Festival in Duluth, MN on August 4th. I'm gonna spend some time on the road with Brothers McClurg in October 2018. We are planning that right now. Also, heading back to Old Bear Studios in April to record a song I wrote for a compilation called The Parable Project headed up by Chip Connor of A Thousand Hills Music and produced by Chris Hoisington and Old Bear Records. I feel like releasing Less Traveled Road is the beginning of something really great! I am excited for what's ahead.
Hope you enjoyed getting to know Ryan as much as we did. His brand new debut album Less Traveled Road is available now on iTunes.