Thanks to an introduction by Nick Flora back in 2014, we got to know and became fast friends with Chris and Jenna Badeker, a young married folk-pop duo hailing from Maryland.  At the time, they were releasing music under the band name Chris & Jenna, and music was more like a hobby or side-job.  In early 2018, they took a big risk — rebranding under the new band name Wild Harbors, retiring all of their "Chris & Jenna" music and merch, and began strategy to release a debut album of sorts. It was like a completely fresh start, which is exciting… and also risky.  After a successful Kickstarter and the release of several singles last year, their first full-length album Monument officially entered the world last month. We wanted to dig into the making of this excellent project.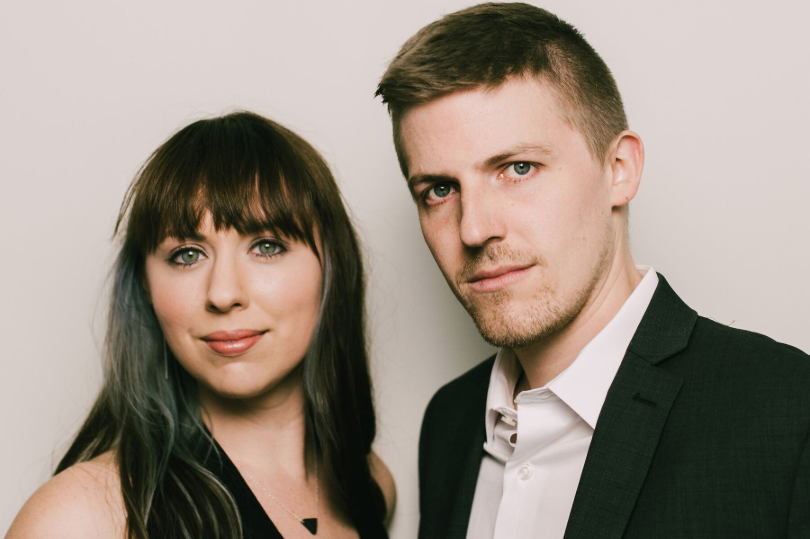 UTR:  This new album marks a daring journey with some leaps of faith. What are some of the risks you've taken over the last couple of years?
JENNA: For starters, I left my job after eleven years in a teaching career! It was a big risk, for sure. But before I could take that step, I had to admit that I had a dream. That in itself felt risky. It was safer to pretend like everything was fine and I was content. Deep down, though, I knew that there was something else I was being called to do. People would ask, "What do you want?" and I had no idea how to answer them. It was a pretty big flag that I had stopped risking and really trusting God with the desires of my heart, and that I was out of touch with some of the biggest giftings He placed inside me.
UTR:  First off, what was involved in deciding to team up with a pro producer (instead of using friends or self-producing)? And, how did you get connected to Andrew Osenga?
CHRIS: Jenna looked at me one day and said, "I think I'd like to hire someone to produce our next record," and I said "okay." So that was the extent the "deciding" from my point of view.
JENNA: We've self-produced and worked with friends in the past. As we grew as songwriters, I think I saw the potential in our songs, and I wanted them to be as good as possible. I knew where my skill set ended, and I really wanted someone else's perspective.
CHRIS: Finding the right producer was much trickier; we had a short list of people we were interested in reaching out to, but Andrew Osenga wasn't really on our radar. Fortunately, we were catching up with a mutual friend who let us know that Osenga had recently got back into producing and would likely be a good fit for what we do. We shot him an email not long after that and set up a Skype call just to get to know him a bit. He was someone we had never met, but everyone we knew talked about him so much and we loved his work, so it was definitely nice to chat with him directly. After that, we sent him some demos and he agreed to produce!
UTR: What was the production process like, considering you live 700 miles away from Nashville?
JENNA: It meant we had to spend a month away from home, which was another risk. It was the catalyst for me leaving my job, which in hindsight I'm grateful for. We communicated with Andrew through email leading up to our departure to work out scheduling and finishing up some songs, and then we hit the road for Nashville.
CHRIS: The process now feels like a dream. Thankfully, we were able to secure some great places to stay during the production process. Most of the time we were living within 30 minutes of the studio. I remember feeling so nervous when we started pre-production, but Andy's gift as a producer is building you up with honesty and kindness. He would gently suggest changes in a way that was empowering rather than diminishing, and as a result, I felt our confidence grow so much over the course of recording. Most days were fairly routine – we'd start at 9 am and work until lunch, then come back and track until 5 pm. Fridays meant doughnuts for breakfast. I think we kept that schedule for about three and a half weeks while we recorded the ten songs that appear on the album.
JENNA: The concentrated time meant that we'd work in the studio during the day and go home at night to work on re-writes and practice parts. It was tiring, to say the least! But as with most things, time wears rose-colored glasses, and now I have nothing but glorious memories of all of it.
UTR: Another daring choice was to record the whole album prior to launching a Kickstarter to fund it. Was that a nerve-racking experience?
CHRIS: Not as much as it should have been, maybe. Thankfully, we had the money to record; what we didn't have was time to run a Kickstarter before we started recording. So it wasn't so much a "decision" as much as it was a necessity. It quickly changed the focus of the crowdfunding campaign. I'm proud of the fact that we were able to launch our Kickstarter and say "The record's done! You can have it right now," because I think that communicates a lot in regards to our commitment. That said, every Kickstarter involves some degree of nerves. Of course, there's that part of your brain going, "No way is this going to happen! It's too much."
JENNA: It freed us up to focus the Kickstarter on funding the promotion of the record. We had saved up for a while, and with the record already paid for, we were able to invite backers to become part of the journey of the album. With the funds they pledged, we were able to hire a great PR firm, learn the ropes of releasing music digitally in this streaming era, make videos, and reach a far wider audience than if we had used the Kickstarter funds to make the record itself. In some ways, it was harder than making the record, and without the backers' support, we might have run out of steam before it was released.
.
UTR: From Kickstarter backers and the release of singles throughout 2018, has the early feedback on Monument been encouraging?
JENNA: The encouragement from our backers and fans new and old has kept us going in so many ways. Every time I faced discouragement, someone's kind words and belief in what we were doing gave me the fuel to get back up and press on. It helped me remember that all of this is bigger than us.
CHRIS: I'm sure I've never been more humbled than by the feedback we've received for these songs. I've been fortunate to read a few things friends have sent us about how the music has impacted them, and those have truly meant so much to me. My family has also been super supportive of this project, and I don't take that lightly at all. Family members aren't obligated to like your music, so I've been very encouraged by them. I suppose "my friends and family like it" doesn't exactly scream "success," but that's truly what sticks out to me.
.
UTR:  Now that the full album is available worldwide, what do you hope listeners experience after listening to these songs?
CHRIS: That's tricky to answer. I love that music is something everyone can walk away from with a different perspective. Obviously, I hope people enjoy listening to the record. I guess I would also hope that people would get to the end of this album and feel even 1% braver than they were before. Making the record was something that took a lot of bravery on our part and I'd like to hope that some of it got captured in those sessions for other people to take with them when they go.