I remember one specific exchange with Joel Ansett that was extra meaningful to me.  He was a guest at UTR's Escape To The Lake 2017, and after one of the sessions he said, "Dave, before this event I really struggled to figure out what UTR is and what the goals and mission are.  But when I got here at ETTL, it was like the light went on for me – 'Ohhh… I now get it.'"  Little did Joel know, he was breathing encouragement and purpose right back into what I was doing.
We really want you to get to know this Colorado-based singer-songwriter who is creating excellent music with groove, soul, and depth.  His new album, A Place I Knew Before, is only 3 weeks old, and there's a good chance it will knock your socks off (available now on Spotify) (available now on Apple/iTunes).  And if you're just discovering this remarkable talent, here are 28 rapid-fire questions to get to know Joel Ansett.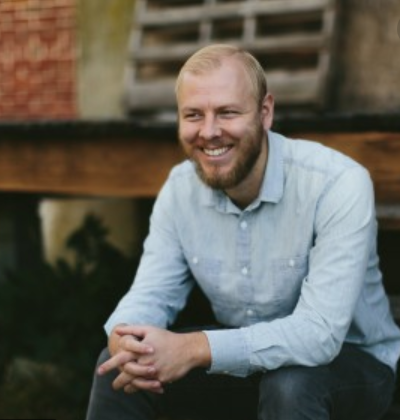 BEST FICTIONAL VILLAIN: The Joker
HEALTHY SNACK: Cucumbers
NON-HEALTHY (SPLURGE) SNACK: Cheetos
GO-TO DATE NIGHT WITH WIFE: box wine at the park
BEST CONCERT YOU'VE ATTENDED: Coldplay in Boston 2012
BEST CONCERT YOU'VE PLAYED: unsure, too biased
SPORTS TEAM: Seattle Supersonics RIP (Gonzaga Bulldogs and Seattle Seahawks will suffice in their place).
FIRST CAR YOU OWNED: 2004 Subaru Forester, still hanging on
SUPER HERO: Batman
INSPIRING QUOTE: not sure if this was really da Vinci but I saw this and it helped my music business mindset tremendously – "People of accomplishment rarely sat back and waited for things to happen to them. They happened to things." – Leonardo da Vinci
SUPER POWER YOU DREAMED OF HAVING: dream interpreter
ALBUM OF THE LAST 5 YEARS: Kevin Garrett – hoax
ALBUM OF THE 1990s: Bob Dylan – Time Out of Mind
APP YOU HIGHLY RECOMMEND: I love instagram so much
BOOK YOU'VE RECENTLY ENJOYED: The Complete Stories – a collection of short stories by Flannery O'Connor
SHOE BRAND: anything comfortable/affordable
FIRST COMPACT DISC YOU BOUGHT: Jack's Mannequin – Everything in Transit
BIGGEST FEAR: being disliked or exposed as inadequate, it's a problem
TOPPINGS ON PIZZA: sausage and mushroom
MOVIE OF THE LAST 5 YEARS: Arrival
MOVIE OF THE 1990s: Jurassic Park
FAVORITE CLASSIC HYMN: Be Still My Soul
FARTHEST PLACE YOU'VE TRAVELLED: Italy
YOUR MONEY-SAVING ADVICE: find someone who is good at saving money
FAST FOOD RESTAURANT: Chick-fil-A, no contest
MESSAGE TO YOURSELF AT AGE 20: write more songs, mistakes and failure are progress
BEST BEATLES SONG: Eleanor Rigby
GEOMETRIC SHAPE: triangle
In late September, Joel will be our special guest on the Season 3 debut of UTR's Green Room Door podcast, and we'll be having a more in depth conversation about the making of the new album A Place I Knew Before.  Here's a new music video to give you a first taste of Joel's latest project.