One of our pet peeves about Christian music is that when you group too many big "victorious" anthems in one setting, it misses one of the main narratives of the Gospel of Jesus — life is messy and painful and difficult, and God is willing to humble Himself and meet us in our place of need. A true walk of faith isn't always mountaintop experiences.  The brand new album from Oregon-based songwriter Luke Lillard is called This Dirt-Made Lord (available on Spotify), and explores the incarnational love of God set to indie-folk melodies.  Thanks to our friends at Renew The Arts for introducing us to Luke's music and setting up this interview.
UTR:  When did you fall in love with making music?
Luke: I fell in love with making music VERY early! My parents will tell you that I was making up songs as soon as I started talking. I barely remember a time before songwriting and making music were an active part of my life! But it was probably sometime between the age of 9, when I started guitar lessons, and 12 or 13, by which point I was constantly writing songs.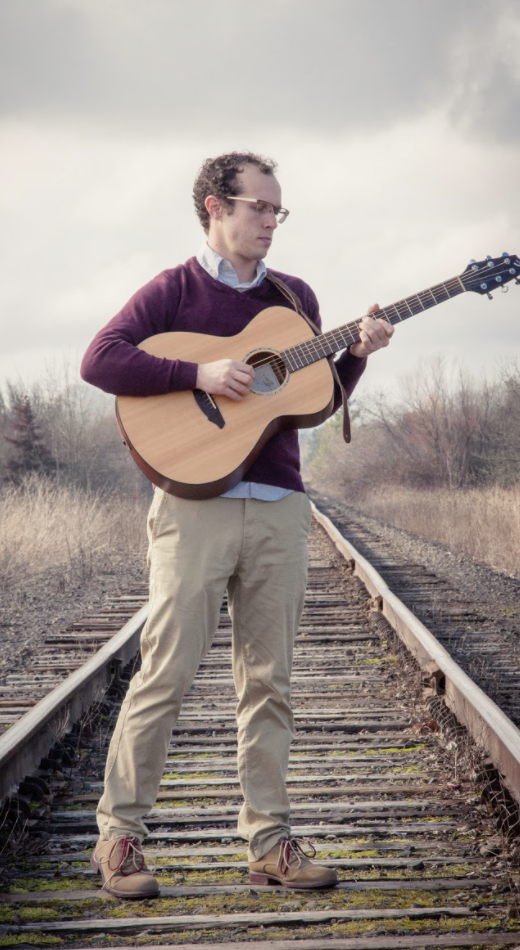 UTR: Who are some of your music influences?
Luke: Listening to Sufjan Stevens's Illinois when I was in high school was a huge deal for me. His ability to write songs that were lush and evocative both lyrically and instrumentally expanded my understanding of what music could be.  The early music of Fleet Foxes and the songwriting of Josh Ritter were very inspiring.  Finally, Over the Rhine is one of my very favorite bands year in and year out. They're unassuming, and if you're not listening closely you might miss what they're doing. But listen attentively and you'll find some pure gold. I also love that they are a married couple with decades of life experience together. It enriches their music greatly.
UTR: What things were happening in your life that inspired the songwriting?
Luke: Well this is definitely a loaded question. The short answer is that I went through a divorce in the first half of 2018. I work full-time as a mental health and addictions counselor, and though I had plenty of personal experience with anxiety, the divorce gave me a firsthand understanding of depression and despair. I struggled sleeping and eating, and started smoking cigarettes daily. I am thankful for my community, both where I was living at the time (New Orleans, LA) and across the country. My nightly ritual was to go for a long walk in the humidity, and start calling people until someone answered. A number of the songs on This Dirt-Made Lord arose from those conversations. They saved my life, physically, emotionally, and spiritually.
UTR: What is the idea behind the title This Dirt-Made Lord?
Luke:  There is a song by Page France called "Jesus". The chorus: "Jesus will come through the ground so dirty, with worms in his hair and a hand so sturdy, to call us his magic, we call him worthy, Jesus came up through the ground so dirty." The friend who showed it to me said, "God made us from the dirt, and then he became one of us. So he came up through the ground." We were in high school, and those words have stuck with me. When I wrote "God of the Garden", in 2013 or 2014, I leaned into that imagery with lines like "His dirt will muddy your feet will muddy his floor" and "Though you may fear, you need not, dear; the floor is dirt within" and of course "This dirt-made Lord". And then, in January 2018, "God of the Mud" was the first song I wrote post-divorce, and I decided to recycle the same line. As I began to conceptualize this album in the coming months, I knew that I wanted these two songs to bookend it.
So ultimately, the idea behind the title This Dirt-Made Lord is that we live so much of our lives in the mud. Spiritual maturity for me has been (and continues to be) a long process of learning that God is less interested in rescuing me from the mud, and more interested in joining me there. And then, the great secret: joining us there is a form of rescue. Brene Brown says that empathy is about saying "I know what it's like down here, and you're not alone." That is how we create real relationships with one another. So when we say that we are pursuing a relationship with God, to me that is incompatible with simply asking him to rescue us from our pain. He became one of us so that he could say "I know what it's like down here, and you're not alone."
UTR: Can you share about the story behind the song "Cains"?
Luke:  It was the spring of 2018, a couple of months after my wife left me, and I was on one of my daily walks while talking to a close friend (fellow Renew the Arts sponsored artist Jesse Jack Murray). He mentioned that he was reading Steinbeck's "East of Eden", which I have not read, and referenced something about the question of "Who is a Cain and who is an Abel?". I realized that we are all Cain and we are all Abel. I was the victim in my divorce (Abel), but my behavior after she left me was both self-destructive and hurt other people as well (Cain).
Many of my songs require honing, careful attention, and time to develop. Cains was not one of them. On the day I wrote it, I was sitting in City Park in New Orleans, with my guitar, my journal, and a pack of cigarettes. The song just poured out of me, in basically its final form, right then and there. My songwriting style may be the best thing about my ADHD. My brain tends to pull images from disparate sources and tries to harmonize them. Sometimes I end up with nonsense. But I knew, immediately, that "Cains" was the best song I had ever written. And in the 2+ years since, that initial feeling has been confirmed, over and over again. Several of my friends told me it was my best song.
UTR: What do you hope the listener of your album feels or receives?
Luke:  In my non-musical life, I am a mental health and addictions counselor. A huge part of my job is sitting with people "in the mud". My hope is that this album provides people with a sense that, wherever they are and whatever their mud, they are not alone.
Luke Lillard is a solo artist and member of the band The Vineyard Collective, and resides in Eugene, OR – and you can find his music on Bandcamp.