It's a blessing for us to come to you each month with great new music. We hope this is a blessing to you, also. Here is the July 2023 edition of UTR Media's New & Notable packed with inspiring music. And with three songs titled "Let Go" maybe we should follow that advice! Leave a comment about how one of these recordings impacted you or make your own suggestions. If you have music you would like us to consider, send an email to utrsubmissions@gmail.com.
ALBUMS & EPs
You Belong – Wendell Kimbrough
We can always count on Wendell Kimbrough to deliver high-quality, well-produced music and his new album follows that pattern precisely. Uplifting and celebratory, devotional and thoughtful, this folk-country Americana-style music will affect you in a very positive fashion. SPOTIFY LINK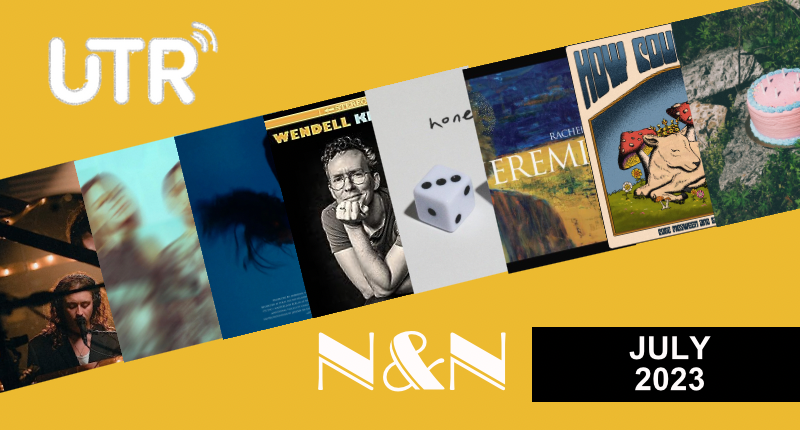 Find My Way Home – Antoine Bradford
With excellent attention to detail, the layered vocals, and the instrumentation make this an enjoyable and inspiring listen.  This acoustic-leaning music is soulful and delightful. SPOTIFY LINK
Ghost – Sam Bowman
This 15-track sophomore album is a fantastic gift from Dallas artist Sam Bowman. After a string of great singles (with good collaborations), we finally get to hear this stand-out pop album as a single cohesive story. SO compelling and enjoyable to listen to! SPOTIFY LINK
Convinced – Anberlin
Hard music veterans offer a new short-form pallet of five songs to satisfy long-term fans and attract new ones. These Florida rockers new offerings drip with the maturity of well-produced songs and rich sonic layers.  SPOTIFY LINK
You Shine – The Young Escape
Hailing from Southern California, these four siblings are reaching veteran status since their original delivery in 2017. Infectious pop grooves mixed with self-reflective ballads invite you to look up and notice the faithfulness of God. SPOTIFY LINK
Songs You Maybe Didn't Know I Wrote (And Some Maybe You Did) – Benjamin William Hastings and Worship Together
Frequently writers pour their hearts into a song and then have it recorded by other artists. For Irish-born Benjamin William Hastings, this live recording at Sound Emporium is a welcome take on some of his most well-known songs and highlights his expertise as a lyricist. Blending piano and acoustic guitar, the addition of Irish-sounding strings, and a choir make this fresh and ideal for personal worship.
SPOTIFY LINK
SINGLES
"Jubilee" – Cindy Morgan, Tommy Sims
This first single from Cindy Mogan's upcoming album has an upbeat bluegrass feel that perfectly goes with the title – "Jubilee". The album, The Sounds of Jubilee, to be released later this year, is a soundtrack to her novel "The Year of Jubilee". SPOTIFY LINK
"Manna (After All These Years)" – Chris Renzema
Exploring the intersection of doubt and faith, Chris Renzema is exceptional at weaving Biblical imagery into a modern context. While this latest single isn't as hard-hitting as "God + Prozac", it acutely explores the push and pull of a mature faith, inviting us to engage with the shadows and light of sanctification with a sense of solidity and purpose.
SPOTIFY LINK
"Vengeance with the Sword" – Rachel Wilhelm
You can feel the intensity of this song. The production is stunning, and the music and vocals are downright fierce. The warnings from Jeremiah that this song is based on are for abusive shepherds and how the Lord will deal with them. Yeah, kind of relevant for today, unfortunately. The whole Jeremiah album releases in August. SPOTIFY LINK  BANDCAMP LINK
"Let Go" – Dan Sterling and Tom Read
Immediately reminiscent of Starflyer 59, this infectious track reminds us to let go of what holds us back. SPOTIFY LINK
"Honest" – Chris Llewellyn
As the lead singer of the Irish band Rend Collective, Chris Llewlyn is no stranger to Christian music. And with his debut independent single, he goes all in – daring to ask questions about life, faith, fame, and the industry that could well lead to cultural change.
SPOTIFY LINK
"How Could It Be" – Cole McSween
Soul, swing, groove, horns- this track is like musical sunshine! A catchy expression of joy and amazement that God would love and reach out to us with such goodness. SPOTIFY LINK
"Let Go" – Lynn Marie
Lynne Marie's soothing peaceful sound here is so appropriate for the theme of this song. As the song tells us "…slow down, take your time…" and listen. SPOTIFY LINK
"Greatest in the World" – planetboom
Birthed out of a youth group worship culture, planetboom is a subset of Planetshakers Music, and this sonically vivid and energetic worship music will make you want to jump along and sing. Jesus IS the greatest in the world, proclaim it with the upbeat track. SPOTIFY LINK
"Have You Heard" – Scottie
An instantly catchy bop with captivating vocals and rap and what sounds like a sample of an old Gospel track. I've already had it on repeat for a while even though it just came out. SPOTIFY LINK
"Let Go" – LIN D
Catchy synth-pop from these Swedish siblings will make you forget all you are holding onto. With soaring vocals, this trio will inspire you to let go and trust God more. SPOTIFY LINK