At UTR Media we want to help you be aware of recent releases that are outstanding. Below is the list of brand new releases for March 2023 that our curator team deems as some of the best of the month. Feel free to add your own recommendations in the comments. Any music you want to submit for consideration can be sent to utrsubmissions@gmail.com.
ALBUMS & EPs
Lent Hymns  – Paul Zach
While the Lent Hymns album by Paul Zach has the somberness & seriousness you would expect from the subject matter, the album is FAR from boring. It has an amazing soulfulness to the music and features some exceptional collaborations with other artists.  [SPOTIFY LINK]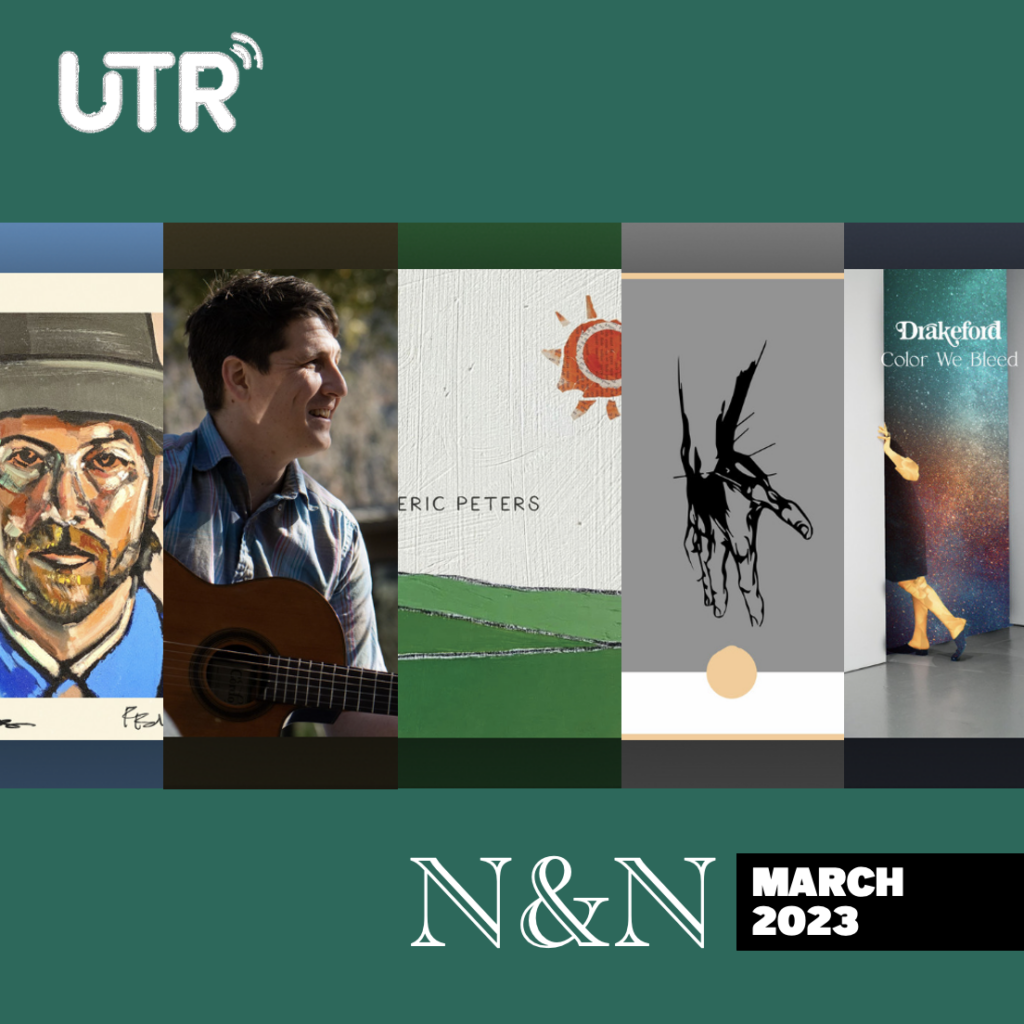 EP – Eric Peters
Some of the best art in this world was born out of pain, grief, heartache, and sorrow.  In the wake of losing his house and most of his belongings to a tornado in 2020, Eric pens deeply thoughtful lyrics set to a surprisingly upbeat soundscape (with terrific production by Asher Peterson).  [SPOTIFY LINK]
FEVER/SKY – Wilder Woods
Wilder Woods is the solo project for Needtobreathe frontman Bear Rinehart and you really ought to check out this groovy passionate project! [SPOTIFY LINK]  [BANDCAMP LINK]
I Can't See The Edges of You – Citizens
This release explore new realms in Christian Music, meshing worship, and alternative rock as they reflect on polarisation in the church and come home to Christianity's core beliefs. A powerful and raw collection of songs, this carries the pulse of where label-based Christian artists seem to be heading musically. [SPOTIFY LINK]
Abeline – Ian Zuback
 Ian Zuback states that Abeline was deliberately written in a five to six-week period to capture an emotional and spiritual moment in his life. The raw and honest music on the EP will impact you in an inspiring way. [SPOTIFY LINK]
Certain  – Anna Palfreeman
Anna Palfreeman's first full-length album is one to savor. Her combination of relevant and challenging songwriting, beautiful vocals, and well-thought-out production choices will satisfy you over many listens. 
[SPOTIFY LINK]
Accidental Days –  Chase Tremaine
With Accidental Days, Chase Tremaine blends aspects of emo, alternative, folk/pop, and indie-rock into a fantastic album exploring themes of faith, friendship, work, aging, and heartbreak. [SPOTIFY LINK] [BANDCAMP LINK]
Welcome to Alive City – Alive City
This six-piece band from Detroit carries the alternative angst of our youth, using driving melodies and anthemic lyrics to discuss mental health, authenticity, and faith. The opening track, "High Low," marks them as an artist to watch as mental health becomes destigmatized in Christian music, while tracks like "Lay 'Em Down," show a versatility that could lead them to the worship genre. 
[SPOTIFY LINK]
Unafraid by Zachary Ray
This cinematic debut from Zachary Ray showcases his musical excellence and background at Berklee College, yet fully embraces the fresh sounds of the emerging music scene in Calcutta, India where he lives and ministers. Smart production and crystal clear vocals are a highlight, alongside introspective lyrics that will challenge and build your faith. 
[SPOTIFY LINK]
"Everybody Feels It" – Christa Wells
This significant single considers how friends and family members that are self-harming impact those around them. This song, however, is not giving advice but is reflective of how one feels when someone you love is hurting or hurting themselves.
 [SPOTIFY LINK]
[BANDCAMP LINK]
"Invincible" – Royston Noelle
 Fresh off winning Australian Idol – Aboriginal and Torres Strait Islander musician Royston delivers a soulful anthem. Rather than just being a cliche winner's single, Royston infuses his story, culture, identity, and faith into his performance, giving us all the signs that he will forge a career rich in musicality and purpose. 
[SPOTIFY LINK]
"Color We Bleed" – Drakeford (feat. DJ & Marv)
Drakeford and DJ & Marv tell us what we intuitively should know but need to be reminded of – regardless of our skin color, social or economic status, religious or political beliefs, under our skin, we are all human and the color we bleed is the same. Essential to listen and comprehend.
[SPOTIFY LINK]
"Where Does the Wind Come From?" – Modern Temple 
Modern Temple has put a modern pop spin on what feels like a nod to Ecclesiastes. 
[SPOTIFY LINK]