The next UTR live concert will take place in Chicago on November 2. We are excited to welcome singer-songwriter (and fantastic storyteller) NICK FLORA up from Nashville to share his talents with us. The special opening act will be local indie artist Zechariah James.
To add to the fun, we are serving a pizza/salad dinner just before the concert. And (hold onto your hat) all of it is FREE! That's right… free concert AND free dinner. [We will have a donation jar to give toward the meal and concert as you feel led.]
Space is limited, and we want to make sure we have enough food for you and your friends. So, if you can join us (we'd be stoked about that), please RSVP by 10/31/18 to save your spot.
UPDATE:
Thank you for the amazing response.
The concert for 11/2 is officially SOLD OUT.
Unfortunately we cannot accept walk-ups that night.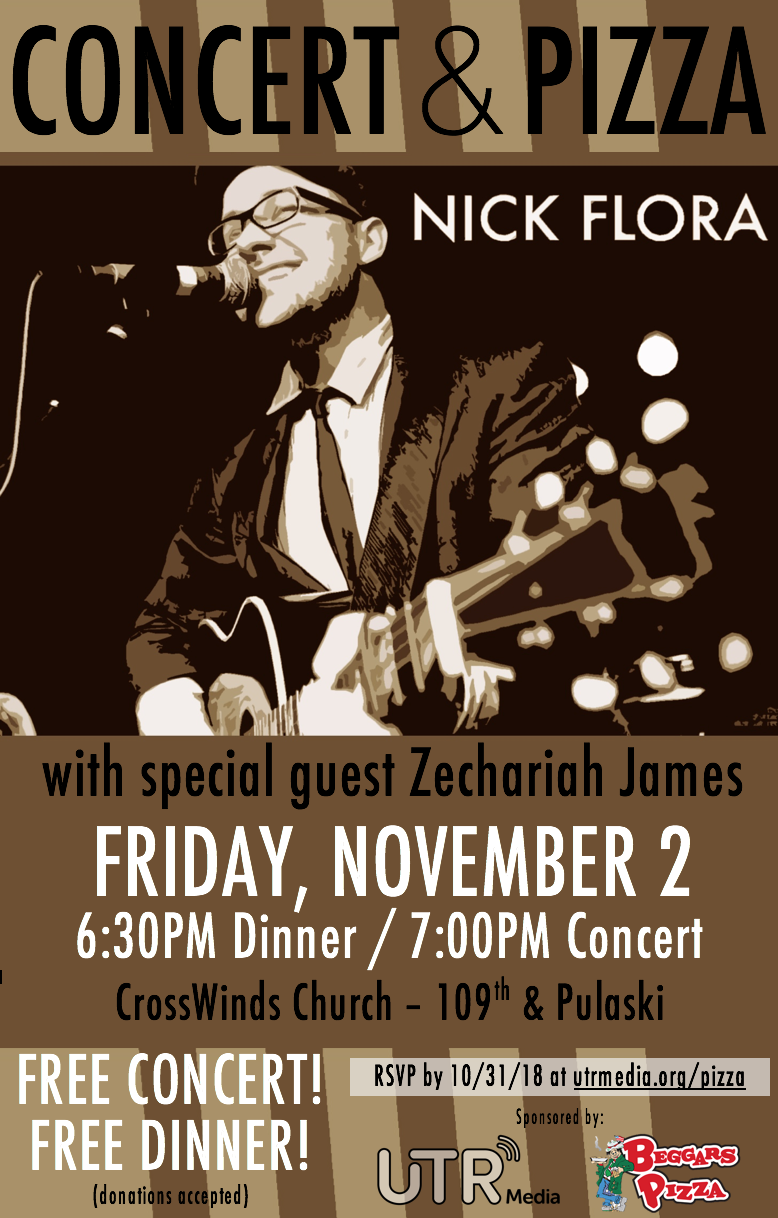 CONCERT DETAILS
Nick Flora in Concert
with special guest Zechariah James
FRIDAY, NOVEMBER 2, 2018
6:30PM – Dinner Served (see below)
7:00PM – Concert
CrossWinds Church
10835 S. Pulaski Rd, Chicago, IL 60655
Dinner will include Beggars Pizza (Thin), Garden Salad, Dessert treat, and Beverage.  We cannot address food allergies, so you are welcome to bring your own brownbag dinner. [Thank you to our dinner sponsor Beggars Pizza in Oak Lawn.]
FREE Concert & Free Dinner (with RSVP) – donations will be accepted.
Concert is presented by UTR MEDIA, a 501(c)(3) non-profit media ministry.