Lisa Weyerhaeuser has been writing and recording music for over three decades, with some breaks in the midst. In fact, her new project Growing Light (available on iTunes) is her first solo album in over 12 years (she released a children's music album during that hiatus). We get to cross paths with Lisa occasionally since she's located in the Chicagoland area. I think it's fair to say that her September 2017 release is her career-to-date best (in part thanks to the production skills of Matthew Clark). Here's our recent Q&A with this veteran singer-songwriter.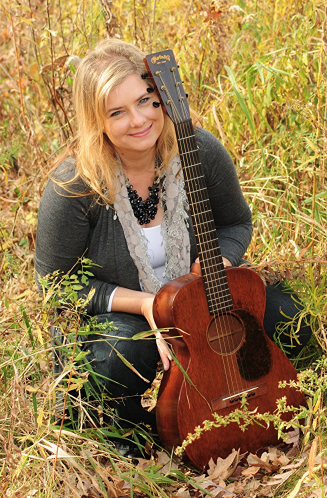 UTR: Was music an important part of your childhood?
Lisa: Music was a huge part of my childhood. My dad was a 16 mm movie collector, so I grew up watching old movies filled with music. My dad played the accordion and both my parents sang as a natural part of our daily life. My dad whistled almost constantly and I remember my grandma singing the harmony when I sang with her riding around town in her big old blue Buick Riviera. I love harmony because of her and the Andrew Sisters and all the other movie characters I would see singing on screen. I had three older brothers and they were also into music of all kinds. We were all in band and choir and we are all still very involved in music all these years later.
UTR: Over the last 3 decades, what are some of the changes you've seen in the music industry that excite you the most?
Lisa: I remember Larry Norman and I were walking through Tower Records in LA  in the winter of 1988 and talking about this big change happening in the  Christian music industry at that time. Larry had been signed to both secular (Capital) and Christian (Word) labels over his years as a musician, and was a wealth of information about all that he had experienced from the late 60s to the late 80s in both the secular and Christian music scene. I loved hearing about it, and tried to soak in every word. He gave me a book to read called Inside the Record Business written by Clive Davis, but by the time I read it, already the music industry was changing faster than it could be written about. Reading that book was really a history lesson for me, describing the rise to fame of a variety of artists from the 60s and early 70s. Larry had started his own label in the 70s and talked frequently about his work with Randy Stonehill, Mark Heard, Daniel Amos and a handful of other artists he had signed and how they were all a part of the early years of what was called 'Jesus Music'.  After working on the record with him, he invited me to  the Gospel Music Associations music week in Nashville each spring.  It was fascinating to watch different bands and trends come and go over those years, and a little disheartening experiencing what seemed to be a drifting away from where Contemporary Christian Music had come from. And I would have to say it has been amazingly refreshing to me to see the rise of the CCM indie artist in the past 10-15 years. I have appreciated hearing from the heart of artists that would not have had the opportunity to be heard 15 years ago. It has been a beautiful thing to listen to so many different styles and expressions from believers sharing their perspectives about God and faith through strong melodies and thoughtful lyrics. It almost feels like a return to those early Jesus Music days when music was simple and sincere and without guile and artists were more approachable. And that is, in my opinion, a really good thing.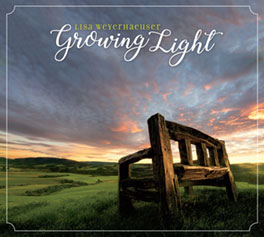 UTR: What is the overall theme of your new album?
Lisa: My new project Growing Light came from the lyric in my song "You're Beautiful to Me." The lyric says "…my burdens grow light."  Mostly it is about freedom from the things that so easily entangle us (like the author of Hebrews 12:1 tells us to do so we can 'fix our eyes on Jesus'). Growing Light is about the freedom that comes from letting go of the things that pull us down and distract us from who God wants us to be and how He wants us to live. But it also has cool imagery. There is a picture in my liner notes of a tree 'growing light'. Deep from it's roots and out of it's branches there is light, which is like how God calls us to live in Jeremiah 17:7-8 which says if we trust in the Lord we are 'like a tree planted by streams of water that sends out its roots by the stream… its leaves are always green.' When we live in His light we are shining His light. And the more we live in His light, the more we grow light. The project's theme song is a song called 'Freedom' that came from a StrongTree retreat where we had a writing assignment in which we were sent off to write a song about Freedom. Andy Gullahorn was at that retreat and his song "Freedom 2.0" came from that assignment and my song "Freedom" also came from that assignment, as did several other freedom songs from other artists. It was fascinating hearing the different word pictures and stories that came out of the same theme word.
UTR: This album includes a lot of collaboration. Who were some of the people involved in making it happen?
Lisa: I love this record because of the collaboration that took place. Matthew Clark produced my record, which was loads of fun. He is awesome and wonderfully talented. Randy Stonehill sang a duet with me on the song "You're Beautiful to Me." That was so cool. He and his wife Leslie sang on the song "Glory to God" and Phil Keaggy played guitar on two of the tracks, thanks to Matthew's tenacity at tracking him down.
UTR: As a veteran artist, what piece of advice would you pass along to a newbie just getting started in the music business?
Lisa: Play everywhere you get asked to play. A friend told me that one performance is like ten practices. So play out as much as you can. Another friend said it this way, "Pay your dues", by which he meant, play all you can everywhere you can. The more you play out the more you learn about how to communicate. I am certainly still learning.  And pray a lot. Prayer is the real work. The rest is just picking up the pieces.
Thanks to Lisa for sharing about her music ministry. For more information, you can visit her website at www.lisaweyerhaeuser.com.