Singer-songwriter Melanie Waldman has seen God carry her through some very dark seasons, and her debut full-length album is time to celebrate that – just like for the psalmists – God's faithfulness is present in the good times and the bad.  The album is aptly titled Psalmsongs (link to Spotify), with beautiful production from the talented Lori Chaffer.  There is a lot of heart and passion present in the songs, and we're excited to share more of that in this conversation with Melanie.
UTR:  How has music played a role in your life's story?
Melanie:  Singing gave me a haven – it was a like a whole other world I could escape to to find relief and lightness in the dark. So I've been signing and making songs up since I was really little. I also studied several instruments growing up: the flute, piccolo, french horn, bassoon and piano. Most of my early songs were just unaccompanied melodies with lyrics I'd sing into a palm-sized tape recorder I carried with me wherever I went.  I attended the Boston Conservatory of Music @ Berklee and thought my roommate was the coolest because she played guitar. Up to then I would have to find a pianist to come with me when I wanted to perform somewhere – but learning guitar meant I would always have accompaniment with me, wherever I would go. So, I soon began singing and writing songs with the guitar. I used to write and sing really sad songs because I was telling the story of my life and most of it was troubled. My voice had a way of drawing people in to really listen… and because of my testimony in the songs, I mostly left people feeling sad and less hopeful after hearing. Now, with a new life and great freedom I've received in Christ, my voice still draws people in – but I get to point them to hope. Jesus came so we could have life and life to the full – here and even now in the midst of everything that is happening.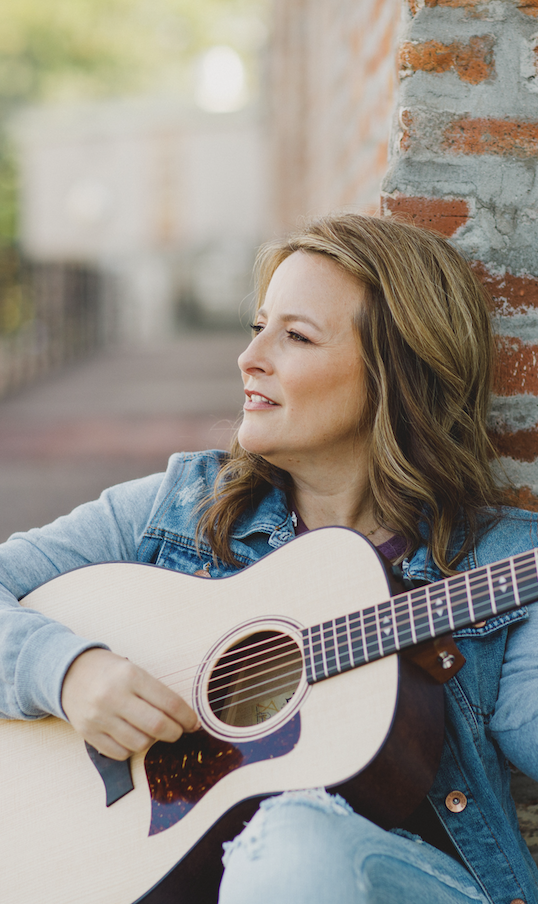 UTR:  Why were you drawn to the Psalms as an inspiration for your new album?
Melanie: Last year I was called out of my position on staff at a church in New Jersey without knowing where God was leading me. I began participating in a daily Psalming practice as part of Krissy Nordhoff's songwriting mentorship. Eventually, I felt led to produce and release 9 of those "Psalmsongs". For a while I had noticed Lori Chaffer's work as Producer for Christa Wells and other female singer/songwriters – I noticed how beautifully she featured the female voice. That's what drew me to Lori, but the work became so much more. She really blessed me with how she came alongside me and created something new and beautiful. Don Chaffer mixed the album with careful skill and attention. I know that hearers will be blessed.
UTR:  Can you share about your crowdfunding experience to help fund the recording?
Melanie: My husband and I ran a 30-day kickstarter campaign to fund Psalmsongs. My music is a big part of our ministry, and we often use our income to cover production costs, but I had a strong sense that the Lord was asking me to not do that for Psalmsongs. Instead I felt led to bring people into the process. And in only the way God can do it –  I had so many opportunities to connect with people from all walks of life with a variety of faith backgrounds. I was able to tell them my miraculous restoration story and share so many beautiful scriptures with them. And because they said yes, they are now regularly hearing from me. I can see why, especially with this project, it was so important that do that.
UTR:  Now that Psalmsongs is available, what is the best way for listeners to experience the music?
Melanie:  I hope listeners will listen through from beginning to end. The album begins with "Awake (Psalm 24)" which features Alisa Turner. You know how her voice touches deep and I think she really brings to life this Psalm. "Awake you living gateways, swing wide you ageless doors and welcome the King of Glory, for He is rushing in. Who is this King of Glory? The Lord of Victory. Who is the King of Glory? The one who came for you and for me." The album ends with "What A Savior (Psalm 65)" featuring Waterdeep – and it's like a celebration of our Creator, what He has done and what He is doing. What an honor to have Don, Lori and Ruby Chaffer singing along. I couldn't have asked for a more beautiful outcome.
UTR:  Away from music, what are some your favorites of life's simple pleasures?
Melanie:  I absolutely love to paint. For me, it's all about the colors. I get lost in it – praying, singing…It's just pure fun. I also love to travel and ride with Scott on his motorcycle. We wander backroads of Tennessee and New York State – really anywhere we go – I just breath and take in the beautiful world and dream, sometimes I take pictures or videos, sometimes finish the lyrics to a song.
Melanie Waldman is a songwriter, speaker, and worship leader who loves sharing her testimony.  To learn more about her multifaceted ministry, watch the video below, or visit www.melaniewaldman.com.