We are launching a new playlist strategy at UTR in hopes to serve listeners better. Instead of having a "Special Menu Playlist" with rotating themes, we are going to create a bunch of uniquely themed playlists that will stay up year-round (we might make subtle changes/updates to the playlist occasionally, but it won't just completely disappear.  The first of these new playlists is this one… Resurrection Songs.  You will find songs specifically about the empty tomb of Jesus, and songs about how the resurrection has impacted our lives.  We hope these songs give you joy and hope!
Please help us track where people are listening by clicking "FOLLOW" on the playlist at your preferred streaming platform.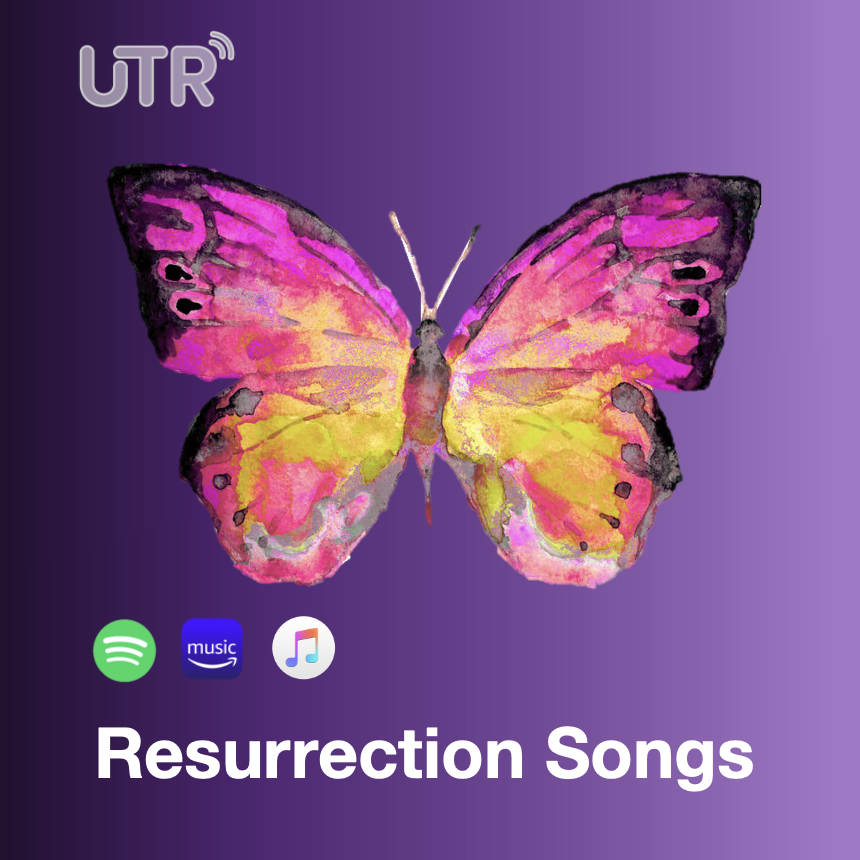 Curator's Notes (Resurrection Songs)
Breaking the cycle of addiction.  The rising of the sun each morning.  Restoring a broken relationship.  A butterfly crawling out of a cocoon. Our world is marked with the signs of resurrection.  We have hope and new life because the tomb was empty on Easter morning – Jesus conquered Death.  Amazingly, that same power that raised Christ from the dead is within us.  This playlist is here to celebrate our risen Savior and to thank Him for the impact the Resurrection has on our lives every single day.  We hope you enjoy the variety of expressions and the musical craftsmanship to point our thoughts toward the victory that Jesus invites us into. Happy Easter one and all!
Track List (Resurrection Songs Playlist)
MOST RECENT UPDATE: 4/6/23
Graves (Acoustic) – KB (ft. Brandon Lake)
Death Where Is Your Sting – Cory Asbury
Who Is This Jesus? – Caroline Cobb
Because He Lives (Amen) [LIVE] – Matt Maher
Dead Man – Gable Price & Friends
Death in Reverse – John Mark McMillan
Come to Life – Graham Jones
In Christ Alone – Anchor Hymns
My King and My Defender – Nate Gardiner
Our Savior's Alive – David Isaac Rivers
You've Done The Rest – JUDAH (ft. Jon Guerra)
Oh Love Supreme – Andy Squyres
Our New Day – Sarah Hart
All Things New – Andrew Peterson
King of Kings – Stephen McWhirter & Jason Clayborn
Mercy – DOE
Come Alive (Resurrection Power) – The Belonging Co
Resurrect Me [LIVE] – Jon Foreman
Empty Grave – Zach Williams
Because He Lives – The Wayside
Beat the Grave – The Ineloquent
He's Not Here – Cochren & Co.
Happy Day – Crowder
Easter Song – Jess Ray
His Heart Beats – Andrew Peterson
Death Was Buried in Its Grave – Parrish
You Keep Hope Alive – Mandisa & Jon Reddick
See The Conqueror [LIVE] – Jenny & Tyler
He Is Risen – Caroline Cobb
Resurrection Song – Strahan
You Brought Me Back to Life – Citizens
Rise Up (Lazarus) [REMIX] – CAIN
Supreme – Shai Linne (ft. Beautiful Eulogy)
Risen [LIVE] – Israel & New Breed
Roll Away the Stone – Page CXVI
Spirit Resurrect – Josh White & Josh Garrels
Resurrection Song – Graham Jones
God Who Saves – Caedmon's Call
Because Jesus Christ is Alive – The Sing Team
True Love [LIVE] – Phil Wickham
You Are Alive – Young Oceans
Hallelujah is Our Song – Sarah Hart
This Changes Everything – Matt Papa
Resurrection Day – Rend Collective
Skeleton Bones [LIVE] – John Mark McMillan
Death Has Died – Andy Mineo
Still Rolling Stones – Lauren Daigle
Risen King – Sisterbrother
Rise – Common Hymnal
Rolling, Rolling, Rolling – Jon Guerra
Buried in the Grave – All Sons & Daughters
Raise a Hallelujah – Anthony Evans
Overcome – Sarah Kroger
The Stone – The Gray Havens
Both Alive – Brian Morykon
High Noon [LIVE] – Andrew Peterson
You Have Been Raised – Sovereign Grace Music
He Lives, the Great Redeemer Lives – Indelible Grace Music (ft. Andrew Osenga)
Christ the Lord is Risen Today – Jill Phillips
Empty (Disciples) – Dan Haseltine & Matt Hammit
The Death of Death – Wendell Kimbrough
Up From the Grave – Justin Carlson
Hope is Alive – Kristene Dimarco
Up & Alive – Luke + Anna Hellebronth
The Strife Is O'er – The Welcome Wagon
Sound of a Living Heart – JJ Heller
Grave – Cochren & Co.
Ain't No Grave – Johnny Cash
Swallowed up Death – Coram Deo Church
Jesus is Laid in the Tomb – Poor Bishop Hooper
Dead Man Walking – John Tibbs (ft. Ellie Holcomb)
Resurrect Me – Ian Zumback
Now May He Who From the Dead – Wen Reagan