The Jesus Record LIVE
February 2, 2019
Franklin, TN
By Joe Cook
.
On February 2, 1959, legendary singer/songwriter Buddy Holly walked out on stage for the last time and played a concert in Clear Lake, Iowa. That night, nobody could have possibly known that after finishing his set at the Surf Ballroom, Buddy's life would be cut short in a tragic plane crash. The event would be immortalized by Don McLean as "The day the music died". 60 years later to the day, one of the unsung heroes of Contemporary Christian Music took what could possibly be his final bow on a stage just a few short miles from his home in Franklin, Tennessee. For months now, Rick Elias, a veteran singer/songwriter and founding member of Rich Mullins' Ragamuffin Band, has been battling an aggressive form of brain cancer. Last week, his friends, family and fans from all over the world gathered at Christ Community Church in Franklin to show their love and support to a man who's life and music has touched their lives for decades.
Last week's concert was billed as "The Jesus Record Live". It was interesting that Rick had chosen "The Jesus Record" to perform that night. With the exception of his song "Man of No Reputation", which appeared on that album, no other Rick Elias song was performed at the concert. "The Jesus Record" had originally been intended as the follow-up to Rich Mullins' 1995 album, "Brother's Keeper". In mid-September 1997, Rick Elias traveled to Tse Bonito, New Mexico, where, at the time, Mullins was living on the Navajo Reservation. The purpose for Rick's trip was to meet with Mullins about the upcoming album they planned to record with the Ragamuffins. The project was tentatively titled "Ten Songs About Jesus" and Rick Elias had been tapped to produce. Less than a week later, Rich Mullins was killed in an automobile accident while on his way to a concert. Left behind were Rich's rough demos, his handwritten lyrics, and the notes that Rick Elias had taken during their meeting that previous weekend. In the months following Rich Mullins' death, Rick was entrusted with the great responsibility of producing Rich's final and arguably most important project: "The Jesus Record".
Last month, after more than 20 years since "The Jesus Record's" release, Rick Elias announced that he would be performing it in its entirety for the first time ever. Joining him would be his longtime friends and comrades, many of whom helped record the album all those years ago. For the first time in close to a decade, all four core members of A Ragamuffin Band— Rick Elias, Jimmy Abegg, Mark Robertson and Aaron Smith— would reunite on stage together. They would be joined by some of the finest musicians Nashville has to offer: Kenny Greenberg on lead guitar, Matt Slocum on cello, Steve Latanation on percussion, and the musical director of the evening, the legendary Phil Madeira.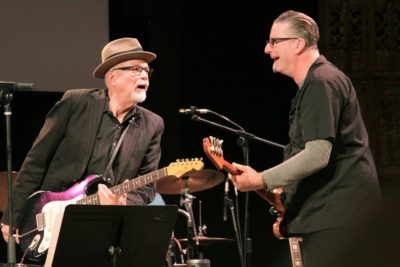 The concert opened with a heartfelt and humorous introduction by Rick's longtime friend, Luis Urrea who shared stories about their years growing up together in San Diego. "When Rick asked me if I would sort of host this evening, of course I said yes…", he said, before turning to Rick and saying, "… but I just want you to know I don't like you that much, but I did want to meet Amy Grant…" Both Rick and the audience erupted in laughter and it set a beautiful tone for a night that was filled with tears, joy, but most of all love.
Following the introduction, the band launched into "My Deliverer", the iconic opening track to "The Jesus Record". As Rick began singing the first couple of lines, it quickly became clear that it was difficult for him to get the lyrics out. He began shaking his head and addressed the audience, saying, "I'll get it. I'm gonna find it, I promise". On the next line, bassist Mark Robertson approached the microphone and began singing along. Rick nodded in approval and for the rest of the show, Mark had Rick's back by helping him sing through most of the album. As the audience sang along to the chorus, "My Deliverer is coming, My Deliverer is standing by", I became overwhelmed with emotion, remembering back to the very first time I saw Rick perform the song nearly two decades earlier. In that moment, it felt as though things had come full circle. Kenny Greenberg ended the song with a searing guitar solo — one of the only deviations from the original album arrangements all night.
The next song was one of the strongest performances of the evening. Mark Robertson sang lead on "Surely God is With Us", a song that he co-wrote and ultimately sang on "The Jesus Record". The band was tight, Mark's vocals were strong and Rick seemed to enjoy singing backup during a performance that was one of the highlights of the concert.
Next up was Amy Grant. Easily the most famous person in the room, you'd have never known it. "I'm Amy", she said very casuallythe crowd laughed, knowing full well who she was. She continued, "You can think you know a song until you have to sing it. You can have even recorded the song 21 years ago but you haven't actually performed it in 21 years, and you think you remember it until you try and sing it. I wept this morning rehearsing this song… so glad that Rich Mullins wrote these lyrics and whatever experience had drove him to this kind of wisdom." Full disclosure, that song "Nothing is Beyond You" — is my favorite song recorded for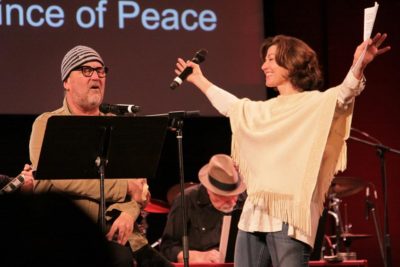 "The Jesus Record". It has always seemed to me as though Rich Mullins wrote that song with Amy Grant's distinctive voice in mind – even if, in reality, he hadn't. I don't believe Rich could have performed it any better than Amy did on that album. For 21 years, I have waited to hear her sing that song live and now, for the first time ever, I had the opportunity to see her perform it — and it was very different than I ever could have expected! Amy struggled her way through the entire song and it was a truly wonderful thing to behold. There on stage was one of the most famous singers in the world— singing an incredible song that she helped make famous— and in her hands, she held tightly onto the lyric sheet. There were moments, throughout the song, when she got completely lost— and it was obvious that the high notes were not nearly as easy for her to hit as they were 21 years ago. I have to tell you, despite the imperfections, it was an absolutely beautiful performance. This was a night where friends were coming together to support another friend and celebrate the music they created together. It felt as though they were just gathering around a piano at a family reunion.
The next song of the evening— "You Did Not Have a Home"— saw three of the Ragamuffins: Rick, Mark and Jimmy— trading off vocals, as they had originally done on the record. If there was any moment of the night that reminded the audience that this was a full-fledged Ragamuffin reunion, this was it! There was an energy in the air as the audience sang along and the Ragamuffins looked like they were having a blast! After the song, Mark Robertson commented that it was the best performance of the song that the band had ever done. It was a terrific moment and a victory for Rick Elias. Despite the challenges he is facing, he bravely went out on that stage and he and the Rags sang their hearts out!
The next song of the night was both beautiful and disappointing. One of the most memorable performances from "The Jesus Record" was Ashley Cleveland singing "Jesus". Ashley had not been listed among the performers for the event and there was a big question mark as to how they would handle this song. Would Ashley Cleveland actually show up and perform it herself? The answer is yes… and no. Due to a prior engagement, Ashley was unable to attend in person (her husband, guitarist Kenny Greenberg, was there playing in the band all evening), however she sang the song in a pre-recorded video that played on two big screens as the stage lights went dim. While she was greatly missed, her acoustic performance of the song was absolutely breathtaking. The audience sat silently listening as her voice filled the room. If Ashley couldn't be there in person, her video really was the next best thing, as nobody else could have sang that song the way she did.
The next song, "All the Way to Kingdom Come", originally featured guest vocalist Phil Keaggy when it was recorded for "The Jesus Record". Unfortunately, much like Ashley, Phil was unable to attend, due to a scheduling conflict. So instead, the Ragamuffins traded off vocals in the same way they had done earlier in the night for "You Did Not Have a Home". In the end, it was not nearly as tight a performance, but it was just as endearing. As I watched Rick, Jimmy and Mark struggle their way through the song, I couldn't help but smile. These were brothers up there on stage. Through thick and thin, it was clear that they were in this together! As a longtime fan of A Ragamuffin Band, "All the Way to Kingdom Come" may have been my favorite performance of the night.
If the last song was my favorite performance of the evening, the next was definitely the most important. "Man of No Reputation" is Rick Elias's signature song. It was his sole songwriting contribution to "The Jesus Record" and was hand-picked for the project by Rich Mullins himself. Rich once called "Man of No Reputation" his "favorite contemporary Gospel song" and, prior to his death, had insisted that Rick sing it on The Ragamuffins' upcoming album. In the fall of 2000, shortly before they disbanded, I saw the Rags play a small show in Lancaster, Pennsylvania. On that night, Rick Elias stood solo — the other band members having left the stage— and performed the song with so much passion that it brought the house down. His powerful voice soared through the auditorium as he sang those thoughtful lyrics, accompanied only by his harmonica and electric guitar. On the night of the benefit concert, Rick no longer stood solo. Unable to play his harmonica or guitar, this time, he relied on his friends in the band to make the music. Clearly understanding the significance of the moment, the band played with passionate reverence. Rick again wrestled to sing the lyrics and Mark Robertson joined in. Rick apologized to the crowd for struggling. I hope that he knows we didn't mind. In that moment, it didn't matter to any of us whether or not the performance was perfect. It only mattered that it was happening. Rick's voice was still powerful and passionate, and occasionally, he'd sing a line beautifully. After the show, a friend admitted to me that he found himself rooting for Rick throughout the song. As he would nail a line here and there, my friend would quietly cheer for him. It was Rick's moment and everyone in that room knew it. As he and the Ragamuffins finished the song, the crowd jumped to our feet and gave him a much deserved standing ovation.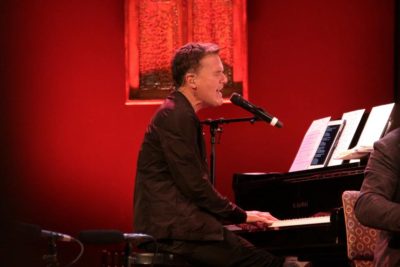 Without saying a word, Michael W. Smith walked out on stage, sat at the piano, and joined the band for a beautiful rendition of "Heaven in His Eyes"— a song written by Rich Mullins in the mid-1970's and performed by Smith on "The Jesus Record". For his part, Smitty nailed the performance, singing the song exactly as it was recorded for the album. It was hands down the tightest performance of the night. He had clearly rehearsed more than Amy!
Following Smitty's performance, Rick Elias addressed the crowd in what proved to be the most touching part of the show. He opened up about his struggle with anger following his cancer diagnosis and spoke of how that anger went away overnight. He told of the wonderful things God is currently doing in his life, yet also expressed his frustration at being unable to communicate his feelings about those things. At one point, he said something that was unintelligible and joked that he didn't even know what language he had just spoken to us. After struggling to express a thought, he again apologized to the audience. This time, someone in the back of the room shouted out, "We love you Rick!", prompting the audience to applaud in agreement. Then, in one of the more poignant moments of his dialogue, Rick Elias admitted to the audience that he was never a superstar like other artists. The irony that Rick was making this confession with Michael W. Smith sitting to his right, and Amy Grant standing to his left, was not lost on those of us listening— both in the audience and up on stage. Ragamuffin Band drummer Aaron Smith later shared with me that his favorite moment of the evening "… was when [Rick] said he had never been a big star or anything, while Amy and Michael W. were there "helping" him. Very cool," Smith said. Yet despite his lack of superstardom, Rick Elias expressed his gratitude for those who had supported his music throughout the years and acknowledged that many of those people were in the room that night.
After Rick finished pouring his heart out, the band went back into The Jesus Record, playing "Hard to Get". Rick who sang a gorgeous rendition of the song on the album was once again struggling to connect with the lyrics. This time, he asked Mark Robertson to take over for him. Mark — who to my knowledge has never sung the song publicly before— did a beautiful job and together, he and Rick finished the song. It was another touching moment that reminded me that this night was about so much more than a band playing a concert. It was about unconditional love and that is exactly what we were seeing both in the audience and in the band.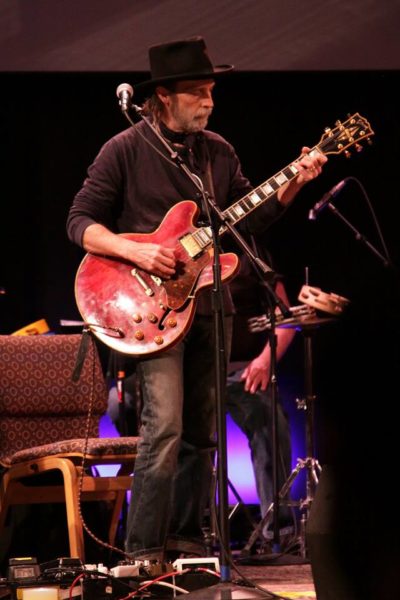 For the next song, the concert took an unexpected turn. Amy Grant and Michael W. Smith returned to perform as a trio with Rick a lovely rendition of the Rich Mullins classic, "Hold Me Jesus". This was the only song performed that was not part of "The Jesus Record", though Rick recorded the original with Rich Mullins back in 1993. Lyrically, it was a very fitting addition to the set list. There was barely a dry eye in the house as Rick fought to sing the final line of the song, You have been King of my glory, Won't You be my Prince of Peace".
The evening wrapped up, fittingly, with a return to "The Jesus Record" for its final song, "That Where I Am, There You…" an infectious toe-tapping sing-a-long that had everyone on their feet. Both Amy Grant and Michael W. Smith had sung on the original recording, so it was only fitting that they shared lead vocals for this energetic live performance. It was the perfect bookend to a wonderful evening and an incredible career for an artist who— while maybe not a superstar definitely made an impact through his work and touched a great many lives. Luis Urrea summed the evening up perfectly. Referencing Rick's song "Confession of Love", Urrea said, "I just want to say to you all, just look. This is all our confession of love. This is Rick's confession of love to you and maybe yours back."
Please consider a donation to Rick Elias's medical expenses by visiting his GoFundMe:  https://www.gofundme.com/rick-elias-medical-expenses
.
[All photo credits are Andrew Epps Photography]
.
---
Joe Cook has been in broadcasting for over a decade. He and his family recently served for 4-years at the same Navajo reservation where Rich Mullins lived and served his final years on Earth.  Joe is also a member of the UTR Panel of Critics.