We learn so much about music through our audience.  For years, we have shared songs with you, and you have shared songs with us. So we decided to put this Special Menu Playlist into the hands of YOU our listeners.  Not only did you deliver a diverse and eclectic array of songs, we also received requests from 21 different states and 4 countries [the requesters names are posted in the track list below].  Thanks to everyone who contributed!
EXCITING NEWS!  Beginning with this release, UTR's "Special Menu" Playlist is now available on Apple Music!  [Big thanks to Ben Kuwitzky in Nigeria for making this possible.]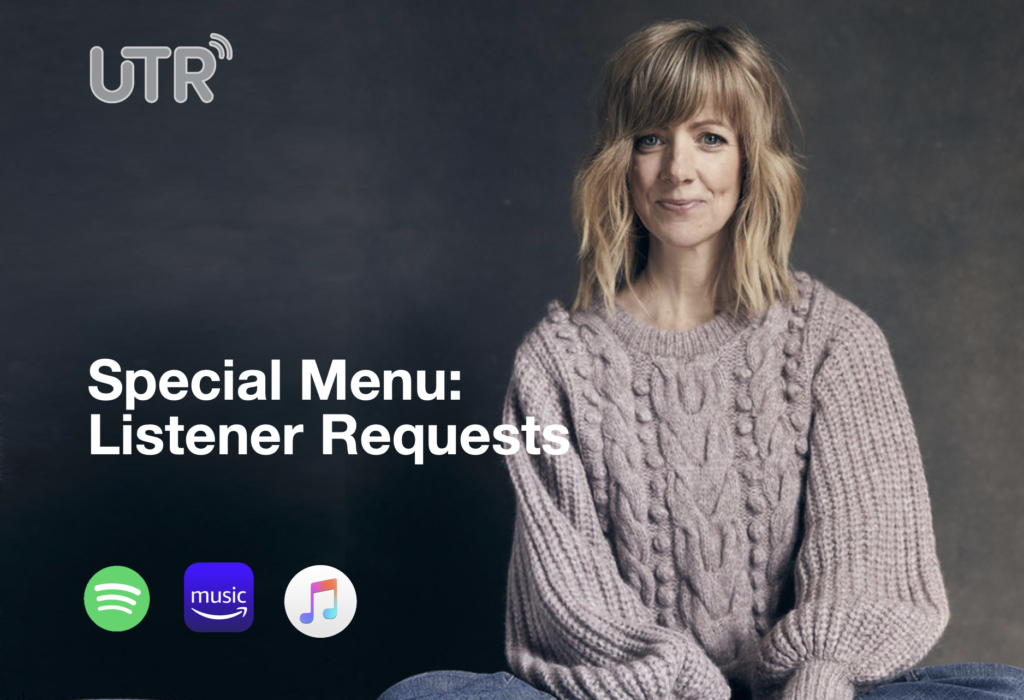 CURATOR'S NOTES
SM #10 – MARCH 2020
YOU our listeners did the curation for this playlist, so the two things I have to say are:  (a) WELL DONE, and (b) THANK YOU!  We listed all of the names of those who selected tracks for this list.  And I want to spotlight one individual.  Ben Kuwitzky is a missionary in Nigeria. He contacted us a few weeks ago to ask why our playlists aren't on Apple Music.  The answer is pretty simple… no one has volunteered to help us with that… and no one on our staff subscribes to Apple Music.  Ben stepped up to the plate and is volunteer to build our playlists on Apple Music.  He has already posted our "24 Hour Gourmet Music" playlist, and now will build each "Special Menu" and "Heart, Soul, & Mind" Playlists moving forward.  Thanks Ben – we hope this opens up these playlists to many new listeners!
TRACK LIST – SPECIAL MENU: LISTENER REQUESTS  (MAR 2020)
Hieroglyphs – The Oh Hellos – "(Jonathan Bennett – Bel Air, MD)"
Almighty God [Remix] – Sandra McCracken (ft. All Sons & Daughters – "(Julie Brinkman – Franklin, MD)"
Another Man's Shoes – Drew Holcomb & The Neighbors – "(Don Titus – Portland, OR)"
Body – Sleeping At Last – "(Chuck Conner – Oakland, OR)"
More Alive – Melanie Penn – "(Jan Gijsbers – Utrecht, Holland)"
Lesser God [LIVE] – Jenny & Tyler – "(Ed Lambert – Spokane, WA)"
Can't Curse the Free – Jetty Rae – "(Chris Koning – Grand Rapids, MI)"
Why Even Try – Colony House – "(Karley Hepworth – Xenia, OH)"
Fighting for the Wrong Side – Scott Mulvahill – "(Timothy Spain – Troy, TN)"
Ghost of a King [Remix] – The Gray Havens – "(Brenda Zook – Meadville, PA)"
The Well – Chelsea Scott – "(Abigail Noonan Grebe – Melbane, NC)"
Make Room – Jonathan McReynolds – "(Mike Trout – Chicago, IL)"
All The Way My Savior Leads Me – Rich Mullins – "(Ann D'Alessandro-Zuck – Strasburg, PA)"
Undefeated – Ginny Owens – "(Gerald Lincoln – Haltom City, TX)"
Threads [LIVE] – David Leonard – "(Jason Hylton – Madison, TN)"
I Cannot Outrun Your Grace – Jordan and Jessa – "(Debra McMahan Fausch – Bay City, MI)"
New Song – Jason Gray (ft. Blanca) – "(Curtis Cecil – Jefferson, OH)"
Desert Blooms – City Psalms – "(Brian Goodall – Tuscon, AZ)"
Song for Matthew – Amanda Falk – "(Jason Vanden Bosch – Tinley Park, IL)"
Never More True – The Choir – "(Heather Borum – Tampa, FL)"
As I Have Been Loved – Stephen McNeill (ft. Hunter Bobo) – "(Brice Holbrook – Horn Lake, MS)"
What Other Love – Fox & Foal – "(David Williams – Fayetteville, AR)"
"Well Done, Good and Faithful" – Andrew Peterson – "(Hannah Morris – Zionsville, IN)"
Circus [LIVE] – Christopher Williams – "(Mary Lindsey – Champaign, IL)"
Soften My Heart – Mas – "(Jesse Olson – Galesburg, MI)"
Nethy Bridge – Harrod and Funck – "(Doug Kimball – Plainstow, NH)"
I Can Do Better – Christa Wells – "(David Dover – Spring, TX)"
The Mantis and the Moon – Son of Laughter – "(Jessica Brain – Kuna, ID)"
Happy Go Lazy – Steve Taylor & The Perfect Foil – "(David McLaughlan – Cambridgeshire, UK)"
Fighter – Joseph – "(Vonda Sellers – Mountain Lake, MN)"
Hoods of Good – SFC – "(Hector Conzalez – Oak Lawn, IL)"
Jesus Was a Carpenter [LIVE] – Johnny Cash – "(Richard Robinson – Kissimmee, FL)"
Into The Darkness – Drew Miller – "(Ben Kuwitzky – Jos, Nigeria)"
Run (Catch Me If You Can) – SHEL – "(Caroline Phillips – Wichita, KS)"
And the Rest is Mystery – Project Aegis – "(Jack Glasheen – Franklinton, NC)"
I'll Meet You There – Jill Phillips – "(Mary Schieferstein – Amherst, OH)"
Lights in the Desert – Geoff Moore – "(Mark Hunter – Lumberton, NC)"
"Heart, Teeth, Hands" – Tina Boonstra – "(Garret Godfrey – Phoenix, AZ)"
Million Dollar Feeling [LIVE] – Darrell Mansfield – "(Mark Hanson – Coeburn, VA)"
Love You Better – Peace – "(Lynette Stephan – Oakland, NJ)"
Hammering Heart – John Mark McMillan – "(Marje Gillies – Oak Lawn, IL)"
The Best I Can – The Normals – "(Andrew Warner – Fort Wayne, IN)"
Autumn in Kingston Springs – Jeremy Casella – "(Ralph Milliken Jr. – Absarokee, MT)"
At The End of Me – Bebo Norman – "(Amy Burgess – Grand Rapids, MI)"
Duo [MLPS Verson] – Ben Rector – "(Lindsey Abbasy – Lansing, IL)"