As a non-profit, the life-blood of the ministry is the generous support of kind people just like you.  However, another important revenue stream is our content sponsors.  When some people think of "sponsors," one often thinks of big corporations like Chick-Fil-A, Doritos, or Dr. Pepper (and yes, I'm a bit hungry as I type this).  But if you've engaged with UTR content via podcasts, videos, SongRx, eBlasts, or print materials, you would know that our sponsors tend to be much more grassroots… often independent creators of art… maybe even someone like you.  For most of the last four years, our sponsorship slots have been nearly sold out with only word-of-mouth sharing.  But since we took a break from some of our regular content production in Spring/Summer 2023, we pushed pause on all sponsorships too.  So, this is a rare opportunity where we are re-starting our content AND our sponsorship opportunities, so we invite you to consider promoting your next creative project through UTR.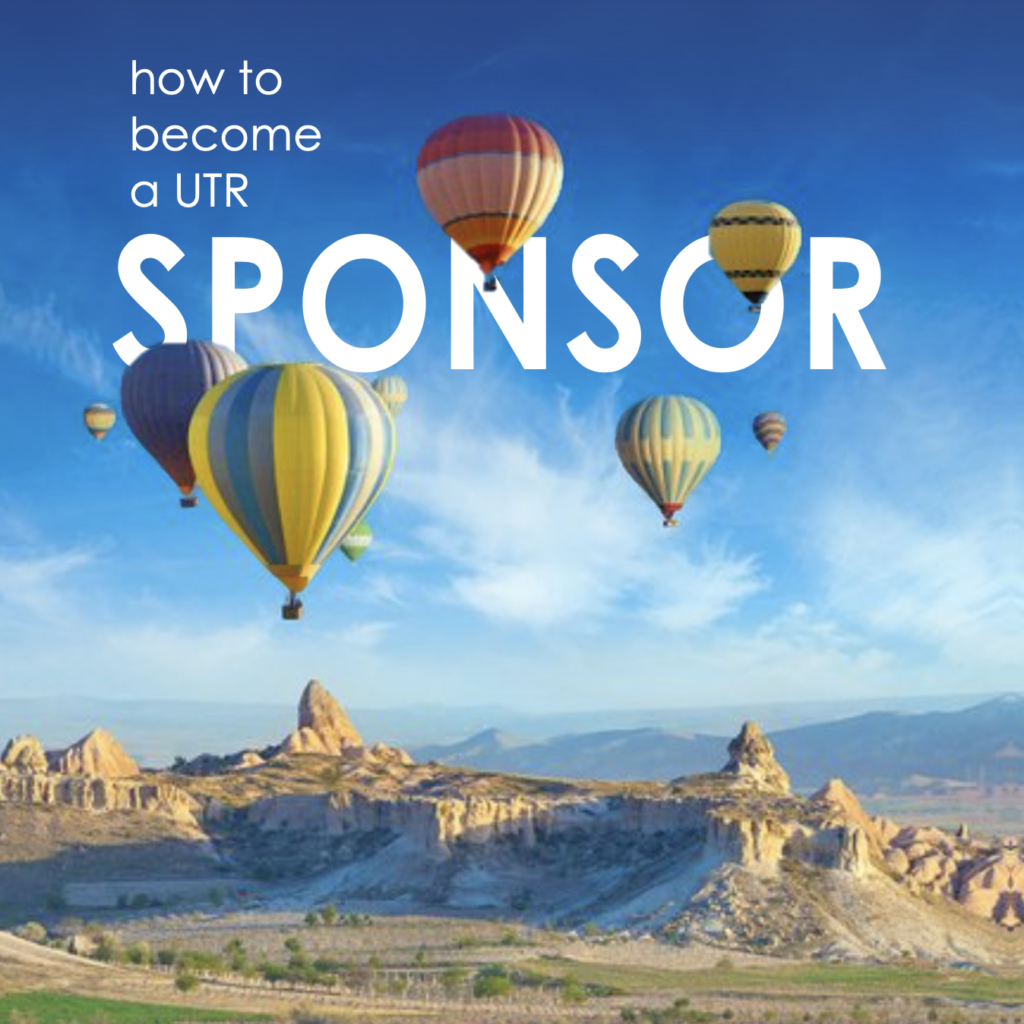 Why Become A UTR Sponsor?
If you are creating and releasing a new single, EP, album, book, film, podcast, event, or crowdfunding campaign, you likely already know that you need to get the word out to a potential audience.  UTR has been developing a highly-engaged and very supportive community over the last 15 years – a community that is uniquely interested in music and art discovery and appreciating independent creators (not just the most popular names).  We have over 4,500 email subscribers, over 27,000 followers on social media, and over 8,000 monthly podcast listeners.  We are happy to have partnered on sponsorships with some well-established organizations like Compassion, Judson University, InterVarsity Press, Food for the Hungry, VisionTrust, the Rabbit Room, and more.  But our favorite partners are independent art creators, with some of our past sponsors being Sara Groves, Charlie Peacock, The Gray Havens, Cindy Morgan, Jenny & Tyler, Old Bear Records, Drakeford, Carolyn Arends, and dozens more.
Most importantly, you are doing good at the same time you are spreading the word.  100% of your sponsorship money is put into the non-profit work of UTR.
Special Discount:  If you are an artist that has been featured on any UTR content in the past (podcast, playlist, video, SongRx), you get an automatic 40% discount on the rates below – because we want to be extra supportive of the indie music community!
Sponsorship Rates for Fall/Winter 2023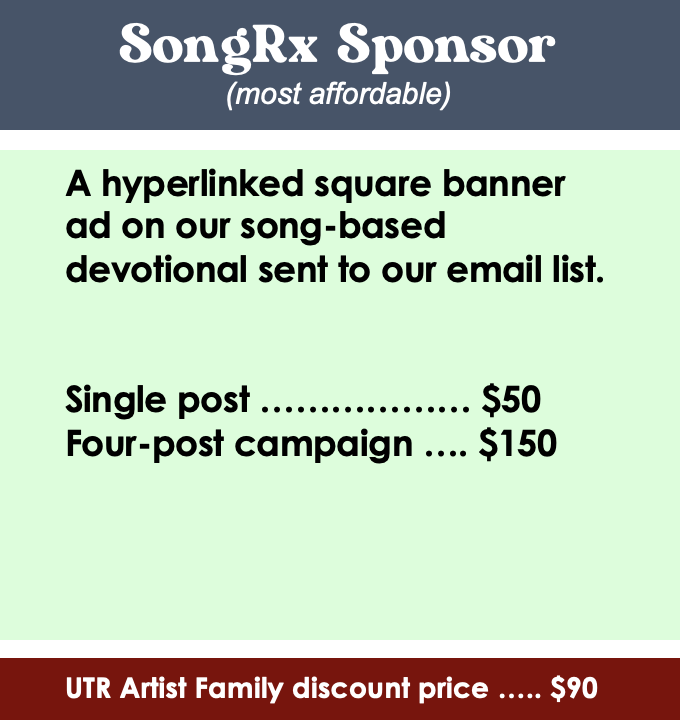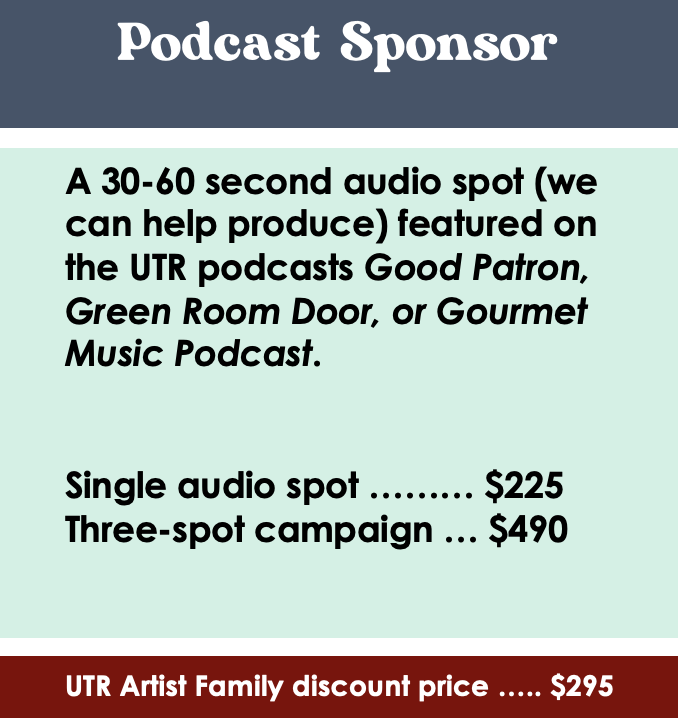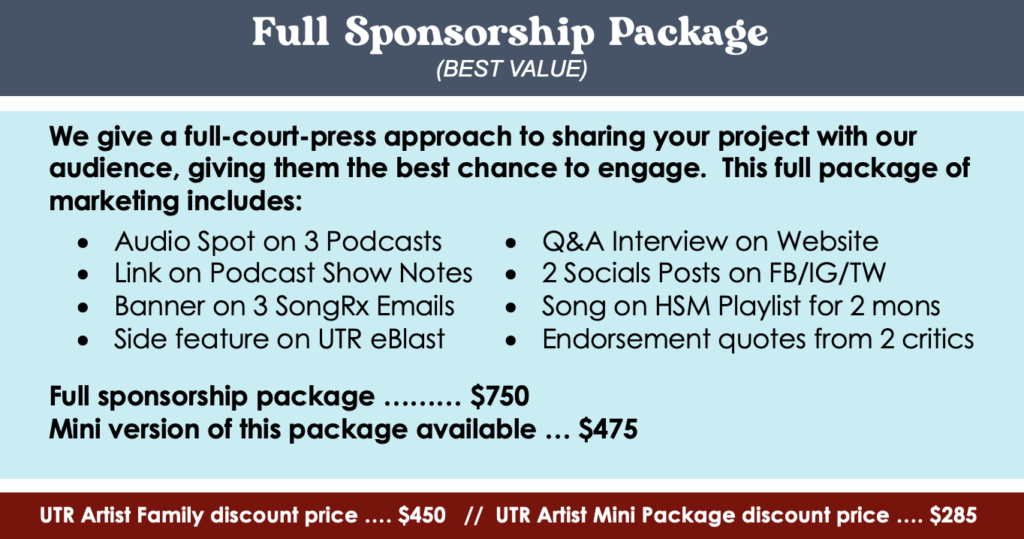 Out of our care for our audience and community, we limit the amount of sponsorships we are willing to do each month.  So becoming a sponsor early gives you the best chance to lock in your campaign at the time that's best for you.  And if it's helpful, we are also willing to accept a sponsorship payment in two installments (50% up front and 50% after completion).
Are Custom Campaigns Available?
Absolutely.  Sometimes certain marketing needs to be catered based on your project.  We might want to showcase a Kickstarter campaign differently than someone's new music video (as an example).  We can also create a 'super-sized' package if you need more robust marketing.
How Do I Sign Up?
We are now accepting new sponsors for Q4 of 2023 and Q1 of 2024.  Send an email to utrdave@gmail.com with your contact info, a description of what you are promoting, your preferred timing of a campaign, and which level of sponsorship you would like.  Please include "UTR Sponsorship" somewhere in your subject line. Your submission will be reviewed for approval within 1-2 business days.