Freedom – 30 Year Reunion Concert
White Heart  (no it was not a "cover band")
New Hope Church – Brentwood, TN
June 29, 2019
To say that legendary Christian rock band White Heart had a profound impact on my life is the understatement of the decade.  My first concert ever was a shall-remain-nameless cheesy CCM act. My second concert ever was my real first concert.  I was age 11, it was early 1987, and I was about 10 rows back center-stage in Wheaton College's Edman Chapel for White Heart's Don't Wait For the Movie tour.  That concert was life-changing.  My young soul was deeply stirred by the incredible performance of this ensemble:  Rick Florian, Mark Gersmehl, Gordon Kennedy, Chris McHugh, Billy Smiley, and brand new band member Tommy Sims.
In late 1987 this 6-piece outfit released Emergency Broadcast, which continued the forward progression of these stellar songwriters and performers.  Then they locked arms with the most sought-after producer in Christian music – now 14-time Grammy winner – Brown Bannister.  The result was the band's 1989 magnum opus Freedom.  It's considered by many to not only be the best White Heart album of all-time, but also one of the best albums in Christian rock history.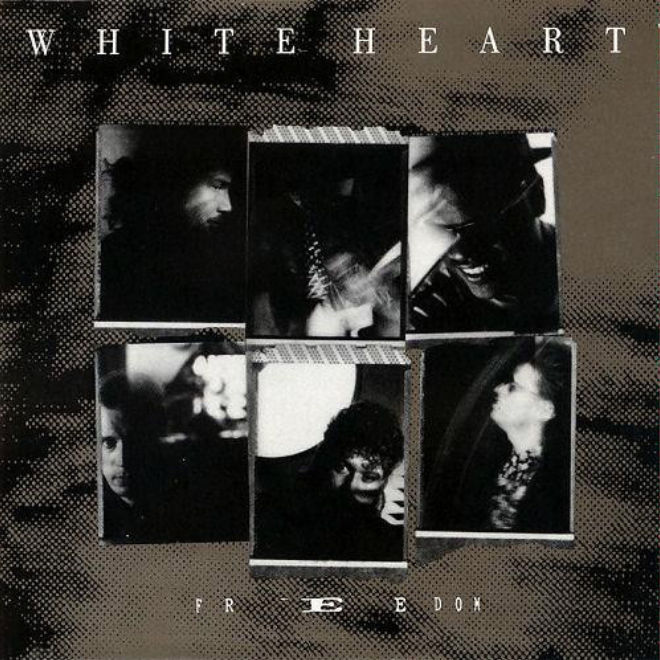 It thrilled me when Rick, Gersh, & Gordon released a video last December to announce a one-night-only reunion concert to celebrate the 30th anniversary of the release of Freedom.  I tried to scoop up a VIP ticket, but they were sold out by the time I looked.  The rest of the tickets were general admission, so I just put it on my extended to-do list.  Fast forward to mid-June.  I have my plane tickets to Nashville, a place to stay, some other things to accomplish… but still hadn't purchased my White Heart tickets.  In fact, I hadn't heard much of any promotion for the concert.  I started to wonder if the show would be vastly under-sold… and even checked to make sure it hadn't been cancelled.  Not only was the show still scheduled, the reason why there was hardly any marketing was because the show had SOLD OUT months prior.  Ugh.  Thankfully, Lori Long (die hard WH fan) saw my predicament on their message board, and came to my rescue.  She and her son had a late change of plans, and she could sell me her ticket.  Yay!
Now, it's June 29, and my wife and I arrive at the venue.  I honestly had no idea what to expect.  The young lady helping to check tickets at the door shares that she is Rick Florian's daughter.  I asked her if she has ever seen her dad do a rock concert before, and she said that she was 4 or 5 the last time she saw it – but she was more excited about seeing Bob & Larry that day.  How cool was this?  Not just a nostalgic trip for some, but many family members were getting to see their relatives perform as White Heart for the first time!
The concert was broken up into two distinct halves.  The first half was more about celebrating the history of the band and the memories of making this historic record.  This included some rare video clips and photos, pared down performances by Gersh (and wife Brynn), Rick, Gordon, and surprise returning bass player (Grammy winner) Tommy Sims, and reflections from Brown Bannister, guest emcee Bart Millard (of MercyMe), and even a video greeting from Steven Curtis Chapman.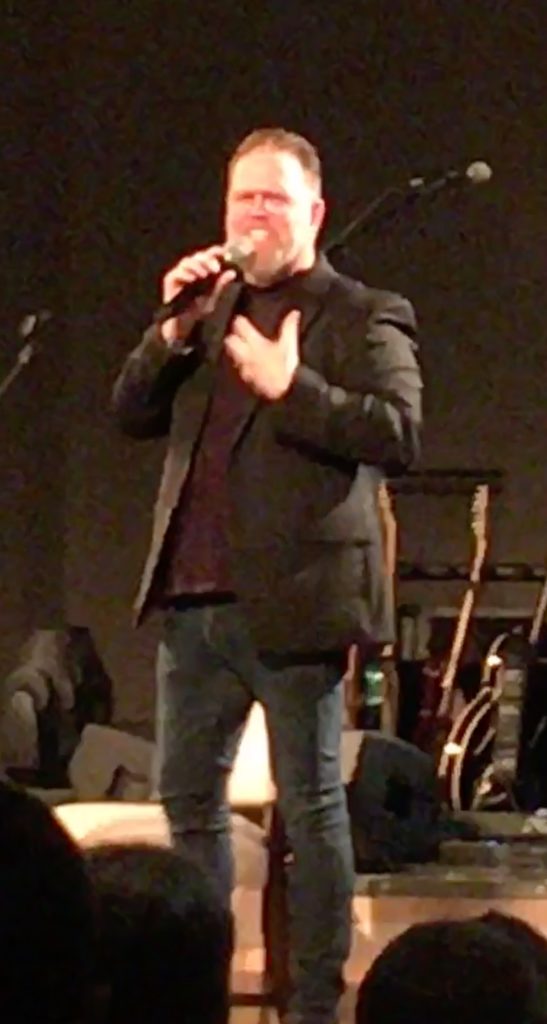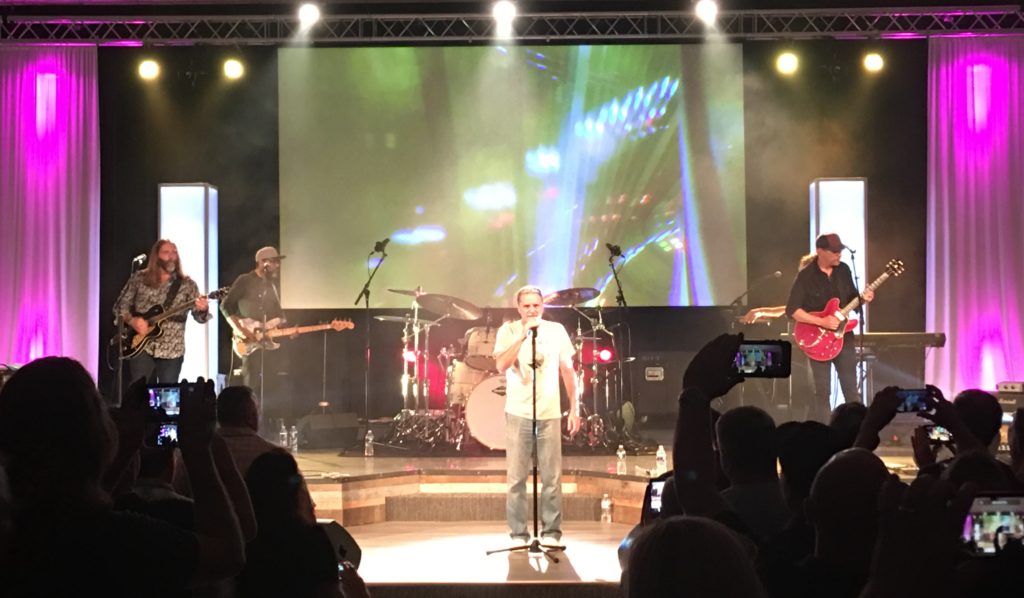 The second half was a straight-up White Heart rock concert with the 8 most well-loved songs from Freedom.  THIS is what everyone came to see.  From the opening moments, one could tell that this was going to be an epic show.  One reason why it was sounding so tight is that A-list drummer Chris McHugh made a surprise return for the night.  This means that 5 of the original 6 members who recorded Freedom were on stage with an almost note-for-note perfect performance.
Who was the missing White Heart member?  Billy Smiley.  Do we know why?  No.  Did he send his greetings?  No.  Was he talked about much?  No.  Three things seem a bit fishy to me:  (a) White Heart had announced a 2013 reunion tour – which Billy was a part of – but the entire US Tour was abruptly cancelled.  (b) If Billy was supposed to be at this show but had a scheduling issue, you would think more of an effort would be made by both parties to be a part (e.g. "Billy wished he could be here, but…").  (c) Billy has been freely using the name White Heart in the marketing of his new band Union of Saints and Sinners, while the outfit we saw on June 29 [5/6 of the original 1989 lineup] had to call themselves "The Ultimate White Heart Cover Band."  WHAT?!  I refuse – what I witnessed was White Heart…. the very essence of WH from front to back.  And while it's sad that there might be some unfortunate falling out between Billy and the other band members, HE's the one that missed out.  And for the record, both on rhythm guitars and backing vocals, their friend Scott Bernard (regular player for Kenny Loggins) did a fantastic job filling Billy's shoes.
Back to the music.  The rock set opened up with a roaring performance of Freedom's opening track "Bye Bye Babylon" (see bootlegged video below).  This one song said it all.  Rick still had the iconic singing voice and fiery energy you would have found 30 years earlier.  The musical and BGV performances of the rest of the band were nearly note-for-note perfection.  And this was not going to be a neutered semi-acoustic hacked together reunion.  This was a pedal-to-the-metal blistering rock show with some of the most respected musicians in Nashville putting on a show for the ages!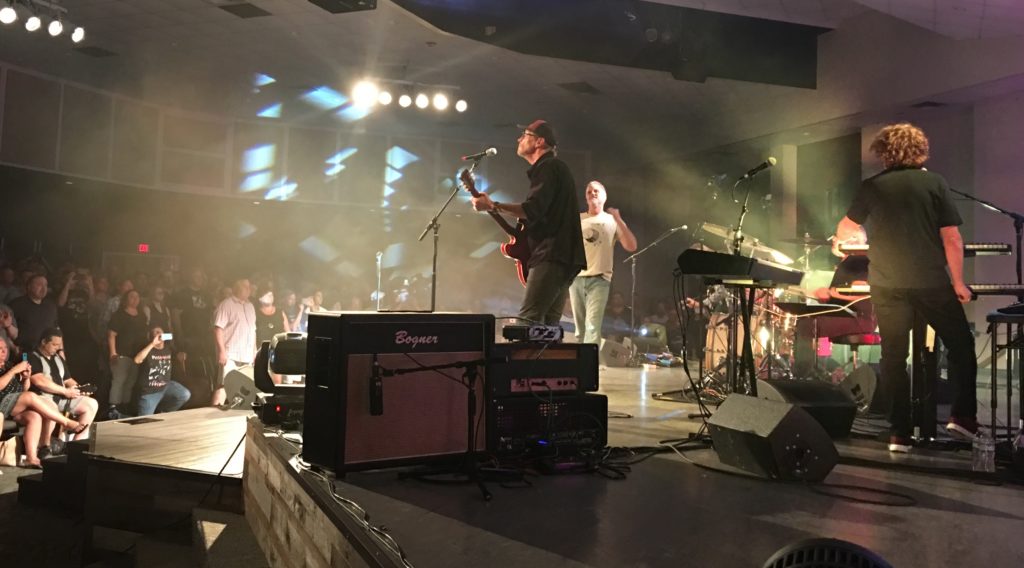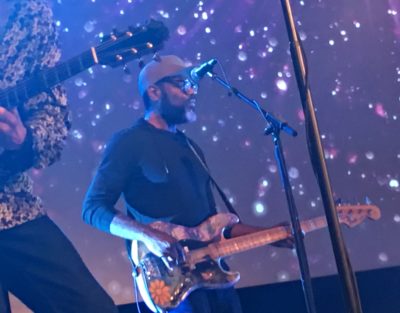 They weaved through eight of the fan-favorite songs on Freedom, several of which hadn't been performed since that album's tour.  Some of the highlight's included Tommy's lead vocals on "Invitation," the heart-pounding final 2-minutes of "Let The Kingdom Come," Bart Millard tag-teaming the lead vocals of "The River Will Flow," and the raucous six-minute version of "Sing Your Freedom" to end their set.  The sound in the venue was fantastic, partly because they brought back their original sound guy from the 1989 Freedom Tour!
One thing that warmed my heart is that the guys in WH publicly thanked the guys in today's A-list band MercyMe (some members in the crowd that night), who served the concert with equipment, staging gear, and even roadie services.  It's great to see a modern award-winning band showing respect to the shoulders on which they stand.
I had high hopes that this night would be special.  This concert soared far beyond my expectations.  It was rockin. It was nostalgia. It was family.  It was unforgettable.  I easily put this in the top 5% of my all-time favorite concerts list.