With the Christmas season in full swing, it's time to dig out your favorite holiday music. And while the warmth and familiarity of Burl Ives, Whitney Houston, and Michael W. Smith churn up yuletide vibes, it's often a bit more difficult to find new Christmas music to grow your seasonal playlist – especially well-crafted new music. After all, holiday albums (especially independent ones) can be easily missed since they are often under-marketed. And then there are so many corny, cheeseball holiday albums – it makes one want to give up hope. But alas, UTR Media is here to make things easier for you.  Here is our curated list of the 6 Best Christmas Albums of 2017!
1. Immanuel – Melanie Penn
In rare cases, a Christmas album will sweep you off your feet and take you on a 40+ minute journey that lifts your spirit higher than when you started. Such was the case with Josh Garrels, Carolyn Arends, and Sarah Hart – each named by us the #1 Christmas album in prior years. This year's honor goes to Melanie Penn. The debut Christmas album from this NYC-based singer-songwriter boasts 9 original songs and 1 carol remake, with each song sharing 10 different perspectives on the birth of Christ. The arrangements sound like a beautifully-crafted indie folk-pop album, and less like a "holiday release." The lyrics are masterfully penned. And that voice… wow! Immanuel is the best new Christmas album of the year!
2. Sing The Bible Family Christmas – Randall Goodgame (Slugs & Bugs)
"Your task is to create an album of original songs… that's Christmas themed… that's kid-centric… that grown-ups will enjoy too… AND it's word-for-word scripture." Randall Goodgame is the only fellow we know that could pull this off with flair. This new release is so sophisticated in style that it's not really a children's album at all – we're glad he uses the word "family" in the title. Several of the songs wonderfully pay homage to the Vince Guiraldi tunes that were the soundtrack of the well-loved A Charlie Brown Christmas. Others are full of whimsy and wonder. This is an album that needs to be in everyone's holiday collection – not just kids and parents – everyone.
3. The Unusual Tale of Mary & Joseph's Baby – Waterdeep
We are convinced that this album – and all 22 tracks therein – will completely knock your socks off like it did for us. Albums 1, 2, and 3 on our list are so close on our list – and we could easily understand any of these being someone's top of the heap. While this album feels like a legit 2-disc set Waterdeep release, it's really the companion piece of a recently released musical co-written by Waterdeep's Don Chaffer. This means that these are all original songs (!) and all share the progressive story arc of the Biblical narrative (!). The album is full of humor, joy, and poignancy. If you like this project as much as we did, you will likely be longing to see the full theatrical musical.
4. The Joyous Mysteries – Giants & Pilgrims
If you're wondering why you haven't yet heard about this release, there's a good reason. As of now, it hasn't released yet (expected release date is Dec. 1st). Colorado-based Giants & Pilgrims has been showcasing the beauty of sparse production, organic instrumentation, and poetic imagery… especially on their two Bellwether EPs that released in Summer 2017. That same vibe is carried over into this band's first Christmas project. This 8-song release has the reimagining of four well-loved holiday carols. The four originals on the album are all instrumentals, beautifully executed with an indie vibe. If most Christmas music is a stroll on the sidewalk, this release is like a creekside hiking trail.
5. The First Noel EP – Marc Martel
Just 12 months ago, Marc Martel's holiday EP (The Silent Night) made our Top 6 list for 2016. We are still a bit shocked that Marc's follow up is… yet another set of Christmas songs. Really?! Except there's this one little fact that we can't escape: this release is even better than the last one. The nicely shows Marc's artistic range, including folk ("Mary Did You Know"), pop ("It's Beginning To Look A Lot Like Christmas"), jazz ("The Christmas Song"), and classical ("Ave Maria"). For the second time, here's a holiday EP from Marc with no new original songs (though fans of Downhere know he's a fantastic songwriter). He makes up for it by singing all 36 vocal parts on "The Hallelujah Chorus" – amazing.
6. Stories For Christmas – Weston Skaggs
With a musical style has been compared to John Denver, Bob Dylan, and Michael Card, Weston Skaggs brings you a fireside-style holiday album through Old Bear Records. The songs have a bit of a throwback feel (in a good way), and all 8 tracks are originals. "Dickens Song" is inspired by a passage from the classic novel A Christmas Carol. "Was It Really A Silent Night" helps us consider the messiness of the incarnation. "Prepare Him Room" might be a new anthem in some congregations. Our friends at Jesus Freak Hideout also loved this release, calling it "a solid seasonal EP that gives the listener something different to warm the cold December days."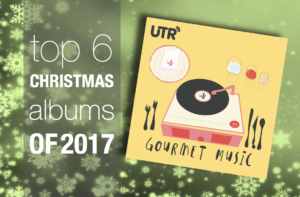 If you want to hear this list rather than just read it, check out Episode 6 of the Gourmet Music Podcast. Dave Trout will countdown these Top 6 picks of 2017 Christmas releases.  Also, tell us below – do you agree or disagree with our list? Are there any of these picks that you tried out because of our recommendation?