Weston Skaggs has been making records for six years and is a long-time collaborator with our friends at the famous Old Bear Studio in upstate New York. His album Stories For Christmas was one of UTR Media's Best Christmas Albums of 2017! We were excited to hear he was recording not just one, but two EPs to be released this year! The first EP,  'til I See You Again, was released on January 10 (available now on Spotify). Read on to find out when we might hear the second EP!
UTR: Has music always been a part of your life?
Weston: Yes, since an early age I was always involved in music through church (being in the choir, etc). My parents are – and the Skaggs family as a whole is – very musical.
.
UTR: When did you start writing?
Weston: I'm a late bloomer! I wrote my first song at 23 years old. I'd always loved to write in other forms but never attempted an original song. When I was young, my mom and my uncles had written songs, so it wasn't an intimidating thought to me. So one day I felt like I had something to say and had the day off so I just sat down for a couple hours and a complete song came out. It'd be embarrassing to hear that song now, but it showed enough promise that people in my life encouraged me to keep doing it.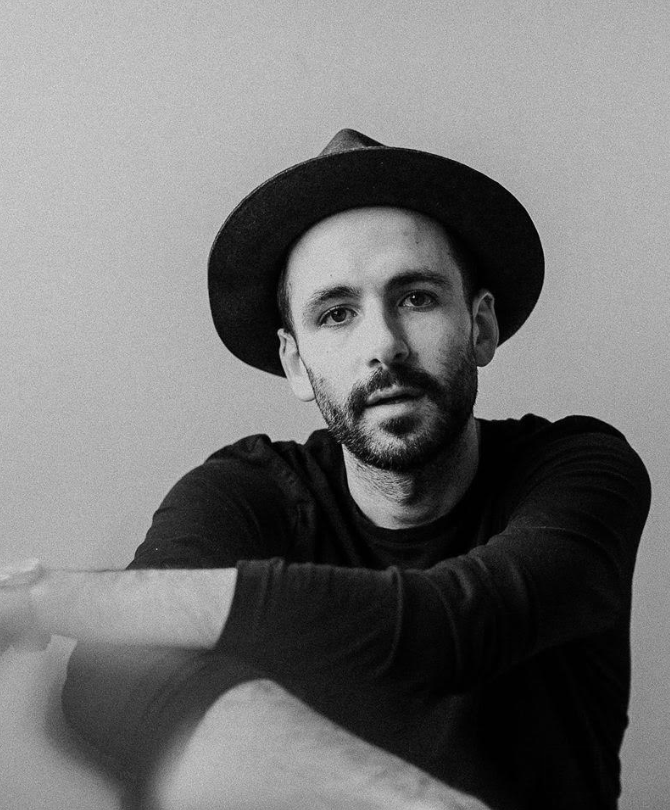 UTR: You have been working with the Old Bear crew for quite some time. Can you describe what the recording process is like with them?
Weston: The Old Bear Crew is so incredible in that they help each artist find the truest version of themselves. The studio is like a playground: there are so many different vintage instruments lying around and the guys are game to give anything a try. With so many talented people in the same room we settle into a fun flow jumping back and forth in search of crazy sounds. One of the fun things we did on TISYA was run a Mellotron synth through a guitar pedal board. One of us would play and the other would tweak multiple effects in real time. That type of stuff doesn't feel like work at all and it was never the same twice. We've made music together for five years now and together tracked four albums, so going into the studio feels like a reunion. Friends from the area drop in – its a good time.
UTR: What was the concept behind the new EP  'til I See You Again?
Weston: Initially the 6 songs were part of a group of 12 songs intended for an LP. But producer Chris Hoisington and I noticed that the songs split very naturally into two different groups in the way they were written and in the sonic approach we wanted to take with them. The 6 songs for TISYA were all very personal (only one was a co-write) and written in a simple folk structure (I noticed after we recorded that there isn't a single bridge on the entire album – which is a staple of modern music.). With the recent loss of the two patriarchs in my family and the adoption of my daughter Amara, the themes that came out of my writing were family/time/loss/grief/distance. Four of the 6 songs are written to specific people in my life. And then, sonically speaking, we wanted a warm/hushed vocal-centric approach to the sound of these songs. We recorded the final vocals first and built intricately layered experimental soundscapes around them. We doubled the vocals on every track by either humming the melody underneath the lead vocal or just straight up double tracking it to keep the voice in focus and give the album a consistent feel.
UTR:  The song "It Won't Always be that Way" from this EP is a personal favorite. Can you give us the backstory for this song in particular?
Weston:  There was a tension in my chest that I had to work out. A fight between wanting to simultaneously fast-forward and freeze frame different times in life. We were going through sleepless nights with an infant and I'd just keep saying to Amy "It won't be like this forever." And that mantra would bring with it hope. Hope of an end to our exhaustion but also it would also remind us of the sacredness of those late night feedings as well. So I started writing a verse each for Amy and the kids and what each of them have taught me about time. That this pain, this struggle, is temporary. We'll make it through. And not only that, we can actually mine beautiful, holy moments out from the middle of it.
UTR:  So we heard there is a second EP in the works, which we are looking forward to! What can you tell us about this second EP and when do you expect to release it?
Weston:  Next week I'm going back into the studio to finish it up, it doesn't have a name as of yet. It's a different feel than TISYA in that it's a more band oriented record and all of the songs are co-written with Anthony and Chris Hoisington. There's a 60s chamber-pop feel to it and there are definitely more hooks than the first EP, but it still asks tough questions. One of my writing goals was to ask tough questions without always having the trite answer. I'd like to release in the Spring, we'll see how things go.
UTR: You and your wife are strong proponents of adoption. Would you like to share your family's experience related to adoption?
Weston: God had a plan to shape our family through adoption that we never could have seen. We have three children: Paisley (5), Boaz (3), and Amara (18mos) and the younger two are our through adoption. In both situations we were matched with very short notice and had to trust God to work out the details of paperwork and finances on the fly and He did so every step of the way. God has used adoption to help Amy and I grow in compassion, to see the world in a different way, to see Him in a different way. I encourage everyone I can to consider foster parenting and adoption. There are so many children in need and we can be the love of the Father to them.
.
UTR: What is in the future for Weston Skaggs?
Weston: I'm really looking forward to getting out on the road this year to share these new songs! House shows, coffee houses, big churches, small churches, I play them all. I'm excited about playing new places and meeting new people this year. Beyond that I wear three different part time hats that vie for priority: my personal music, staff worship arts pastor at my church, and registered nurse. We just moved into a new-to-us house that I've been fixing up so I've got a lot of home improvement projects about half done right now that need looking into!
.
UTR:  Thanks for taking the time to talk with us.
Weston:  Thank you for your time. I remember coming across UTR years ago when I was trying to find unique Christian music and I'm truly honored to be featured on UTR alongside some of my favorite artists.
Weston Skaggs is a worship leader and singer-songwriter from Northeast Ohio where he lives with his wife Amy and three children. For more information, visit him at https://westonskaggsmusic.com.