Our "Special Menu Playlist" is a chance to have specially themed curated songs at special times throughout the year. Recently, our UTR Panel of Critics not only helped us honor the Top 11 Gourmet Albums of 2018, but we also listed every album that was cited by our panel…. all 65 albums.  This playlist features a song from each of these 65 cited releases.
CURATOR'S NOTES – SPECIAL MENU CRITICS' PICKS PLAYLIST  (JAN-FEB 2019)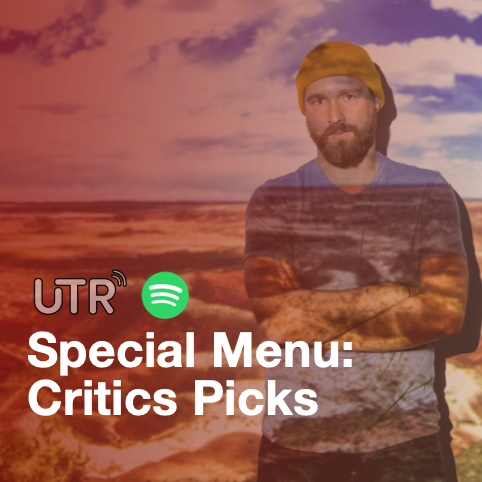 Do you have those special moments on your work calendar where you tend to "come alive" at your job?  Maybe it's excitement about your quarterly bonus. Maybe it's going on a business trip to a place you love to travel.  Or maybe it's a special project that is rewarding in itself.  This is true for me each year when we gather our UTR Panel of Critics to vote on the best music released each year.  This is the 10th consecutive year we have had this panel and have released a Top 11 Gourmet Albums of the Year list.  And since voting on these types of things has an element of subjectivity, there are always a lot of albums that get cited by one or more of our critics, but don't get any "special recognition" – but still might be a fantastic project (one that at least one critic put on their own personal Top 11 list).  So for the last 3 years, we decided to give some props and list out ALL the albums cited.  In this year's voting, there were 65 albums mentioned, and we are featuring them all here (at least the 98% of music that is available on Spotify).  We begin with our Top 11 albums, then our honorable mention, and then the rest in no particular order. Enjoy some of THE BEST music released in 2018!
TRACK LIST – SPECIAL MENU   (JAN-FEB 2019)
Welcome from Dave – UTR
Marjorie – Andrew Osenga
Remember Me – Andrew Peterson
Three Birds in Babylon – The Gray Havens
Butterfly – Christa Wells
The Brave One – Andy Gullahorn
Sanctuary – Remedy Drive (ft. Propaganda)
Wounded Healer – Audrey Assad
Last Time – Joy Ike
Maybe – Drakeford
Reciprocate – Sandra McCracken
Save Me – Liz Vice
Illuminate My Unknowing – John van Deusen
We Ain't Going Nowhere – The New Respects
Breaking of the Bridge – Jonathan Gabriel Masters
Satisfy – Rivers & Robots
I Want to Make You Proud – Katie Herzig
BSM: Gratitude Over Fear – UTR (ft. Andrew Greer)
Inconvenient – Nick Flora
Wide Eyed Dream – Phil Madeira
Bread of the World – Alex Mejias
Not Yet – Chris Renzema
"Birds, Bewildered" – The Choir
Fortress – Mat Kearney
I Shall Not Be Shaken – Eufaula
Two Lights – Adam Whipple
Everything I've Accumulated – Mitchell McVicker
Anything Goes – Matthew Perryman Jones
Prodigal Son – We Are The Monks
R U a Spirit? – Kevin Max
Wild and Free – Jason Upton
Go – Vocal Few
BSM: Becoming Indie – UTR (ft. Cindy Morgan)
Regret – Moda Spira
Love I Am – Jenny & Tyler
Turn The Page – Mr. & Mrs. Something
Run – Von Strantz
Look out from Your Window – The Innocence Mission
We Were Not Ready – Brooke Annibale
Promise is a Promise – Ian Zumback (ft. Anthony Hoisington)
Time – Jason Gray
Look Up Child – Lauren Daigle
Falling Star – Hannah Miller
Still Water – Charlie Peacock
Confident – Steffany Gretzinger
Most Merciful God – Greg LaFollette (ft. Taylor Leonhardt)
Brother – The Promise Is Hope
Between Nashville and L.A. – Derri Daugherty
Boxes – Ben Rector
One More Song – Ashley Cleveland
My Soul – Thrice
Never Alone – Tori Kelly (ft. Kirk Franklin)
Never Lose My Love – Dave Barnes
Lead Me – Sister Sinjin
History Comes Back to Haunt This World – Altar Boys
Takes All Time – Cory Henry & The Funk Apostles
BSM: Career Surprise – UTR (ft. Matt Brouwer)
Spirit Resurrect – Josh White & Josh Garrels
Put Not Your Hope in the Nations – Wendell Kimbrough
Human – Plumb
AWOL – Kevin Max
Anthem – Phil Wickham
Sparrows and Lillies – Pat Barrett
Psalm 13 – Alisa Turner
You and Me – Chris August
Great Big World – Shawn McDonald
Fight Anymore – For All Seasons