Our panel of critics not only helped us create this year's Top 11 AlbumsList, but we also had them choose some of the best individual songs of the year – released in albums, EPs, or as singles. Since songs are even more subjective than album choices, we are sharing all the individual selections, unranked. We hope these 65 tracks give you a resource to discover the best faith-inspired music being made today. Here are the Top Gourmet Songs of 2019.
.
(Listed in no particular order. Songs are qualified for consideration from any genre if it was made be a Christian artist/songwriter, was a new original arrangement, and was publicly released between 12/1/18 and 12/1/19.)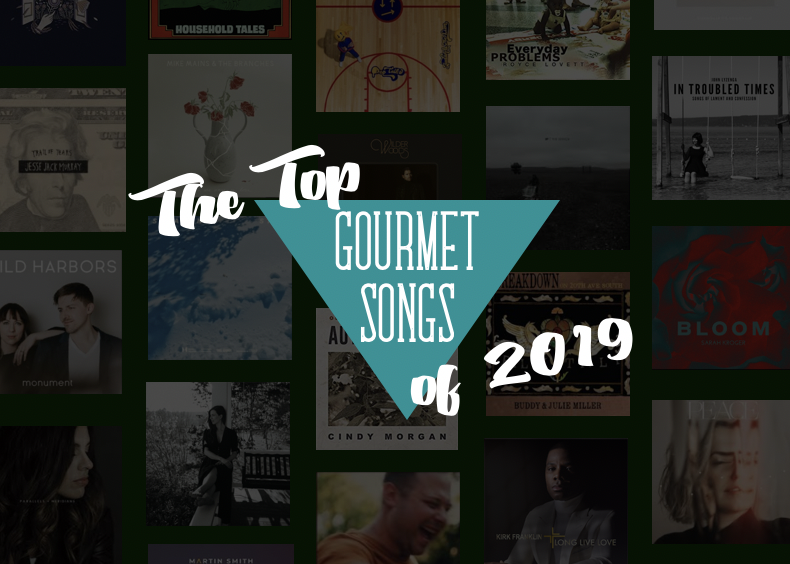 "Permanent" – Caroline Cobb  ("A personal tale of love that does not keep a record of wrongs" – Larry)
"Around The Corner" – Mike Mains & The Branches  ("An anthem and cry of spiritual yearning" – Dave)
"Out of Sight" – Citizen ("We receive joy when we don't rely on our own understanding" – Kevin)
"Second Chance" – Tina Boonstra ("Even in the midst of shortcomings, we know God has not given up on us" – Garret)
"Your Peace Will Make Us One" – Audrey Assad ("In a world of turmoil, this song is a balm"  – Jen)
"Let It Happen" by Switchfoot ("Refutes our frantic search for purpose with the peace & trust" – Russ)
"Give Thanks" – Zach Winters ("Thoughtful, encouraging, and  clever – with a touch of humor" – Joe)
"Trail of Tears" – Jesse Jack Murray ("Cutting, timely, & beautiful – protest music done right" "- Justus)
"The Search" – NF  ("Wow! Stop you in your tracks! One of the best rap songs I've heard… ever" – Dave)
"Closer to Strangers" – Eden Wilhelm ("The sheer cleverness of this song will blow you away" – Larry)
"Breakdown on 20th  Avenue South" – Buddy and Julie Miller ("Indicative of the fragile warmth we've come to expect from the Millers"  – John)
"Into the Darkness" – Drew Miller ("This track offers hope and honesty"  – Jen)
"Did Not Our Hearts Burn" – Jess Ray ("Superb spiritual song craft with stunning production" – Dave)
"Slow Surrender" by Jeremy Casella ("Poignant lyrically, with buoyant strings & percussion" – Russ)
"May God Love You (Like You've Never Been Loved)" –  Over The Rhine ("OTR keep gifting us these hymns of grace" – John)
"Lights Gone Out" -Taylor Leonhardt  ("Haunting reminder that there is joy at the bottom of the bitter cup of suffering"  – Garret)
"Pieces" – Sarah Kroger (ft. Audrey Assad)  ("A sweeping toast to the faithful Believer" – Dave)
"Stay" –  Strahan ("Heartbreaking openness and vulnerability" – Garret)
"It Won't Always Be This Way" – Weston Skaggs ("The tension between fast-forwarding and freeze-framing times in life" – Larry)
"Native Tongue" -Switchfoot ("Reminds listeners of the power of words and the need to tame our tongues" – Kevin)
"Scheduling a Revival" – Arthur Alligood ("A rollicking tune about disillusionment and Southern cultural Christianity"  – Jen)
"Everybody Is Broken" by Martin Smith ("A plea for renewal in our own lives" – Russ)
"I Thought I Could Do Better Than You" – Make Sure ("Captures those overlooked [or buried] thoughts of coming-of-age"- Justus)
"Someday Soon" – Wilder Woods ("An honest prayer sung with soul and grit" – Dave)
"In The Beginning" – Cindy Morgan ("She's in her prime as both a singer and songwriter" – Joe)
"Young In My Head" – Starflyer 59 ("Could well serve as a theme song for many of our lives"  – John)
"Sight" – The Eagle and Child ("Epic song about God's love opening our eyes to our mission" – Larry)
"He Won't Let Go" – Gloria Gaynor  ("Bringing classic Motown-infused Gospel to life" – Garret)
"Everyday Problems" – Royce Lovett  ("Throwback vibes plus hip-hop beats equal 100% coolness" – Dave)
"Never See the End" – Mission House ("A simple yet powerful worship song"  – Jen)
"Take My Hand" by Russ Mohr ("A perfect blend of Stevie Wonder and Andrae Crouch" – Russ)
"We're Getting Better" – Wild Harbors   ("Fun, infectious, honest, and feel good!" – Joe)
"Another Yesterday" –  Rick Altizer ("For those times we wish we could have a do-over" – Larry)
"On Your Side" – The Innocence Mission ("Even after 30 years, it's this band at their best" – John)
"The Day I Was Born" – Brettan Cox  ("Finding identity in God's jealous love – so creative" – Dave)
"Live Forever" – Mike Mains & the Branches ("Relatable words wrap around a catchy melody" – Kevin)
"Slow Down" – Jonathan Ogden ("Antithetical to the culture of busy – quiet your soul"- Justus)
"For The Joy Set Before Him" – Latifah Makuyi ("Brings Good Friday to life in a fresh way" – Garret)
"Troubled Times" – John Lyzenga  ("Based on Psalm 10 but surprisingly relevant for today" – Larry)
"Take My Fire" – Switchfoot ("Blistering rock and roll! Inspiring and exciting!" – Joe)
"Driven by Love (Live)" – Lindy & the Circuit Riders ("Reflects the cry of my heart"- Kevin)
"God Gave Me Horses" – Leigh Nash ("One of the most graceful songs of her career" – John)
"Good Old Days" – Bradford Loomis  ("Cut-loose southern rock; the perfect toast to yesteryear" – Dave)
"Letter to the Editor"- J Lind ("Devastating yet hopeful, with some of my favorite lyrics" – Jen)
"Holy Rain " – LOVKN ("This soulful song will have you dancing with joy" – Garret)
"I Don't Want This Job" – Zach Winters ("Combines angst and a nice groove" – Justus)
"Spirit (Keep On)" – Jeremy Casella ("Tender & heartfelt – a reminder of God's faithfulness" – Joe)
"7000x" – Judah & The Lion  ("High octane encouragement for the bruised & beaten" – Dave)
"Love With A Little Love" – Eric Lee Brumley ("Earth-moving vocals resound" – Larry)
"New Creation" – Shell Marie ("A grooving soulful celebration of the new life found in Christ"  – Garret)
"Awakening" – Amanda Lindsey Cook ("We can lay our pain & pride at the feet of Jesus" – Kevin)
"To Beat The Devil"  – T Bone Burnett ("At his dark, poetic, theological best" – John)
"The Earth is Full" – Stephen McNeill ("A wonderful upbeat song with a Tom Petty influence" – Larry)
"Heart, Teeth, Hands"- Tina Boonstra ("A rocking  reminder that He asks for our everyday"  – Garret)
"Wild Things" – John Tibbs  ("Foot-stomping call to run towards joy & freedom" – Dave)
"Highlands (Song of Ascent)" – Hillsong United  ("The Hillsong team's best songwriting" – Jen)
"Valley" – Civilized Creature ("Beautiful, heartbreaking, and powerful" – Justus)
"Don't Worry" – Melanie Penn  ("An upbeat reminder of God's provision" – Larry)
"No One" – Dia  ("Scripture-filled lyrics with an upbeat, joyful sound!" – Garret)
"Front Porch" by Joy Williams ("A sweet portrait of grace that gives the parable of the Prodigal Son a down-home setting"  – Russ)
"Love Theory" – Kirk Franklin ("Every time I play it, the room fills with joy & praise" – Dave)
"Love Doesn't Make It Easy On Us" – The Ocean Blue ("Easy never leads to anything valuable" – John)
"Humility" – Andrew Blooms ("A song that cries out for trust and repentance" – Larry)
"Stand in Your Love" – Bethel Music ("A sincere yearning and thankfulness for God" – Kevin)
"Mountain" – Collington ("Doubt, prayer, revelation – a heart-felt track" – Dave)

MORE CONTENT:  On the JAN-FEB 2020 Special Menu Playlist (available on Spotify and Apple Prime Music), we feature many of these "Top Songs" as well as selections from our "Top Albums" lists.  The next Gourmet Music Podcast (releasing 1/30/20), we will be featuring a large selection of these "Top Songs" picks.
.
We would love to get your thoughts below.  (A) Were there any songs that are on this list that also connected with you personally, and (B) are there any songs you would add to this list?