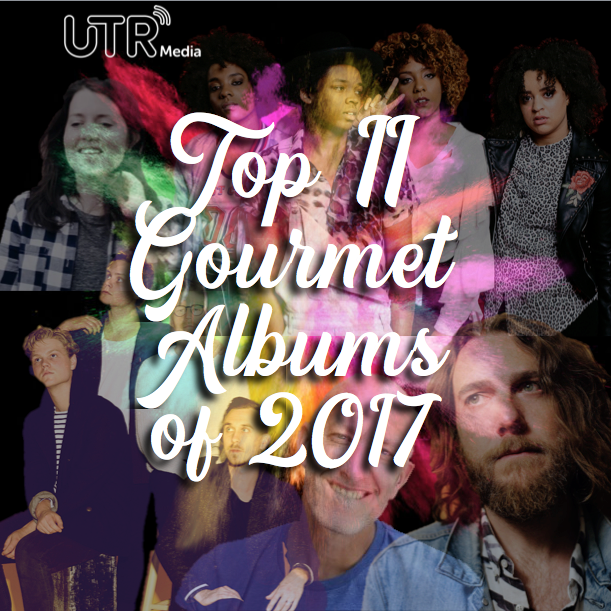 We are now in our 10th year as music curators, which means a language and culture and tradition has been built in our little corner of the music world. One of THE favorite traditions for our followers (and for us) is sharing our annual list of top albums. One thing that has always made this list unique is that it is not the opinion of one person, or even one staff. We have assembled a 10-member panel of critics from a widespread cross-section of faith-based media, including magazines, music review sites, radio, blogs, and higher education. 2017 was a unique year in faith-inspired music, reflected in the most diverse voting process in our history. For the first time ever, each of the 10 critics had a different #1 album. Four of these #1 picks did not even make our collective Top 11. Yet there is something beautiful in how this list is a community reflection. And after sitting with this list, we hope you'll agree that the final tally is a very good representation of some of the highest quality music birthed from the Christian community.  It is our honor to present The Top 11 Gourmet Albums of 2017.
[
Albums qualify for consideration if the artist is a Christian, over 50% of the songs are new to 2017, and the public release date was between 12/1/16 and 12/1/17.
]
1. Red Sea Road – Ellie Holcomb
We never hope for trials and tribulations, but often it's the place God helps our faith grow. In the case of this album, it's also the place where beautiful art can spring forth. These songs, which were birthed after a season of heartache, help declare God's redemptive and restorative work in our lives. One UTR panelist shared, "With songs that wrap your insecurity, doubt, and fear with re-assurances of God's goodness, this album is true encouragement." Another stated, "Ellie's love for God and people is contagious. It practically radiates from these songs." We hereby declare that Red Sea Road is the #1 best gourmet album from 2017!
2. Here Comes Trouble – The New Respects
Once you hear their music, you'll know exactly why Rolling Stone named The New Respects as one of "10 New Artists You Need To Know." This sibling/cousin band has an electric-blues-rock vibe that feels like one of the most relevant new artists to come from the Christian "industry" in some time. One of our critics shared, "This release is original and exciting. The New Respects are THE band to watch!" Another panelist explained, "Every song on this debut project are catchy, clever, smart, and wonderfully hip: which is pretty amazing for a debut from such young kids."
3. Mercury & Lightening – John Mark McMillan
During the making of this album, John Mark McMillan went through a crisis of faith, and didn't know if he would ever finish this record. We can thank the Lord he did, because [ read more… ]
We love discovering up-and-coming talent, especially early in their music career. Ryan Clair's debut album Less Traveled Road just released nationwide. The album was recorded at [ read more... ]
Load More Posts